AN ACCOUNT OF THE HOLY BAPTISM
OF THE MARTYRS IN THE FIRST
CENTURY,
That is, from the first year of the ministry of Jesus
Christ to the year 100.
SUMMARY OF THE BAPTISM IN THE FIRST CENTURY
[We have begun with the baptism of John, who in Holy Scripture is properly called the Baptist, because he was the first and chief one who truly administered baptism with all that pertains to it; concerning which we have noted the time, place, persons, etc. From there we proceeded to Christ and the command which He gave concerning baptism; thence to the apostles, and how they fulfilled Christ's command. But, since the apostles who wrote of baptism did not live to the close of this century, we, in order to accomplish our design, resorted to the fathers who lived shortly after the apostles, and wrote on baptism; and thus the first century is concluded with their testimony.]
We shall begin to give an account, from century to century, up to the present day, or at least, to the time of our fathers, how that the true baptism upon faith, with rejection of infant baptism, has always obtained, and been practiced, according as it was possible, by the true church of God, or at least, by some of the orthodox believers, according to the freedom, or the oppression prevailing at any particular time; and that this same faith, on account of which the world calls us Anabaptists, was begun by God, through John, was confirmed by Christ and propagated and maintained by the apostles as well as by their successors, till the time of our fathers; together with an account of the persons who suffered for that faith.
Coming, then, to the article of baptism we shall thus begin and finish the. ssubject: In the first century, embracing chiefly te time of Christ and His holy apostles, we shall place, not by inferences, but through express words, that which Holy Scripture has to say in regard to it, as being the foundation of the matter, and afterwards, that which is recorded by trustworthy authors.
CONCERNING THE BAPTISM OF JOHN
The holy evangelists tell us the time, place and manner of the same. Luke writes, chap. 3:1-3: "Now in the fifteenth year of the reign of Tiberius Caesar, Pontius Pilate being governor of Judaea, and Herod being tetrarch of Galilee, and his brother Philip tetrarch of Ituraea and the region of Trachonitis, and Lysanias the tetrarch of Abilene, Annas and Caiaphas being the high priests, the word of God came unto John the son of Zacharias in the wilderness. And he came into all the country about Jordan, preaching the baptism of repentance for the remission of sins." Matt. 3:1, 2: "In those days came John the Baptist, preaching in the wilderness of Judaea, and saying, Repent ye: for the kingdom of heaven is at hand." Verse 11: "I indeed baptize you with water unto repentance." Acts 19:4, Paul said: "John verily baptized with the baptism of repentance, saying unto the people, that they should believe on him which should come after him, that is, on Christ Jesus."
THE PERSONS JOHN BAPTIZED
Matt. 3:5-9: "Then went out to him Jerusalem, and all Judea, and all the region round about Jordan, and were baptized of him in Jordan, confessing their sins. But when he saw many of the Pharisees and Sadducees come to his baptism, he said unto them, O generation of vipers, who hath warned you to flee from the wrath to come? Bring forth therefore fruits meet for repentance: and think not to say within yourselves, We have Abraham to our father: for I say unto you, that God is able of these stones to raise up children unto Abraham." Luke 7:29, 30: "And all the people that heard him, and the publicans, justified God, being baptized with the baptism of John. But the Pharisees and lawyers rejected the counsel of God against themselves, being not baptized of him." John 3:23: "And John also was baptizing in Enon near to Salim, because there was much water there and they came, and were baptized."
HOW, AMONG OTHERS, HE BAPTIZED ALSO JESUS
THE SON OF GOD
Matt. 3:13-17: "Then cometh Jesus from Galilee to Jordan unto John, to be baptized of him. But John forbade him, saying, I have need to be baptized of thee, and comest thou to me? And Jesus answering said unto him, Suffer it to be so now: for thus it becometh us to fulfill all righteousness. Then he suffered him. And Jesus, when he was baptized, went up straightway out of the water: and, lo, the heavens were opened unto him, and he saw the Spirit of God descending like a dove, and lighting upon him: and to a voice from heaven, saying, This is my beloved Son, in whom I am well pleased." See further, concerning this Mark 1:9-11; Luke 3:21-23.
HOW CHRIST BAPTIZED THROUGH HIS DISCIPLES
John 3:22: "After these things came Jesus and his disciples into the land of Judaea; and there he tarried with them, and baptized." Chap. 4:1-3: "When therefore the Lord knew how the Pharisees had heard that Jesus made and baptized more disciples than John (though Jesus himself baptized not, but his disciples), he left Judaea and departed again into Galilee."
----
----
HOW CHRIST COMMANDED BAPTISM TO HIS DISCI;
PLES, BEFORE HIS ASCENSION
Matt. 28:18-20: "And Jesus came and spake unto them, saying, All power is given unto me in heaven and in earth. Go ye therefore, and teach (or make disciples of) all nations, baptizing them in the name of the Father, and of the Son, and of the Holy Ghost: teaching them to observe all things whatsoever I have commanded you: and, lo, I am with you alway, even unto the end of the world. Amen." Mark 16:15,16: "And he said unto them, Go ye into all the world, and preach the gospel to every creature. He that believeth and is baptized shall be saved; but he that believeth not shall be damned."
HOW THE APOSTLES EXECUTED THIS COMMAND
OF CHRIST TO TEACH AND BAPTIZE, AFTER
THE ASCENSION OF CHRIST
Acts 2:37, 38: "Now when they heard this, they were pricked in their heart, and said unto Peter and to the rest of the apostles, Men and brethren, what shall we do? Then Peter said unto them, Repent, and be baptized every one of you in the name of Jesus Christ for the remission of sins."
Verses 41, 42: "Then they that gladly received his word were baptized; and the same day there were added unto them about three thousand souls. And they continued steadfastly in the apostles' doctrine and fellowship, and in breaking of bread, and in prayers."
Acts 8:12, 13: "But when they believed Philip preaching the things concerning the kingdom of God, and the name of Jesus Christ, they were baptized, both men and women. Then Simon himself believed also: and when he was baptized, he continued with Philip."
Verses 36-39: "And as they [namely, Philip and the Ethiopian] went on their way, they came unto a certain water: and the eunuch said, See, here is water; what doth hinder me to be baptized? And Philip said, If thou believest with all thine heart, thou mayest. And he answered and said, I believe that Jesus Christ is the Son of God. And he commanded the chariot to stand still: and they went down both into the water, both Philip and the eunuch; and he baptized him. And when they were come up out of the water, the Spirit of the Lord caught away Philip, that the eunuch saw him no more: and he went on his way rejoicing."
Acts 9:17, 18: "And Ananias went his way, and entered into the house; and putting his hands on him said, Brother Saul, the Lord, even Jesus, that appeared unto thee in the way as thou camest, hath sent me, that thou mightest receive thy sight, and be filled with the Holy Ghost. And immediately there fell from his eyes as it had been scales and he received sight forthwith, and arose, and was baptized."
Acts 10:46-48: "For they heard them speak with tongues, and magnify God. Then answered Peter, Can any man forbid water, that these should not be baptized, which have received the Holy Ghost as well as we? And he commanded them to be baptized in the name of the Lord."
Acts 16:13-15: "And on the sabbath we went out of the city by a river side, where prayer was wont to be made; and we sat down, and spake unto the women which resorted thither. And a certain woman named Lydia, a seller of purple, of the city of Thyatira, which worshiped God, heard us: whose heart the Lord opened, that she attended unto the things which were spoken of Paul. And when she was baptized, and her .household, she besought us, saying, If ye have judged me to be faithful to the Lord, come into my house, and abide there. And she constrained us."
Verse 40: "And they went out of the prison, and entered into the house of Lydia: and when they had seen the brethren, they comforted them, and departed."
Acts 16:29-34: "Then he [namely the keeper of the prison] called for a light, and sprang in [the prison], and came trembling, and fell down before Paul and Silas, and brought them out, and said, Sirs, what must I do to be saved? And they said, Believe on the Lord Jesus Christ, and thou shalt be saved, and thy house. And they spake unto him the word of the Lord, and to all that were in his house. And he took them the same hour of the night, .and washed their stripes; and was baptized, he and all his, straightway. And he led them into his house, and seated them at the table, and rejoiced with all his house, that he believed in God," or [as the latest translators say], "he rejoiced, that he and all his house believed in God."
Acts 18:8: "Crispus, the chief ruler of .the synagogue, believed on the Lord with all his house; and many of the Corinthians hearing believed, and were baptized."
I Cor. 1:14-16: "I thank God [says Paul] that I baptized none of you but Crispus and Gaius; lest any should say that I had baptized in mine own name. And I baptized also the household of Stephanas; besides, I know not whether I baptized any other."
Compare this with I Cor. 16:15, 16: "I beseech you, brethren (ye know the house of Stephanas, that it is the firstfruits of Achaia, and that they have addicted themselves to the ministry of the saints), that ye submit yourselves unto such, and to every one that helpeth with us, and laboreth."
WHAT TESTIMONY THY HOLY APOSTLES HAVE
GIVEN IN THEIR EPISTLES, CONCERNING
BAPTISM
1. That it signifies the burying of sins, and the resurrection into a new life.
Rom. 6:3, 4, "Know ye not, that so many of us as were baptized into Jesus Christ were baptized into his death. Therefore we are buried with him by baptism into death: that like as Christ was raised up from the dead by the glory of the Father, even so we also should walk in newness of life."*
NOTE. To the foregoing belongs also the passage, Tit. 3:5, where baptism is called, "the washing of regeneration," and Eph. 5:26, "the washing of water by the word."
2. That through faith we become children of God, and through baptism put on Christ. **
Gal. 3:26, 27: "For ye are all the children of God by faith in Christ Jesus. For as many of you as have been baptized into Christ have put on Christ."
3. That as the ark with eight souls was preserved in the water, so also believing baptized Christians are preserved or saved in baptism through the answer of a good conscience.
I Pet. 3:20, 21: "When once the longsuffering of God waited in the days of Noah, while the ark was preparing, wherein few, that is, eight souls were saved by water.*** The like figure whereunto baptism doth also now save us, (not the putting away of the filth of the flesh, but the answer of a good conscience toward God)."
MOREOVER, THE CONDITIONS REQUIRED IN, AT,
AND ABOUT BAPTISM, INDICATE SUFFICIENTLY
THAT IT WAS NOT ADMINISTERED TO
CHILDREN, BUT TO PERSONS OF
UNDERSTANDING
In order to receive baptism in a worthy and true manner, there are required sorrow and repentance of sins, accompanied with a confession of the same. Matt. 3:6, we read: "And were baptized of him in Jordan, confessing their sins."
Besides this, it is required that we should bear good fruits. "Bring forth therefore," says John, to those who desired to be baptized, "fruits meet for repentance" (Matt. 3:8); or, according to Biestken's translation: "Do genuine fruits of repentance."
Mark 16:16, it is also required, that we believe, yea, that we believe with the hearts. Acts 8:37.
In short, repentance or conversion, and baptism are joined together, Matt. 3:6, 11; as also, teaching, believing, and baptizing, Mark 16:15, 16. Confession and baptism went hand in hand with the Ethiopian, Acts 8:37. Baptism is a burying of the old man, and a sign of resurrection into a new
* He that is to have his son buried through baptism, must first have died unto it through repentance: and he that is to rise into, or walk in the new life must first have been or walked in an old life; this is incontrovertible, but whether it applies to infants, let the reader judge.
** It appears, therefore, that none were baptized in Galatia, but those who had ut on Christ. Concerning this putting on of Crist, see Rom. 13:14.
*** In the ark, which was preserved through, or, properly speaking, in the water, there were none but believing and obedient persons, eight in number, namely, Noah and his wife, with their three sons, Shem, Ham, and Japheth, and their three wives, eight persons in all: likewise, none but believng and obedient persons belong in the church of Christ, which is compared to the ark, and which must be preserved through or in baptism.
life, Rom. 6:3, 4; a putting on of Christ, Gal. 3:27; and the answer of a good conscience toward God. I Pet. 3:21.
These and other conditions required in baptism cannot exist in infants, who know neither good nor evil, cannot discern between the right hand and the left hand, and do as children do, Deut. 1:39; Jno. 4:11; I Cor. 13:11.
Here we might adduce much more, but since it is not our purpose to dispute about this point, but simply to show from the unadorned testimonies of the holy evangelists and apostles, that baptism was administered in the first century only to adult (that is, penitent and believing) persons, we shall leave this subject, and proceed to give an account of those who, according to history, have, either by word or by deed, maintained this doctrine.
OF THE TESTIMONY OF THE FATHERS CONCERNING
THIS ARTICLE; WHO LIVED FROM THE
DECEASE OF THE APOSTLES TO THE
END OF THE FIRST CENTURY
Although we might entirely conclude this first century as touching baptism upon faith, with the testimony of Holy Scripture, we, so as not to appear deficient, nevertheless deem it expedient, to add the testimonies of the fathers, till the end of this century.
About the year 52. Jae. Mehrn. Bapt. hist. pag. 578. from Simon Metaphrastes, D. hicecomesrecords the following incident (lib. 1. cap. 4. in the life o f St. Auxibius): When St. Mark, the apostle of Christ, saw that Auxibius had a desire for Christ, and that he was believing and instructed, he descended with him into a pool and baptized him. This is the first example of which we read in history, outside of Holy Scripture, of those who were incorporated into the church of Christ, through baptism upon faith.
About the year 60. In, or very near this time, it is recorded, even by several papistic writers, that there were such people and such a sect as were afterwards designated by the name, The Poor o f Lyons, Waldenses, Albigenses, who were also called Anabaptists, or Baptists, on account of the like faith which they had in common; as shall be shown hereafter. Therefore the papists complain of their being considered of such high antiquity; for some say that they existed in .the time of Sylvester, A. D. 315, and others assert, with more justness, too, in the time of the apostles. Baptism. hastor. pag. 615, from a very old book. Also, pag. 670 and pag. 682. from Flaccius. Also, D. Balthazar L,ydius (though he misinterprets their doctrine) in the tract, "Where the church was before the year 1160," printed at Dort, A. 1624. pag. 2. col. 1. from Reynerius Prriester.
About the year 68. It is stated that in the time of Nero, two daughters of Valentinian, a Christian at Aquileia, who had been brought up by their father in the Christian faith and the fear of God, were instructed by the priest or teacher Hermagoras, and baptized at a running water. See De gantsch klare en grondige bewijsinge vam den Doop, printed A. D. [15] 81. letter Bv.
About the year 70. In or about the time of the death of ,the apostle Peter is placed the bishop or teacher Linus, of whom it is testified that he baptized, after preceding instruction, the son of Perpetua, a Christian woman. See the above. Also, Kort verhael van den loop der werelt, by F. H. H., printed at Franeker, A. 1611. pag. 47.
From the year 71 till the year 111. It is stated that between these years there flourished Ignatius, who was the second bishop of Antioch after Peter, and, according to the chronicles, discharged the duties of his office in the time of the apostle John. Writing of baptism, he employs no other manner of speech, than which clearly implies that baptism must be accompanied with faith, love and patience.
In his letter to Polycarp, bishop at Smyrna, he writes among other things these words: Let none of you be found an apostate: "Let your baptism be your weapon, your faith your helmet, love a lance, patience a full armor."
In a letter to the Trailienses he writes likewise: "It appears to me, that you do not live after the flesh, but after Jesus Christ, who died for our sakes; so that you, believing in His death, may, through baptism, be partakers of His resurrection:"
Again, in the letter to those at Philadelphia he writes thus: "Seeing, then, that there is one only ungenerated God and Father; and one only begotten Son, Word, and Man; one Comforter, the Spirit of Truth; and one faith, one baptism, and one church, which the apostles have founded with their sweat and labor, in the blood of Christ from one end of the earth to the other; therefore, you, as a peculiar people and holy generation, must also do all things with a unanimous heart in Christ."
Who does not see here, that Ignatius by joining together in this order or sequence, preaching, faith, baptism, and the church, intends to say, that according to the ordinance of Christ, preaching has the first place, and, therefore, must precede; that after faith comes baptism, and that after baptism the one baptized is a member of the church? and that then the members of the church, as a peculiar people and holy generation, must do all things with unanimous hearts in Christ? For this is the import of the words of Ignatius. See, concerning the aforementioned letters of Ignatius, H. Montanus in De nietigheyd van den Kinder doop, printed the second time, pages 4 and 5. Also, Jac. du Bois (though he misinterprets these letters), Tegen Montanus, printed Anno 1648. pages 16-22.
In the year 95. It is here recorded that Clemens, the fourth bishop of the church at Rome, ordained:
That the heretics' baptism is neither to be supported nor accepted; therefore, he that has received baptism in conformity with the truth of the church, shall not be rebaptized; but he who does not rebaptize the unclean, that is, baptized by the ungodly or heretics, shall be deposed, as one who mocks the cross and death of Christ, and does not distinguish the false priests, or teachers, from the true ones (distinct. 30. cap.). Again, in his second epistle he speaks of baptizing on the feast, and that the candidate for baptism is to be examined three months previously. P. J. Tzvisck, Chron. lst Book, in the year 95. page. 32.
It certainly appears clearly from these words of Clemens that at that time no other baptism obtained in the church, than that which was administered after preceding instruction: for when he speaks of baptizing on the feast, and that the candidate for baptism is to be examined three months previously, it is certainly expressed, that then no new born children were baptized; for who does not know that children are born throughout the whole year, and not only on feast days (namely, on Easter or Pentecost)? Besides, infants cannot be examined in the faith three months previous to their baptism, as is required here of the candidates for baptism.
Moreover, in the third letter of Clemens, the following words, which still more clearly express the preceding meaning, are found: If any one desires to become a believer, and to be baptized, he must prepare himself to lay aside the former wickedness; so that he henceforth may obtain, by a good conversation, an inheritance of the heavenly riches, according to his own deeds. Let him that desires this, go to his priest, or teacher, and hear from him the mysteries of the kingdom of heaven; let him exercise himself diligently with fasting, and examine himself well in everything, so that after three months he may be baptized. Everyone shall be baptized in running water, and the name of the blessed Trinity be invoked over him. Jac. Mehrn. Bapt. Histor. 2nd part, on the second century, page 209. from Clem. Epist. 3.
From the Constitutionibus Apostolicis, lib. 7. cap. 23. by the same Clemens, these words are taken: Concerning baptism we command you before, O bishop, and say this also: that you shall baptize as the Lord has commanded us, when He said: "Go, and teach all nations, baptizing them in the name of the Father, .and of the Son, and of the Holy Ghost: teaching them to observe all things whatsoever I have commanded you" (Matt. 28:19, 20). Bdpt. Histor. page 200. ex. Constit. Apostol.
The above words of Clemens speak so plainly of the true order of the baptism of Christ, that they need no explanation whatever. We shall therefore pass on to the martyrs who suffered in or about this time.
----
----
AN ACCOUNT OF THE PIOUS MARTYRS
AND WITNESSES OF JESUS CHRIST
WHO SUFFERED DURING THE
FIRST CENTURY
That is, from the death of Christ to the year
A. D. 100.
SUMMARY OF THE MARTYRS OF THE FIRST CENTURY
This first century did not pass without the shedding of much blood of the saints; for, since Jesus Christ Himself, the leader of all true believers, was subject to it, it was just, that His members should follow in the same path; yet John died before Christ. But after the death of Christ, the fire of persecution raged exceedingly, consuming nearly all of the beloved apostles and friends of Christ, according to the flesh. We have described those who followed Christ, their Captain, into suffering and death, according to the order of time; they are the following persons: Stephen, the deacon; the apostles, James, Philip, Barnabas, Mark the evangelist, Peter, Paul; some companions and friends of Paul, as Aristarchus, Epaphras, Silas, Onesiphorus, Prochorus, Nicanor, Parmenas, Olympas, Carpus, Trophimus, Ma~terus, Egyetus, Hermagoras, Onesimus, Dionysius of Athens, and Timothy; but the latter was slain a few years after the others. In the meantime the preceding ones are followed by the apostles, Andrew, Bartholomew, Thomas, Matthew, Simon Zelotes, Matthias, Luke the evangelist, Antipas, the faithful martyr of Jesus, John, whom Jesus loved, Urticinus, Vitalus, etc., all of whom obtained the martyr's crown, as may be seen from the following account.
To Jesus Christ, the Son of God, we have accorded the first place among the martyrs of the new covenant; not in the order of time, for herein John was before, and preceded with his death; but on account of the worthiness of the person, because He is the head of all the holy martyrs, through whom they all must be saved.
JESUS CHRIST THE SON OF GOD CRUCIFIED
AT JERUSALEM
About three thousand, nine hundred and seventy years after the creation of the world, in the fortysecond year of the reign of Augustus, the second Roman emperor, when the whole world was at peace, Jesus Christ was born of the virgin Mary, in the little town of Bethlehem, being the only and eternal Son of God,. the Word by which all things are made, yea, God blessed forever. Matt. 16:16; John 1:14, Rom. 9:5.
But His entrance into this world, as well as His progress and end, was full of misery, distress and affliction, indeed it may be said: He was born under the cross; brought up under the cross! He walked under the cross, and finally died on the cross.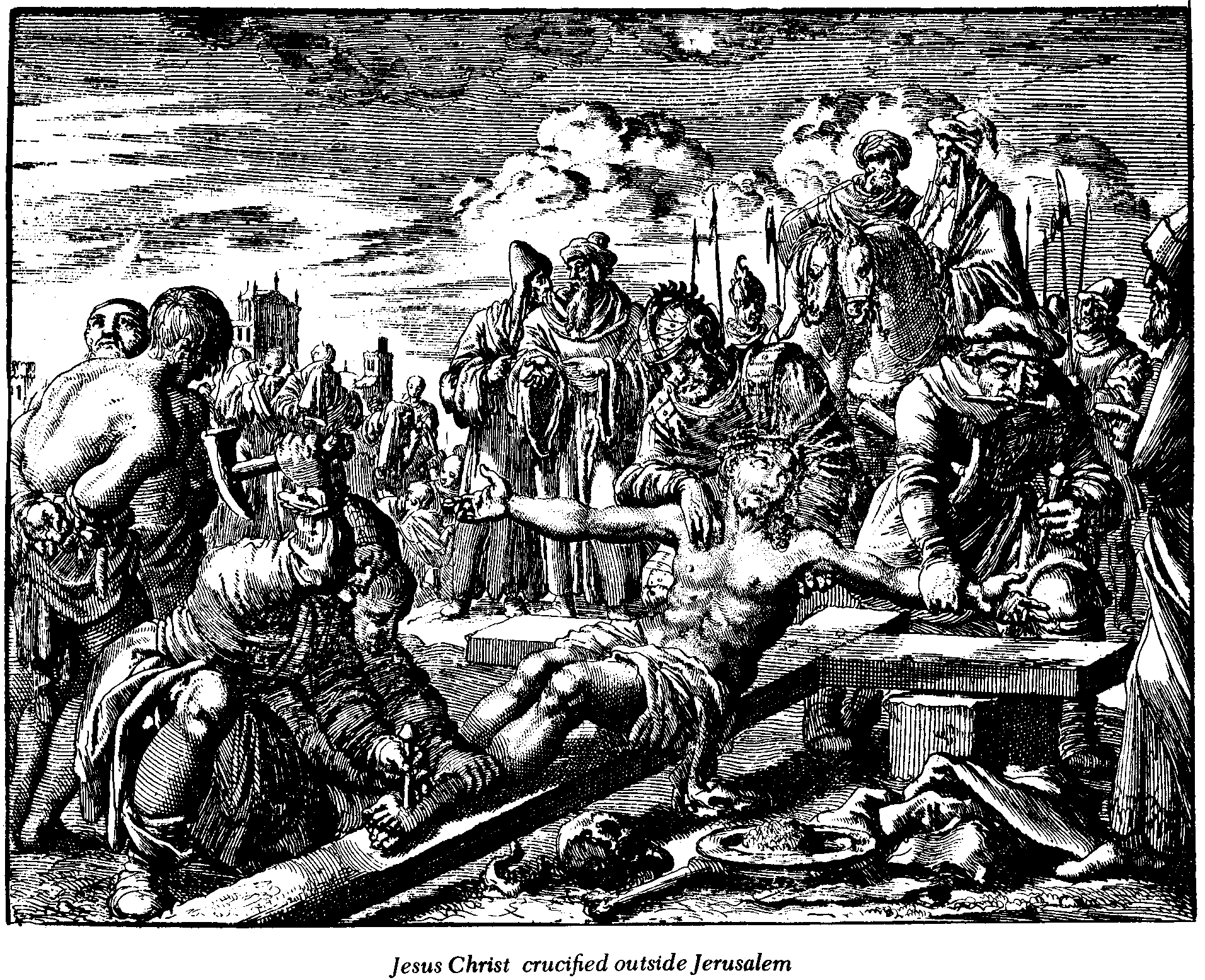 Touching His birth, He was conceived of the Holy Ghost. His birth ushered Him into great poverty; for He was not born in His maternal city, Nazareth, but on the journey to Bethlehem; which was the cause, that no suitable place could be prepared for His birth; yea, even more, He could obtain no place in the inn, but had to be born in a stable; and when He was born, He was wrapped in swaddling clothes, and laid in a manger.
Touching His bringing up, it was attended with much sorrow, for when He was still less than two years old, Herod persecuted Him even unto death; on account of which His foster father Joseph, and His mother Mary, had to flee into Egypt, and remain there until Herod's death. But meanwhile there were killed in His stead, that He also might be killed, all the children of two years and under, in and about Bethlehem, so that the voice of lamentation was heard in all the boundaries of that region; of which Jeremiah had prophesied: "A voice was heard in Ramah, lamentation, and bitter weeping; Rachel weeping for her children refused to be comforted for her children, because they were not." Jer. 31:15; fulfilled, Matt. 2:18.
----
----
As regards His life and conversation among men, He was considered an enthusiast and vagrant, because He had no permanent place of abode; which latter was nevertheless thus bitter for Him, that He complains: "Foxes have holes, and birds of the air have nests; but the Son of man hath not where to lay his head" (Luke 9:58) . Meanwhile He was reproached as being the friend of publicans and sinners, a glutton and wine bibber, yea. that He was possessed with the devil; and this, until the hour of His departure was nigh at hand.
Concerning the end of His life, it was the most miserable, for it was, so to speak, the day, when all the fountains of the great deep broke forth over Him, and the floods of suffering overflowed Him, to swallow Him up altogether.
First of all, He was betrayed by His disciple Judas, who sold Him for thirty pieces of silver to the high priests and Pharisees. Matt. 26:14-16. Then He was delivered unto them, sharply examined, yea adjured by the living God, to say, whether He was the Christ, the Son of God. And as soon as the Lord had confessed this, thcy cried, "He is guilty of death."
Then they spit in His face, and buffeted Him. Others covered His face, saying, "Prophesy unto us, thou Christ, Who is he that smote thee?" (Matt. 27:67, 68). This having continued till about morning, they delivered Him to Pontius Pilate, the judge, to pronounce the sentence of death upon Him, and to put an end to His life. Matt. 27:1, 2.
Pilate said, "What accusation bring ye against this man?" They answered, "If he were not a malefactor, we would not have delivered him up unto thee." Pilate said, "Take ye Him, and judge him according to your law;" for he perceived that for envy they had delivered Him. They answered, "He perverts the nation, and forbids to give tribute to Caesar, saying .that He Himself is a king. In short, `We have a law, and by our law he ought to die, because he made himself the Son of God.' " (John 19:7).
Thereupon Pilate took Jesus into the judgment hall, and, having examined Him, said, that he found no cause of death in Him. Therefore he sought a means to release Him; moreover, in order to move the Jews to pity on account of His innocence, he caused Him (though against his conscience) to be terribly scourged, crowned with thorns, mocked, and, thus disfigured, brought before the Jews, saying, "Behold the man I" so that they might now be satisfied with His suffering, and spare His life. But it was of no avail; they cried the more, "Crucify him, crucify him; if thou let this man go, thou art not Caesar's friend." Verse 12.
Finally, when Pilate saw that the Jews were not to be moved, and fearing that they might accuse him before Caesar, he went and sat down (at about eight o'clock in the morning, according to our reckoning) in the judgment seat, in the place called Lithostratos, and in Hebrew Gabbatha, a paved elevation in Jerusalem; and there, though quite against his conscience, pronounced the sentence of death upon Christ.
Thereupon the soldiers again very dreadfully mocked Him, laid His cross upon Him, and drove Him out through the gate up to Mount Calvary, where they, after having stripped Him of His garments, nailed Him to a cross, and raised Him up between two murderers, John 19:18; which was done, according to our reckoning, at about nine o'clock in the morning.
In the meantime they gave Him vinegar and gall to drink, parted His garments, and again derided Him most shamefully and above measure, till a great darkness came, continuing for about three hours; and then the Lord cried with a loud voice, "Eli, Eli, lama sabachthani!" that is, "My God, my God, why hast thou forsaken me?" (Matt. 27:46).
Then, having fulfilled all, He commended His soul into His Father's hands, saying, "Father, into thy hands I commend my spirit" (Luke 23:46) .
Thereupon He bowed His head and expired, having suffered excruciatingly six hours on the cross, from nine o'clock in the morning till three in the afternoon.*
Then the earth began to quake, the rocks were rent, the graves were opened, the vail of the temple was rent in twain, and many miracles happened, as a sign that He who died there was more than a common man, yea, that He was the Son of the living God.
This, then, was the end, not of a martyr, but of the Head of all the holy martyrs, through whom they and we all must be saved.
JOHN THE BAPTIST, SON OF ZACHARIAS AND
ELISABETH, BEHEADED IN THE CASTLE OF
MACHAERUS, AT THE COMMAND OF
HEROD ANTIPAS, A. D. 32
This John, surnamed the Baptist, because he was ordained of God to baptize the penitent, the son of the priest Zacharias, and his wife Elisabeth; whose name was made known to his parents through the angel of God, before he was born. Luke 1:5,13.
When he was about thirty years old (about six months before the Lord Jesus Christ began to preach), in the fifteenth year of the reign of Tiberias Caesar, Pontius Pilate being governor, and Annas and Caiaphas the high priests, he was called and sent of God, to preach the baptism of repentance for the remission of sins, to prepare the way for the Messiah, as an angel or messenger before the face of Christ, to turn the hearts of the fathers to the children. Luke 3:1, 2; Mark 1:2,3; Luke 1:17.
Of the dignity of this man the angel of the Lord had said, that many would rejoice at his birth, that he would be great in the sight of the Lord, to make ready a people well prepared (as not only the prophets, but also Zacharias had prophesied of him through the Spirit of the Most High), to give knowledge of salvation unto the people of the Lord for the remission of their sins. Luke 1:14,15, 77.
John, being thus sent of God, to bear witness of Christ, that He is the true light, came to the Jordan, at Salim, and other places, teaching and baptizing. John 3:23.
In the meantime, while he was baptizing the penitent, Christ Himself came to him (to confirm this holy work), and asked to be baptized by him. But when John, from humility and good intention, declined, Christ instructed him that this was neces;
* That the Lord lived six hours, yea, more than six hours on the cross, before He gave up the ghost, appears from the account of Mark, chap. 15; for inverse 25 it says: "And it was the third hour, and they crucified him." That is according to our reckoning, nine o'clock in the morning. Then, in verse 33, we are told that when the sixth hour was come, there was darkness over the whole land until the ninth hour; which according to our reckoning, was twelve o'clock noon. Then, in verse 34 we read: "And at the ninth hour Jesus cried with a loud voice, saying, Eloi Eloi lama sabachthani, that is; My God, my God, why hast thou forsaken me?" which, according to our way of reckoning time, is three o'clock in the afernoon. gain in verse 37, we read: "Ad Jesus cried with a loud voice, and gave up the ghost;" which, as it appears, happened after the expiration of the ninth hour, so that the Lord lived on the cross from nine o'clock in the morning until three oclock in the afternoon, that is, fully six hours, and not before then did He give up the ghost, as has been shown from the account of Mark.
sary, saying, "Suffer it to be so now: for thus it becometh us to fulfill all righteousness." Then he baptized the Lord. Matt. 3:13-16.
He held the Lord Jesus in high estimation, calling Him the Lamb of God, the Bridegroom of His church, the true Messiah, whose shoes he was not worthy to bear. John 1:29; 3:29; Matt. 3:11.
He himself possessed such great influence, though in humility, that many were in doubt whether he was not himself the Messiah; hence the Pharisees sent their messengers to him, to inquire of him his vocation, mission, authority, etc. To all this he answered candidly and with an humble heart, saying, "I am not the Christ." John 1:19, 20.
When the course of his pilgrimage drew near its close, a certain matter occurred, which was the cause of his death, and happened as follows: King Herod Antipas had committed a wicked deed; namely, he had taken his brother Philip's wife, having put away his own wife, the daughter of Aretas, king of Arabia; which conduct John the Baptist, on account of his ministry, could not let go unreproved, but called Herod's attention to it, according to the law, saying, "It is not lawful for thee to have her" (Matt. 14:4).
However, even as the ungodly will not be reproved, so it was with Herod; for he conceived a hatred for John, and sought opportunity to kill him. But, since many had a very high opinion of this pious man, and great numbers, therefore, came to him, Herod, for the present, did not dare to lay hands on him, to kill him; however he did not let him go free, but imprisoned him in the castle of Machaerus. Euseb. Hist. Eccl lib. 1 chap 11.
In the meantime John did not relax in his calling, but even from prison sent some of his disciples to Christ, that they with the others might assure themselves through the doctrine and the miracles which they would there hear and see, that Christ, and none other, was the true Messiah. Matt. 11:2; Luke 7:18.
Thereupon, not only when these messengers came, but also on many other occasions, Christ testified of the greatness and worthiness of John the Baptist; namely, that he was the true spiritual Elias, a burning and shining light, the greatest prophet among all those born of women. Matt. 11:14; John 5:35; Luke 7:28.
Time went on, meanwhile, and the hour of his departure was near at hand. As regards the circumstances of his death, they are thus described by the holy evangelist Matthew, chap. 14:3-12: "For Herod had laid hold on John, and bound him, and put him in prison for Herodias' sake, his brother Philip's wife. For John said unto him, It is not lawful for thee to have her. And when he would have put him to death, he feared the multitude, because they counted him as a prophet. But when Herod's birthday was kept, the daughter of Herodias danced before them, and pleased Herod. Whereupon he promised with an oath to give her whatsoever she would ask. And she, being before instructed of her mother, said, Give me here John Baptist's head in a charger. And the king was sorry: nevertheless for the oath's sake, and them which sat with him at meat, he commanded it to be given. her. And he sent, and beheaded John in the prison. And his head was brought in a charger, and given to the damsel: and she brought it to her mother. And his disciples came, and took . up the body, and buried it, and went and told Jesus."
Josephus, the Jewish historian, also makes mention of the death of John the Baptist, in the 7th chapter of the 18th book of his history of the Jews, where he writes thus
"There was a common report among the Jews, that Herod's army was. destroyed through the righteous judgment of God, on account of John, who is called the Baptist. For Herod, the tetrarch, caused this pious man to be slain; who exhorted the Jews to all manner of virtue and righteousness, led them to baptism, and said, that their baptism would only then be acceptable to God, if they would abstain, not merely from one or two sins, but would earnestly purify the heart, through righteousness, and afterwards also the body.
"Since great numbers flocked to him, and the people were very eager for his doctrine, Herod feared, lest he (John) might induce the people, with whom his influence was great, to sedition; for it seemed, as if they would do everything according to his will and counsel. He therefore thought it best, to have him killed. For that reason he caused him to be imprisoned in the aforesaid castle Machaerus, and there put to death."
This happened, according to our reckoning, in the year thirty two after the birth of Christ, in the seventeenth year of Tiberias, the Roman emperor; and thus was this great light of the church of God extinguished in the midst of its brightness, to the sorrow of many pious hearts.
It is stated that his body rested at Sebasta, in Palestine, till the time of Julian, when his bones were burned by the enemies of truth, and his ashes scattered to the wind. Histor. Tripart. lib. 1. cap. 15. Theod. lib. 3. carp. 6.
STEPHEN, ONE OF THE SEVEN DEACONS OF THE
CHURCH AT JERUSALEM, STONED WITHOUT
THE GATE OF THE CITY, BY THE
LIBERTINES, A. D. 34, SHORTLY
AFTER THE DEATH OF CHRIST
Stephen, which in Greek signifies a crown, was one of the seven deacons of the church at Jerusalem, a man full of faith and the wisdom of God. Acts 6:5.
He was well versed in the holy Scriptures of the Old Testament, and very eloquent. It happened that there arose certain of the sect of the Libertines, Cyrenians, Alexandrians, and of them of Cilicia and of Asia, and disputed with Stephen; and they were not able to resist the wisdom and the spirit by which he spake. Then they suborned a few men to say: We have heard him speak blasphemous words against Moses, and against God. And they stirred up the people, and the elders, and the scribes, and came upon him, and caught him, and brought him to the council, and set up false witnesses, to say, This man ceaseth not to speak blasphemous words against this holy place, and the law: for we have heard him say, that this Jesus of Nazareth shall destroy this place, and shall change the customs which Moses delivered us. And all that sat in the council, looking steadfastly on him, saw his face, as it had been the face of an angel. Acts 6:9-15.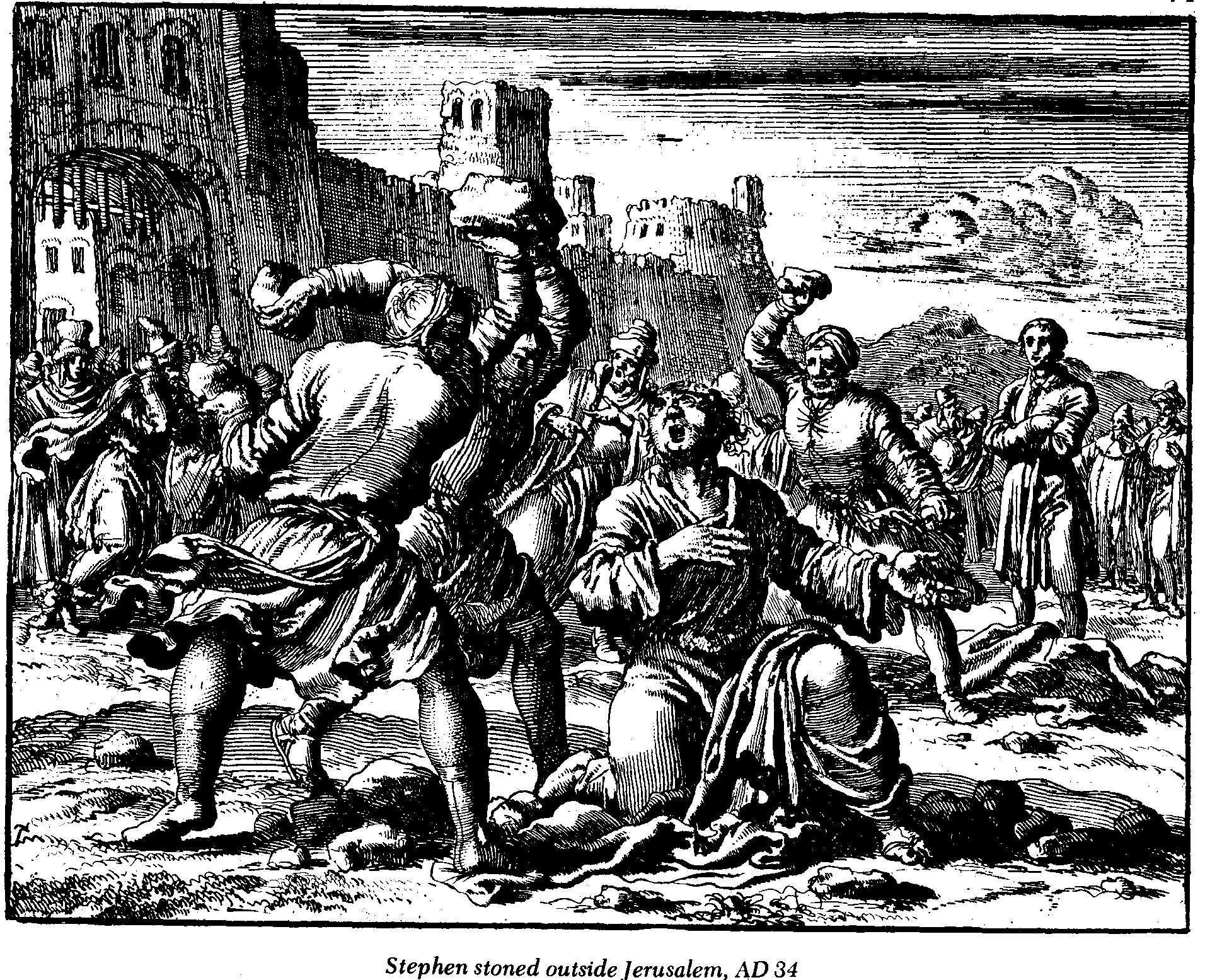 Then said the high priest to him, Are these things so? Thereupon, this godfearing man explained himself and answered with many reasons; he, moreover, adduced, as if with a heavenly tongue, and with incontrovertible reasons, many scriptures of the Old Testament, to show that Christ is the true Messiah, and that the Gospel is true. Acts 7: 1-53.
But when he began to speak with great warmth, and to set before the eyes of his accusers their bloodthirstiness, their wrath was kindled the more against him, for these things cut them to the heart, and they gnashed on him with their teeth. Verse 54.
But he, being full of the Holy Ghost, looked up into heaven, and saw the glory of God, and Jesus standing at the right hand of God, and said: Behold, I see the heavens opened, and the Son of man standing on the right hand of God. Verses 55 and 56.
But they cried out with a loud voice, and stopped their ears, and ran upon him with one accord, and cast him out of the city, and stoned him; and the witnesses laid down their clothes at a young man's feet, whose name was Saul. Verses 57 and 58.
In the meantime he called and said, Lord Jesus, receive my spirit. He kneeled down, and cried with a loud voice, Lord, lay not this sin to their charge. And when he had said this, he fell asleep. Verses 59 and 60.
Such was the end of this upright man Stephen, to whom the honor of Jesus Christ was dearer than his own life. It is stated to have taken place in the year thirty four after the birth of Christ, in the nineteenth year of the reign of Tiberius, which was the thirty eighth year of his age. It happened in the seventh year after the baptism of Christ. Nic. lib. 2. cap. 3,
This having occurred, some godfearing men attended to the body, and carried it to the grave, greatly lamenting this pious martyr. The stones were to him as rivers of sweetness. August. cap. 22. Sold.
JAMES, THE SON OF ZEBEDEE, PUT TO DEATH WITH
THE SWORD, BY HEROD AGRIPPA, IN JERU;
SALEM, A. D. 45
James, surnamed the Greater, was the son of Zebedee and Salome, and a fisherman by occupation; but, Christ having called him to be His disciple, he abandoned fishing, and followed Christ. Matt. 4:21; Mark 1:19.
He was instructed for a considerable time together with the other disciples in the duties of the apostleship, until he was properly sent out in that capacity. Matt. 10:2; Mark 6:17; Luke 6:13.
He was endowed with the gift of working signs and miracles, and on account of this special gift he was one of the three surnamed Boanerges, that is, sons of thunder. He was with Jesus on every remarkable occasion; so much so, that he was chosen by the Lord to behold His glory upon the holy mount; and, afterwards, to witness His suf; ferings in the garden of Gethsemane. Mark 3:17, 18; Matt. 17:1; 26:36.
Of him Christ had predicted, that he should drink of the same cup, of which He (Christ) would drink, and that he should be baptized with the same baptism, with which He was baptized; that is, that he should be subject to His (Christ's) suffering and death. Matt. 20:22, 23.
After the death of Christ he joined the other apostles, to be a witness with them, of His suffering, death, and resurrection, and to be instructed concerning His kingdom during the forty days after His resurrection.
After Christ's ascension he also remained at Jerusalem; and when he, together with the other apostles, had there received the Holy Ghost, he preached the Gospel in Judea and Samaria. Acts 1:13,14.
From there, as some relate, he went to Spain; but, meeting with little success, he returned to Judea, where, it is said, he was opposed by Hermogenes, a sorcerer. But as Abdias, bishop of Babylon, and others, relate many things of him, which seem to be altogether fictitious, we shall not mention them. Petr. de nat. lib. 6. cap. 133. Abdias Babyl. van den Strijd der Apostelen.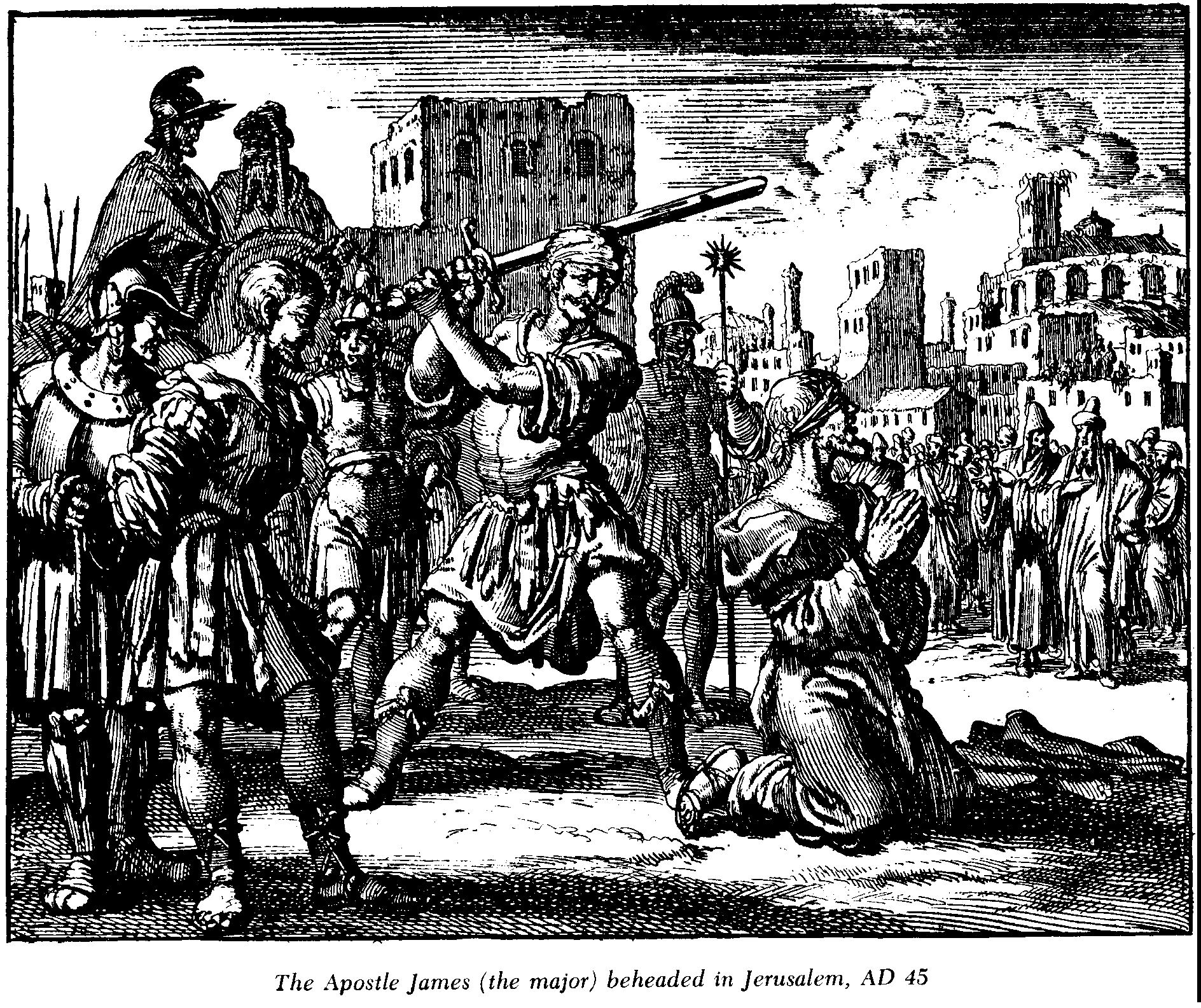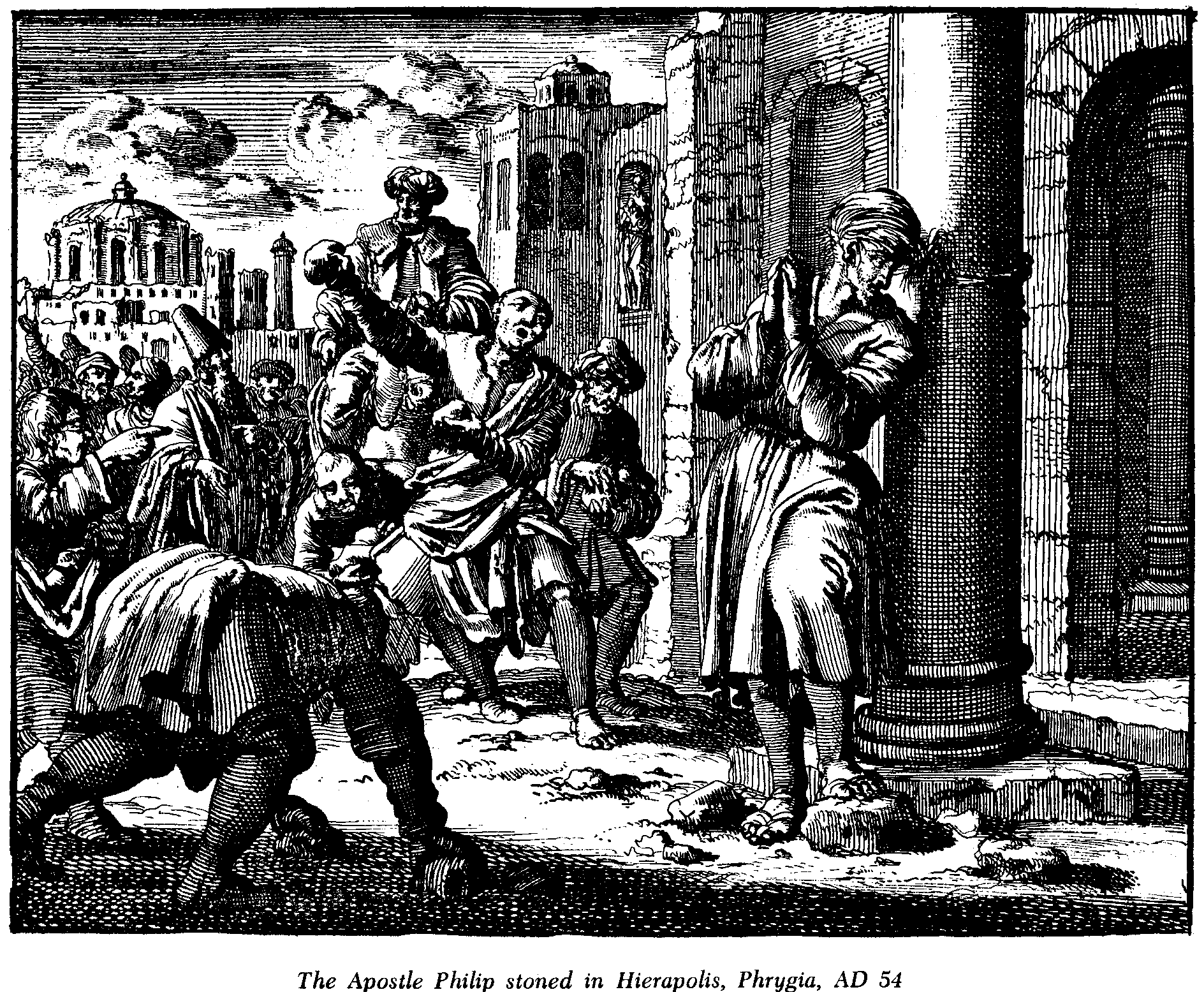 This apostle lived only until the fourth year of the Emperor Claudius, at which time, Agabus had predicted, there should be a dearth throughout all the world. Oros. lib. 7. carp. 6.
At that time Claudius charged Herod Agrippa to suppress the church of Christ. Then Herod laid his bloody hands on this apostle and, on the feast of the passover, put him in prison. Shortly afterwards he was sentenced to death, and executed with the sword, in Jerusalem. This occurred in the year forty five after the birth of Christ. Acts 12:2.
Clemens relates that the executioner, seeing his innocence, was converted to the Christian faith, and died with him. According to the annotation of Eusebius Pamphilius, from Clemens Alexandrinus, the executioner was so moved on account of the death of James, that he professed himself to be a Christian; and so, as he states, both were led forth together to death. As they were led out, the executioner asked James to forgive him. James, after a little deliberation, said, "Peace be with thee," and kissed him. And thus both were beheaded. Euseb. lib. 2. cap. 9. ex Clem. Alexand. Also W. Baudart. Apophthegmat. lib. 1. page 4. from Joach. Camer. in vita Christi, page 42. Niceph. lib. 2. cap. 3. Strac. in Festo Jacobi, page 209. Cie. Circa, cap. 45. Annum. James was the first martyr of the apostles. This history shows the alacrity of the ancient believers.
THE HOLY APOSTLE PHILIP, BOUND WITH HIS
HEAD TO A PILLAR, AND STONED, AT HIE;
RAPOLIS, IN PHRYGIA, A. D. 54
Philip, a native of Bethsaida, in Galilee, had a wife and daughters of very honorable life. John 1:44; 12:21; Euseb. Hist. Eccles. lib. 3. cap. 30; 31.
He was found of Christ, and called as His disciple to follow Him; which he did so faithfully, that when he found Nathanael, he brought him to Christ, declaring to him, that he had found Him of whom Moses and the prophets had written, namely, Jesus of Nazareth, the true Messiah. John 1:45.
From that time on, Philip constantly followed Christ, listening to His admonitions, and beholding the miracles He performed to the service of the word of God; so that Christ ordained him an apostle, and sent him out to preach the Gospel, in the first place to the scattered sheep of the house of Israel; which he also like his fellow apostles did. Matt. 10:3; Luke 6:13-15.
The Lord esteemed him as one of His greatest friends; for at the glorious miracle of the feeding of five thousand, Christ, in order to prove him, counseled with him, saying, "Whence shall we buy bread, that these may eat?" (John 6:5) .
He was also kindly instructed by the Lord, when he asked to see the Father; for Christ said to him,
Philip, he that hath seen me hath seen the Father, etc. John 14:8, 9.
Once when certain Greeks wished to see Jesus, and desired him to procure them access to the Lord, he came with Andrew and told it to the Lord, who answered, "The hour is come, that the Son of man should be glorified" (John 12:20-23) .
This pious and godly apostle remained with the Lord, even to His suffering; and, after their dispersion, when Christ had arisen, he abode with his brethren, until they, according to the promise of Christ, received the Holy Ghost, after His ascension. Luke 24:32, 33; Acts 2:4.
After the distribution of the countries, he taught several years in Scythia, where he planted many churches; and since Syria and the upper part of Asia fell to his particular share, he laid the foundations of faith in many of these cities. Pet. de Nat. lib. 4. crap. 107. Nic. lib. 2. cap. 39.
Finally he came to Phrygia, and wrought several signs at Hierapolis. There the Ebionites, who not only denied the divinity of Christ, but also worshiped idols, continued obstinately in their blasphemous doctrines and idolatry, and did not listen to this pious apostle of Christ, but apprehended him, and, having made his head fast to a pillar, stoned him; whereupon death ensued, and he thus fell asleep in the Lord. His body was buried in the aforementioned city Hierapolis. Konst tooneel, van veertigh heerlijke afbeeldingen Christi, ende sijner Apostelen, etc. In the life of Philip. Bybelsch Naembceck van P. J. Tzeisk, letter P. on the name Philippus, fol. 762. col. 2. Also, Introduction to the Martyrs' Mirror o f the Baptists, printed in the year 1631, fol. 35. col. 1.
JAMES, THE SON OF ALPHEUS, OR BROTHER OF
THE LORD, CAST DOWN FROM THE TEMPLE,
STONED, AND BEATEN TO DEATH WITH
A CLUB, A. D. 63
James the Lesser was the son of Alpheus, and Mary Cleophas, sister to the mother of Christ; he is called the Lord's brother. Matt. 10:3; Gal. 1:19.
After proper instruction he was ordained an apostle by Christ, and sent out to minister to the Jews; wherein he acquitted himself well, until Christ's death. After that, he, with others, was sent out to preach the Gospel, which he did in the Jewish church. Matt. 28:19; Mark 16:15.
And although Peter, and James and his brother John, of whom the last mentioned two were the sons of Zebedee, were regarded as the special apostles, he was nevertheless considered to be one of the three pillars of the church, after the death of James the son of Zebedee, Gal. 2:9.
He was appointed by the apostles the first overseer of the church at Jerusalem; this was shortly after the death of Christ. Euseb. lib. 4. cap. 5. and lib. 2. cap. 23. This office he discharged faithfully for thirty years, converting many to the true faith, not only (though principally) by the pure doctrine of Christ, but also through his holy life, on account of which he was called the just. Niceph. lib. 2. carp. 38.
He was very steadfast and holy, a true Nazarite, in dress as well as in eating and drinking; and prayed daily for the church of God and the common weal.
This apostle wrote an epistle for the consolation of the twelve tribes who were scattered abroad, saying: James, a servant of God and of the Lord Jesus Christ, to the twelve tribes which are scattered abroad, greeting. My brethren, count it all joy when ye fall into divers temptations. James 1:1, 2.
But although he comforted with many excellent reasons his own, who believed in the name of Christ, the unbelieving Jews could not endure his doctrine; so that Ananias, an audacious and cruel young man among them, being the high priest, summoned him before the judges, that they should compel him to deny that Jesus is the Christ, and force him to renounce the Son of God and the power of His resurrection. Josep. Antiq. lib. 20. cap. 8. Euseb. lib. 2. cap. 1. verse 22. ex Egesipp. Hieron. Catal.
To this end, the chief priest, scribes, and Pharisees placed him upon the pinnacle of the temple, at the time of the passover, that he should deny his faith before all the people. But as he thus stood before the people, he confessed with much more boldness that Jesus Christ is the promised Messiah, the Son of God, our Saviour, and that he is sitting at the right hand of God, and shall come again in the clouds of heaven, to judge the quick and the dead.
On account of this testimony of James, the multitude of the people praised God, and magnified the name of Christ. Then cried the enemies of the truth, Oh, the just also has erred; let us take him away for he is unprofitable. They accordingly cast him down, and stoned him. But as he was not killed by the fall and the stoning, having only broken his legs, he, lying on his knees, prayed to God for those who stoned him, saying, Lord, forgive them; for they know not what they do.
----
----
On account of this, one of the priests begged for his life, saying, What do ye? the Just is praying for us. Leave off stoning I But another of those present, who held a fuller's stick in his hand, struck him over the head with it, so that he died, and fell asleep in the Lord. He was buried at the place where he had been thrown down from the temple. Hieron. Catalog. in Jacobo Justo. Also, W. Baudart. Apophthegmat. lib. 1. ¢. 6. ex Euseb. Pamphil. Ccesariense, in hist. Eccl. Strac. in Festo Philippi and Jacobi, p. 133. Anno 62. C. Aetat. Jacobi.
This occurred A. D. 63, in the ninety sixth year of his age, in the seventh year of the reign of Nero, during an interim in the governorship between the death of Festus and the arrival of Albinus, under the high priest Ananias, who perpetrated this lamentable deed on James.
Concerning this James the following is contained in the Apophthegms of Baudartius: "He was on his bare knees so often and for such long periods, praying to the Lord God for the remission of the sins of the people, that his knees were so hard and callous, that there was no sensation in them at all. lib. 1. p. 7._ O the great and constant piety of this holy martyr!
BARNABAS, A COMPANION OF THE APOSTLE PAUL,
DRAGGED OUT OF THE CITY AND BURNED, AT
SALAMINA IN CYPRUS, A. D. 64
Barnabas, also called Barsabas, and surnamed Joseph, Joses, or Justus, was a Levite from Cyprus, full of the Holy Ghost. He was called the son of consolation, and such a one he indeed proved himself to the poor saints. Acts 11:24; 1:23; 4:36; Euseb. hilt. Eccl. lib. 2. cap. 1.
It is maintained that he was one of the seventy disciples of Christ, and from the multiplicity of his names we can see his renown and eminence; which latter he gained by his zeal and piety; for he brought Paul, after his conversion, to the apostles; and when the Word of God was preached to the Grecians, at Antioch, by some men from Cyprus and Cyrene, he was sent by the apostles to investigate the matter; and when he found it to be so, he confirmed them in the truth. Acts 9:27; 11:20-23.
After this he went to Tarsus, to seek Paul, and brought him to Antioch, where they remained a whole year teaching. Also, when the dearth arose under emperor Claudius, he and Paul brought substantial relief to the brethren who dwelt in Judea. Acts 11:25, 26, 29, 30; Oros. lib. 7. cap. 6. Euseb. hist. Eccl. lib. 2. cap. 3. 9.
On his return to Antioch, he was sent out by the Holy Ghost, to preach in many countries. On account of his eloquence he was frequently the speaker; yea, he was held in such high regard, and was so godly, that the Gentiles at Lystra cried in the speech of Lycaonia, that he was a god, and had come down from heaven, and called him Jupiter.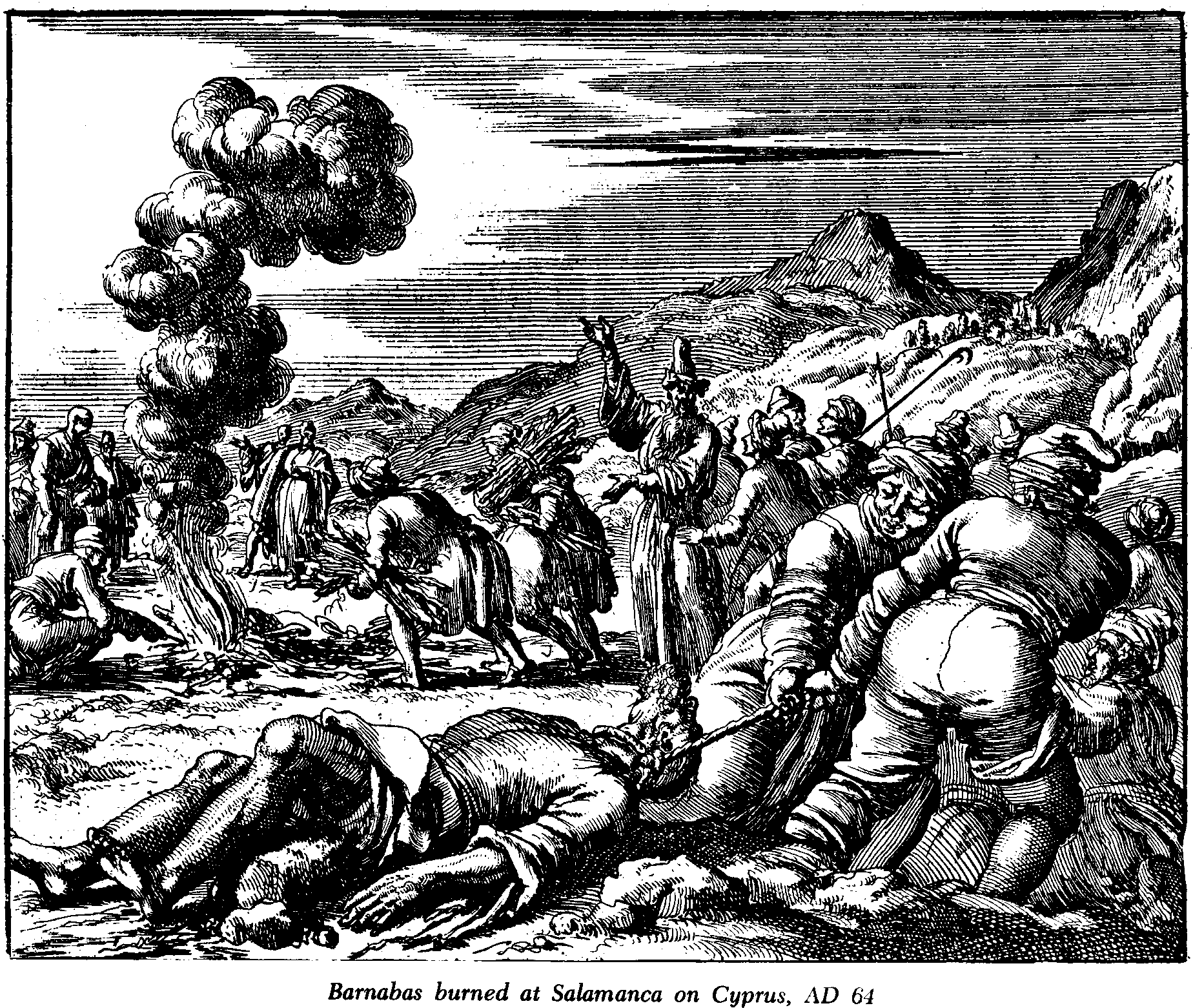 And this was not all; but the priest of that place came with oxen wearing garlands, and desired to do sacrifice to him and Paul. But he and his companion Paul utterly declined this, saying, "Sirs, why do ye these things? We also are men of like passions with you, and preach unto you that you should turn from these vanities unto the living God." Acts 12:25; 13:4-6; 14:1, 2, 11,12,15.
Afterwards, when certain men came from Judea, and troubled the brethren, saying, "Except ye be circumcised after the manner of Moses, ye cannot be saved," he and his aforementioned companion vigorously opposed them, according to the teaching of the holy Gospel; wherefore he and several other pious men were appointed to go to Jerusalem, to the apostles and elders, to bring said matter to a good termination. When they arrived at Jerusalem, he and the others were received joyfully by the apostles and the church; yea, what is still more, they testified of him and his companion Paul, that they were men who had hazarded their lives for the truth; which indeed was apparent. Acts 15:1, 26.
----
----
For, when he came to Salamina, a large city in the island of Cyprus, at this day called Famagosta, to strengthen the church at that place in the faith, he was very badly treated, as ancient history tells us, by a Jewish sorcerer, who stirred up all the other Jews and the whole people against him, so that they apprehended him in an uproar, and were about to bring him to the judge, but fearing that the judge discovering his innocence, would perhaps release him, they, after treating him lamentably, put a rope around his neck, dragged him out of the city, and burned him. Anton. p. 1. t. 6. cap. 18. Sabell. Eu. 7. lib. 2.
Thus was this faithful servant of Christ honored with the martyr's crown, in his fatherland, and fell asleep happy in the Lord, about the time that James the Just was slain at Jerusalem, under Emperor Nero; however, before the publication of the first heathen persecution, which began shortly after the burning of Rome. Plat. in vita Petri. and Pauli. Bybelsch Naembcpk, p. 158, 159. letter B. ujt hilt. Andr. fol. 8.
HOW MARK, THE HOLY EVANGELIST, DRAGGED
TO THE STAKE AT ALEXANDRIA, DIED ON
THE WAY, A. D. 64
The holy evangelist Mark is supposed by most to have been that Mark whose surname in Holy Scripture is John. He was of the circumcision, and a nephew of Barnabas, whose mother was called Mary, a very godly woman, who gave her house in Jerusalem for the assembling of Christians. Acts 12:12; Col. 4:10. Niceph. lib. 2. cap. 33.
He was first appointed a servant of Paul and Barnabas, but on a journey to Pamphylia he returned to Jerusalem. Acts 12:25; 13:13.
Afterwards the apostle Paul recommended him to the church at Colosse, requesting them to receive him as a fellow worker in the kingdom of God. He also commanded Timothy, to bring Mark to him, since he was very profitable to him in his ministry. Col. 4:10; II Tim. 4:11.
This Mark was in prison with Paul, and rendered him all faithful assistance in his bonds. Philem. verses 23, 24.
The apostle Peter in his epistle to the elect scattered strangers, calls Mark his son, I Pet. 5:13; undoubtedly, because through the Gospel, he had regenerated him in Christ; or, because he was his disciple, interpreter, and the writer of the Gospel which he had taught; of which latter circumstance Jerome speaks thus: "Mark, a disciple of Peter, at the request of the brethren at Rome, wrote a brief Gospel, according to that which he had heard Peter relate. When Peter had examined it, he pronounced it good. and upon his word gave it to the church to read." Catalog. Marc. ex Cl. Al Hypor. 6. Also, Euseb. lib. 2. cap. 18, ex Clem Al. and Papio Hierapolit.
Afterwards when Mark was sent by Peter to Egypt, he traveled through Aquilea, the capital city of Friol, where he converted many to the faith, and left Hermagoras as pastor over the church. Avent. au. Boi. lib. 2.
Then he journeyed to Africa, filling Lybia, Marmorica, Ammonica, and Pentapolis with the doctrine of the holy Gospel. Finally he remained several years at Alexandria, where he made his abode. Nic. lib. 2. cap. 43 A thaw. in Synopsi.
Concerning the end of his life, Gelasius states, that he died there as a martyr. Concil. Rom Deer. de lib. Auth. and Apocr. Niceph. lib. 2. cap. 43.
Mark, he writes, having been sent by Peter to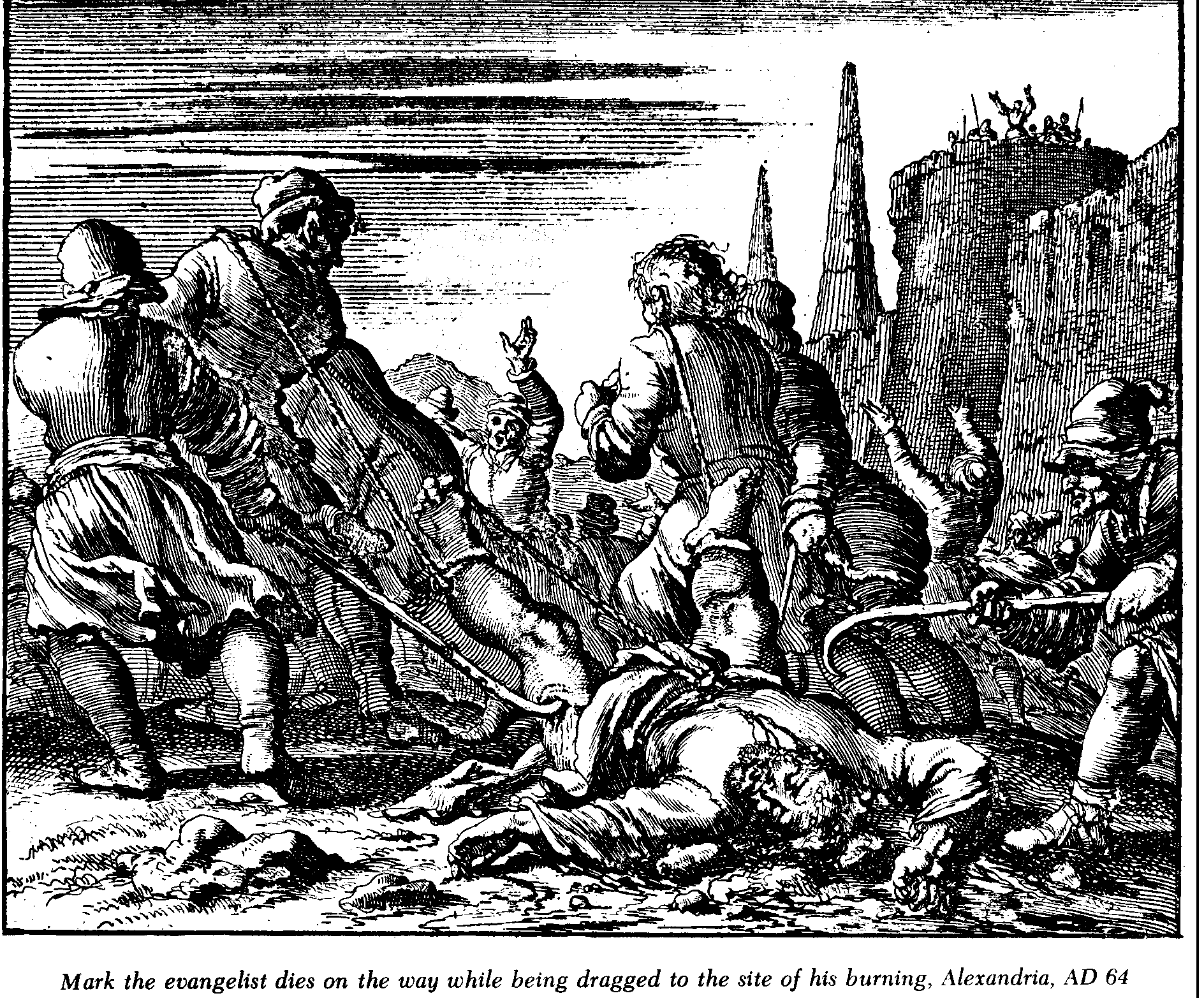 Egypt, faithfully preached the Word of truth there, and nobly sealed the testimony thereof with his blood. All the ancient and modern, Greek and Latin, martyrologies agree with this.
Histories state the following concerning the manner of his death: That in the eighth year of Nero, when he, at the feast of the passover, preached the blessed remembrance of the suffering and death of Christ, to the church at Alexandria, the heathen priests and the whole populace seized him, and with hooks and ropes which they fastened around his body, dragged him out of the congregation, through the streets and out of the city; so that his flesh everywhere adhered to the stones, and his blood was poured out upon the earth, until he, with the last words of our Saviour, committed his spirit into the hands of the Lord, and expired. Anton. p. 1. cap. 6. 16. Procop. Dia Metaphr. Ado. 25. Apr. de Fest. Apost.
Another ancient writer relates: That he was dragged very inhumanly through the streets, his whole body torn open, so that there was not a single spot on it, which did not bleed; .and that they then again thrust him, still alive, into prison, whence he, having been strengthened and comforted by the Lord in the night, was taken.out again, and dragged to the place Buculi, they jestingly saying, "Let us lead the buffalo to the buffalostall." Konst tooneel der veertig heerlijke afbeeldingen Christi en der postelen, printed Anno 1609. Alos, Bybelsch Nwmboek, printed Anno 1632, letter M. p. 642. col. 1. 2.
Death having ensued meanwhile, the aforementioned heathen wanted, moreover, to burn him; but as they were prevented by a storm, the Christians buried him. This happened, according to common reckoning, in the eighth year of Nero's reign, A. D. 64, on the 21st day of April.
OF THE TEN BLOODY PERSECUTIONS WHICH THE
CHRISTIANS SUFFERED UNDER THE HEA;
THEN EMPERORS OF ROME; THE FIRST
OF WHICH BEGAN IN THE REIGN
OF NERO, A. D. 66
THE FIRST PERSECUTION OF THE CHRISTIANS,
UNDER NERO, ANNO 66
When the Jews were deprived of their power, by the heathen, and their time was past, in which they had persecuted and slain the saints of God, the Lord God nevertheless suffered His church to be visited by the refining fire of presecution, namely, through the power of the heathen; of whom the Emperor Nero was the first tyrant. Introduction to the Mirror of the Anabaptist Martyrs, printed Anno 1631. p. 35. col 2.
This Nero, according to the testimony of Emperor Trajan, governed the monarchy of Rome in so laudable a manner during the first five years of his reign, that never an emperor had greater praise than he; for then he was so tenderhearted, that when he was asked to sign the death warrant, of a highwayman, he replied, "Oh, that I could not write I" signifying thereby his aversion to the killing. of human beings. Trajan. in Tract. Also, Roomschen Adelaer, door D. P. Pers, printed Anno 1642, p. 100. in the life of Nero. Also, Suet. in Neron. cap. 10.
But after the first five years he became so full of hatred, murder, and bloodshedding, that he seemed to delight in nothing more, than in killing, murdering, and fearfully torturing, not only malefactors, but even the saints of God who were praised even among their enemies for their Godfearing walk and conversation.
I will not mention the cruelties and tyrannies he exercised against his own friends; how he had his beloved son Britannicus  poisoned, and his own mother Agrippina cut open, to see the place where he had lain; how he had his faithful wife, Octavia, put to death with the sword, because she was barren; and Seneca, his faithful teacher, bled to death, and poisoned. We will only speak of the persecutions and unheard of cruelties he practiced on the beloved friends of God, namely, the true Christians. To this end we will begin thus
Once, desiring to see the burning of Troy represented by its equal, he caused the city of Rome to be set on fire, and ascended a certain tower without, where he, beholding it, began to sing, "Troy is on fire," etc. Suet. Idem. in Ner. cap. 38. Rom. Adel. p. 102. in the life o f Nero.
After this was done he cast the blame on the Christians, saying that they had done it; for, when the Romans, very much agitated on account of the immeasurable damage and the dire calamities which had sprung from this conflagration, began to murmur greatly, he, in order to shield himself, and to wreak his prejudiced hatred upon the Christians, put the whole blame on them. Introduction to the Martyrs Mirror, p. 35, from Baron. Anno 66. num. 1.
For this reason there were proclaimed immediately, in the name of the Emperor, throughout the whole known world (then under the monarchy of the Romans), bloody decrees against the Christians, that they should everywhere be put to death. The contents of these decrees were as follows: "If any one confesses that he is a Christian, he shall be put to death, without further trial, as a convicted enemy of mankind." loh. Gysii Hist Mart. edit. 1657. fol. 6. col. 2.
Tertullian afterwards upbraided the Roman Senate, saying: "Read your own histories, and you will find, that Nero was the first who raged against this sect (so he calls the Christians), which then flourished the most in Rome." AQol. Contra Gentes. cap. 5.
In another place he says: "Nero was the first who stained with blood the rising Christian faith at Rome."
Shortly after this decree of Nero, a violent and unmerciful persecution of the Christians manifested itself in all the countries which were under the Roman dominion; which persecution lasted until the Emperor's death. The innocent Christians were accused not only of the burning of Rome, but also of every wickedness imaginable; that they might be tortured and put to death in the most awful manner. To this the Roman Tacitus (according to the translation of J. Gysius, and not that of Fenacolius) * refers, saying: "Then, Nero, in order to avert this report from himself, caused those called Christians by the common people, to be accused and exceedingly tormented. The author of this name is Christ, who was publicly put to death under the reign of Tiberius, by Pontius Pilate, the governor. Those who confessed that they were Christians, were first apprehended, and afterwards by making it known themselves a great multitude were all condemned, not so much on account of the conflagration, as of the hatred in which they were held by mankind. The taking of their lives was accompanied with much mockery; they were covered with the skins of wild beasts, and then torn to pieces by dogs; or nailed on crosses; or placed at stakes and burned; serving also as torches for the spectators, when the day was over."
Thus Tacitus, a Roman himself, has sufficiently confessed, in spite of himself, as J. Gysius writes, that the Christians were innocent of the burning of Rome, but that they notwithstanding had to suffer on account of their name.
Who the great multitudes were, that perished in those awful persecutions, confessing the name of Christ even unto death, is not stated in the histories of the fathers; however, we shall content ourselves therewith, that God remembers them, and that their names are written in the Book of Life. Nevertheless, we meet with some, though but few, names of such who suffered in that persecution in the reign of Nero, and sealed the truth of Christ with their blood and death; of these we shall speak in the proper place.
OF THE UNHEARD OF CRUELTIES NERO PRACTICED
IN SLAYING THE PIOUS CHRISTIANS
Touching the manner in which the Christians were tortured and killed at the time of Nero, A. Mellinus gives the following account from Tacitus and other Roman writers: namely, that four extremely cruel and unnatural kinds of torture were employed against the Christians
Firstly, that they dressed them in the skins of tame and wild beasts, that they might be torn to pieces by dogs or other wild animals.
Secondly, that they, according to the example of their Saviour, were fastened alive on crosses, and that in many different ways.
Thirdly, that the innocent Christians were burned and smoked by the Romans, with torches
* We quote Tacitus according to the annotation of John Gysius in Hist. Mart. fol. 6. col. 2., from which the translation of John Fenacolius differs greatly.
----
----
and lamps, under the shoulders and on other tender parts of their naked bodies, after these had been cruelly lacerated with scourges or rods. This burning was done also with shavings and fagots, they (the Christians) being tied to stakes worth half a stiver.* Therefore they called the Christians sdrmenticii, that is, fagot people, and semissii, that is, half stiver people; because they stood fastened to half stiver stakes, and were thus burned with the slow fire of fagots.
Fourthly, that these miserable, accused Christian martyrs were used as candles, torches, or lanterns, to see by them at night.
Of those who were burned, some were tied or nailed to stakes, and held still by a hook driven through the throat, so that they could not move the head when the pitch, wax, tallow, and othef inflammable substances were poured boiling over their heads, and set on fire, so that all the unctious matter of the human body flowing down made long, wide furrows in the sand of the theatre. And thus human beings were lighted as torches, and burned as lights for the wicked Romans at night.
Juvenal and Martial, both Roman poets, and Tertullian, state this in a different manner, namely, that the Romans wrapped them in a painful or burning mantle, which they, wound around their hands and feet, in order to melt the very marrow in their bones.
Furthermore, it is stated by A. Mellinus (from the aforementioned authors), concerning those mantles, that they were made of paper or linen, and, having been thickly coated with oil, pitch, wax, rosin, tallow, and sulphur, were wrapped around their whole body, and then set on fire.
For this spectacle Nero gave the use of his gardens, and appeared himself among the people in the garb of a charioteer, taking an active part in the Circusian games; himself standing in the circus, and, as charioteer, guiding a chariot.
These proceedings, according to the testimony of Tacitus, although it had the appearance that the Christians were punished as malefactors who had deserved the extremest penalty, nevertheless moved the people to compassion; for they understood well enough that the  Christians were not exterminated for the good of the common weal, but simply to gratify the cruelty of one man, Nero. Compare Abr. Mellin. 1st book van de Histor. der vervolg. en Mart printed Anna 1619 fol. 11. col. 4. and fol. 12. col. 1. with Tacit. Annal. lib. 15. and Tertul. Apol. Contr. Gent. cap. 50 and adv Marc. cap. 5. Martinal. Epig. 25. lib. 25.
SIMON PETER, THE HOLY APOSTLE, CRUCIFIED
WITH HIS HEAD DOWNWARD, UNDER
EMPEROR NERO, A. D. 69
Simon jona, afterwards called Cephas in Syriac, but Petros or Petrus in Greek, was the brother of Andrew, a native of Bethsaida in Galilee, and a
* About one cent.
fisherman by occupation. He had his abode at Capernaum, with his wife's mother. His brother Andrew, who was a .disciple of John, first brought him .to Christ, and shortly afterwards he and his brother were called away from the fishery, to become fishers of men. Matt. 16:17; Mark 3:16; John 1:42; Matt. 4:18; John 1:44; Luke 4:31, 38; John 1:41, 42; Matt. 4:18,19.
He was diligently instructed by Christ, his Saviour, and made such progress therein, .that he became the spokesman of all the apostles, being generally the most frank in asking and answering, as well as the most zealous for Christ, in order to prove to Him his love and fidelity, although at times he manifested a certain rashness therein; on which occasions the Lord, like a father his child, faithfully instructed, and, whenever it was necessary, kindly reproved him. Matt. 16:16; John 6:68; Matt. 18:21; 14:31; John 18:10, 11.
The Lord loved him in a special manner, and permitted him, together with James and John, to witness His glory on Mount Tabor; of which He afterwards made mention to the chosen scattered strangers, saying, We were eyewitnesses of his majesty. Matt. 17:1-3; 11 Pet. 1:16, 17.
----
----
He was the boldest in offering to suffer with Christ, but the weakest when the conflict began. The Lord selected him and the two sons of Zebedee, to watch and pray with Him in the garden; but his eyes as well as those of the others were heavy with sleep; which showed that though he was specially loved by Christ, he was nothing more than a weak mortal. Matt. 26:33, 36.
About his denying Christ we shall not mention anything, as this is not the proper place for it. since we purpose to speak only of his faithfulness and steadfastness until death.
After the aforesaid denial, the Lord forgave him his sin, and commanded him three times to feed His sheep and lambs; which he subsequently faithfully did to the full extent of his ability: John 21:15,16; 1 Pet. 5:1-3.
In one day .there were converted to the faith, by his preaching, about three thousand souls; all of whom were baptized, and continued steadfastly in the apostles' doctrine and fellowship, and in breaking of bread, and in prayers. Acts 2:41, 42.
He confirmed his doctrine through the power of God by signs accompanying the same, according to the promise of Christ, as is evidenced in the case of the lame man, Ananias, Sapphira, Eneas, Tabitha, and others. Acts 3:7; 5:5,10; 9:34, 40.
The calling of the Gentiles was revealed to him in a vision from heaven; but as he was properly an apostle of the Jews, his ministry was most effectual among the circumcision. Acts 10:10-12; Gal. 2:8.
But since he was so excellent .and worthy a man in his ministry, it pleased the Lord, that he should also be one of His martyrs, to seal the truth of His doctrine not only with the mouth, but also with his blood, yea, even with his death. This the Lord showed to him shortly before His departure from this world, saying, "Verily, verily, I say unto thee. When thou wast young, thou girdedst thyself, and walkedst whither thou wouldest: but when thou shalt be old, thou shalt stretch forth thy hands, and another shall gird thee, and carry thee whither thou wouldest not. This spake he, signifying by what death he should glorify God" (John 21:18, 19).
This was verified in him, for shortly afterwards he and John, his fellow helper, were brought before the Jewish council in Jerusalem, and severely threatened, to desist preaching in the name of Jesus; to which they both boldly replied, "Whether it be right in the sight of God to hearken unto you more than unto God, judge ye" (Acts 4:19).
Afterwards he was again apprehended, together with the other apostles, but by night, miraculously delivered out of prison by an angel. Acts 5:19.
After that he was not only apprehended, but, together with the other apostles, scourged and commanded, that they should absolutely not preach in the name of the Lord Jesus; but they went away from .the Council, rejoicing that they were counted worthy to suffer shame for His name. Acts 5:40-42.
Afterwards King Herod stretched forth his hands to vex certain of the church. And he killed James the brother of John with the sword. And when he saw it pleased the Jews, he proceeded further and apprehended Peter also, and put him in prison, and delivered him to four quaternions of soldiers; intending after Easter to bring him forth to the people. But in the night the angel of the Lord led him out, through the midst of the soldiers, so that he returned to the believers, who rejoiced greatly on account of him. Acts 12:1.
Finally there was fulfilled, according to the testimony of history, the prediction of Christ, that he should glorify God by his death; for while he was at Rome, he was sentenced by  the Emperor Nero to be crucified. But, esteeming himself unworthy to be crucified with his head upward, like his Saviour, he requested to be crucified with his head downward; which he easily obtained, for the tyrants were forthwith willing and ready to increase his pain.
This occurred, as is stated, after Peter had preached the Gospel for thirty seven years, and when he was seventy years old.* Euseb. lib. 2. cap. 25. and 3. cap. 2. from the writings of Origen. Egesipp. Hist. of the miserable Destruction of the City of Jerusalem. 3d book, 2d chap. Also, Konsttooneel vain veertig heerlijke afbeeldingen Christi en sajner Apostelen, door N. D. C., printed Anno 1609, in the Life o f Peter. Also, W. Baudart Apophthegm. Christian. lib. 1. super Petrum. ex Hieron. de Vitis Illustribus. Johan. Strac. in Festo. Joh. Evang. Ambr. ad Aux.
PAUL, THE APOSTLE OF CHRIST, SORELY PERSE;
CUTED, AND FINALLY BEHEADED, AT ROME,
UNDER THE EMPEROR NERO, A. D. 69
Saul, afterwards called Paul, was of Jewish descent, a Hebrew of the tribe of Benjamin; but, as to who his father and mother were, we find in Holy Writ no record. Phil. 3:5.
As regards the place of his birth, it appears that his parents, either on account of persecution, or of the Roman war, or for some other reason, left their place of residence in the portion of Benjamin, and went to dwell in a Roman, free city in Cilicia, called Tarsus, where Paul was born, who, although he was a Jew, yet, by the privileges of this city, became a Roman citizen. Acts 22:3.
Respecting his early training, he was diligently instructed by the wise Gamaliel, in the law of the fathers; in which he became so proficient, that there were but few things in the entire Old Testament, with which he was not acquainted. Gal. 114.
He lived blamelessly, according to the law of Moses and the holy prophets, and that in the strictest order of Judaism; but, having not yet been rightly instructed in the doctrine of the holy Gospel, he, although in accordance with the law, manifested a wrong zeal, and persecuted the church of Christ; yea, at the death of Stephen he kept the garments of them that slew him. Acts 7:58.
But afterwards, having obtained letters from the priests at Jerusalem to the synagogues of Damascus, to bring as prisoners such men and women who confessed the name of Christ, the Lord, from heaven, arrested him in his course, calling, "Saul, Saul, why persecutest thou me? And he said, Who art thou, Lord? And the Lord said, I am Jesus whom thou persecutest: it is hard for thee to kick against the pricks. And he trembling and astonished said, Lord, what wilt thou have me to do? And the Lord said unto him, Arise, and go into
* The historians state that the apostle Peter wept very much daily after the ascension of Christ. When he was asked why he wept so much, he replied `Desiderio Domini, that is, "Because I very much long for my Lord. " There are ancient writers who state that Peter cried every time he heard a cock crow. When he saw his beloved wife being led out, to be put to death, on account of having confessed the faith, he addressed her in these words, " my beloved wife! have the Lord Jesus always before thine yes; this is the marriage of the saints." He was sentenced to be crucified in the usual manner. But he requested to be hung on the cross with his feet up, saying, I am not worthy to be hung on the cross, like the Son of God hung and suffered on it." W. Baudart. Apophthegm. printed Anno 1640, first book, page 2.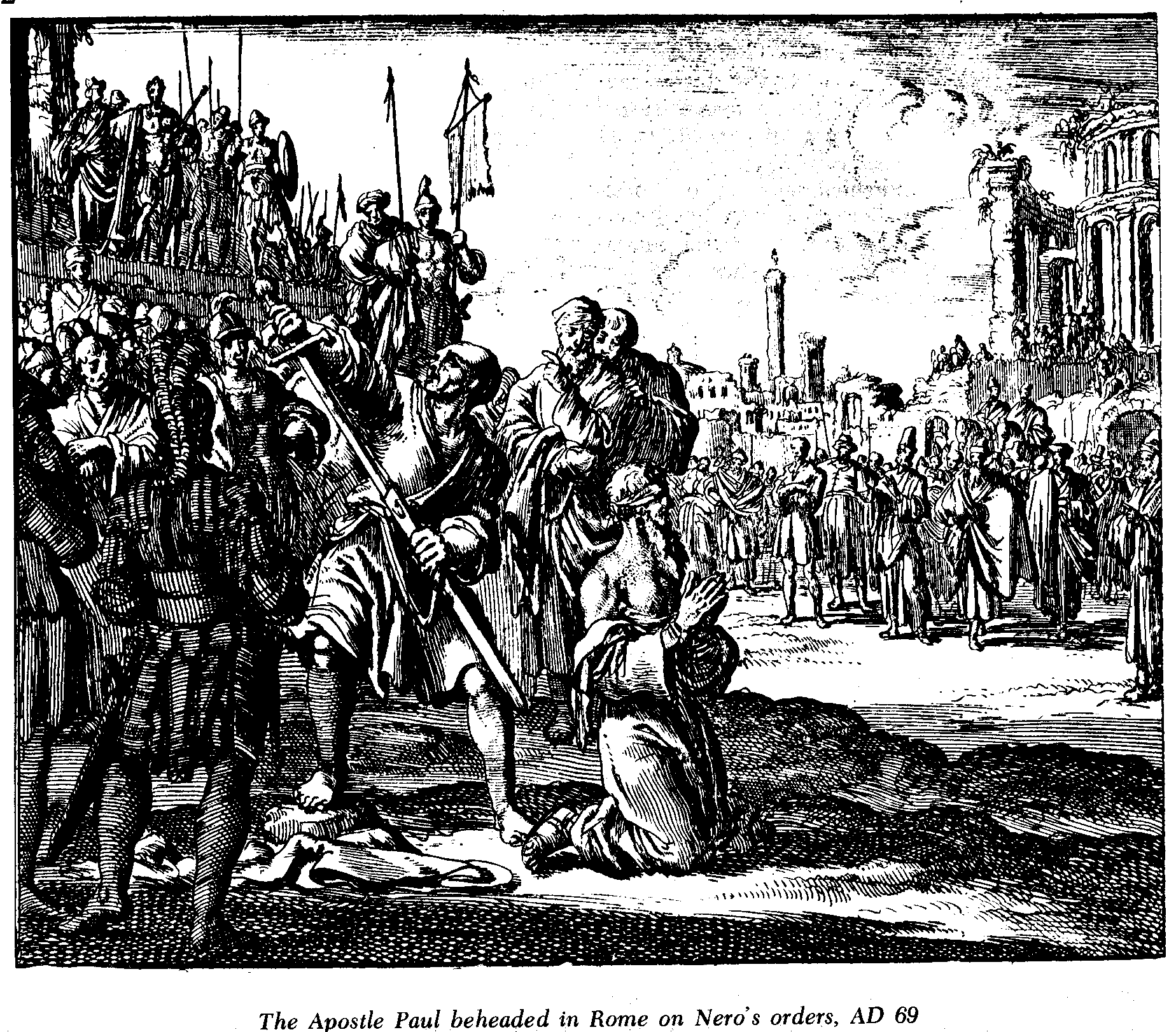 the city, and it shall be told thee what thou must do" (Acts 9:1-6).
The men who journeyed with him stood speechless, hearing a voice, but seeing no man. Then he arose from the earth, to which he had been prostrated by fear; and when he opened his eyes, lie could not see, so that they led him by the hand, and brought him into Damascus. Verses 7, 8.
In the city of Damascus there was a disciple, named Ananias; and to him the Lord said in a vision, "Arise, and go into the street which is called Straight, and inquire in the house of Judas for one called Saul, of Tarsus: for, behold, he prayeth."
Ananias answered, "Lord, I have heard by many of this man, how much evil he hath done to thy saints at Jerusalem."
Then said the Lord to him, "Go thy way: for he is a chosen vessel unto me, to bear my name before the Gentiles, and kings, and the children of Israel: for I will shew him how great things he must suffer for my name's sake.
"And Ananias went his way, and entered into the house; and putting his hands on him, said, Brother Saul, the Lord hath sent me, that thou mightest receive thy sight, and be filled with the Holy Ghost. And immediately there fell from his eyes as it had been scales; and he received sight forthwith, and arose, and was baptized" (Acts 9: 7 .16).
Such was the conversion of Saul, who was afterwards called Paul, and was one of the chief apostles of our Lord Jesus Christ: yea, he labored more abundantly than they all. I Cor. 15:10.
Immediately after his conversion, he preached Christ in the synagogues, that He was the Son of God. Acts 9:20.
Some time afterwards, the Holy Ghost said to the prophets and teachers at Antioch, after they had ministered to the Lord with fasting and prayer, "Separate me Barnabas and Saul for the work whereunto I have called them." And thus they were sent out by the Holy Ghost. Acts 13:2, 3.
In the meantime, Paul, formerly called Saul, was endowed with special gifts of the Holy Ghost, so that he had the spirit of discernment, prophecy, tongues, miracles. Acts 13:9, 10; I Tim. 4:1; I Cor. 14:18; Acts 19:11.
He had also special revelations, so that, at a certain time, he was caught up to the third heaven, yea, into the heavenly paradise, where he heard unspeakable words, which no man can utter. II Cor. 12:1.
He was, moreover, adorned with many Christian virtues, which he practiced with a good conscience; as well as with faithfulness in his ministry, paternal care over all the churches, and sincere love for them, even unto death, so that he said, "Being affectionately desirous of you, we were willing to have imparted unto you, not the Gospel of God only, but also our own souls, because ye were dear unto us" (I Thess. 2:8).
He was free from covetousness, of a benevolent disposition, and would rather labor with his own hands, than be a burden to the church, lest it might prove a hindrance to the holy Gospel. Acts 20:34.
He vigorously withstood, and overcame through the Word of God, the erring spirits, sorcerers, Epicurean philosophers, and false prophets.
He feared neither great nor small, noble nor ignoble, Jew nor Greek; but taught the Word of God in sincerity.
What he suffered in seven great land and sea journeys, during the time of thirty years; during which he traveled in Judea; Syria, Asia, Macedonia, Greece, Italy, Spain, France, Germany, yea, almost through the whole then known world, is sufficiently evident, from Holy Scripture as well as from history.
It is computed, that until his first imprisonment at Rome, he had traveled over three thousand German miles, by water and by land, only for the Gospel's sake; besides all the other arduous journeys he undertook, in order to strengthen, awaken, and comfort the newly planted churches; in which he met with much vexation, misery ,and grief from the hands of the unbelievers. The words which the Lord had spoken at the time of his conversion, were fulfilled in every part: "I will shew him how great things he must suffer for my name's sake" (Acts 9:16).
Shortly after he was baptized, and his zeal for the truth of Christ began to break forth at Damascus, proving to the Jews that Christ was come, they took counsel to kill him; wherefore he was let down by the wall in a basket, that he might escape their hands. Acts 9:24, 25.
Afterwards, when he came to Iconium with his companion Barnabas, the Jews stirred up the Gentiles against him and his friend, intending to stone them. Acts 14:2, 5.
But when they had fled to Lystra, and had made a cripple able to walk, there came certain Jews from Antioch and Iconium, and stirred up the people, so that they stoned Paul, whom they first had worshiped as a god, and drew him out of the city, supposing that he was dead: howbeit, as the disciples stood round about him, he rose up again. Acts 14:19, 20.
----
----
Afterwards, traveling with Silas, and having, at Philippi, delivered a damsel from a. spirit of divination, he and Silas were accused on that account, beaten with rods, cast into prison, their feet made fast in the stocks, and were kept .in close confinement. But in the night God sent an earthquake, so that the foundations of the prison were shaken, the doors opened, and the bands (of the stocks) loosed of their own accord. By this means Paul and Silas were delivered, with the knowledge of the keeper, who accepted the faith, and was baptized. Acts 16:22-36.
Subsequently, being at Thessalonica, and having preached the Word of God three Sabbaths, so that of the devout Greeks, a great multitude believed, and of the chief women not a few; the Jews, who believed not, were moved with envy; wherefore they took unto them certain lewd fellows  market loungers and gathered a great company, and set the city in an uproar, and assaulted the house of one Jason, thinking that Paul and Silas were within, and sought to bring them out to the people. And when they found them not, they drew Jason and certain brethren unto the rulers of the city, crying, "These that have turned the world upside down .are come hither also; whom Jason hath secretly received" (Acts 17:1-7). From there, on account of the persecution, the brethren sent both of them away by night unto Berea. Verse 10.
After that, "when Gallio was the deputy of Achaia, the Jews made insurrection with one accord against Paul, and brought him to the judgment seat, .saying, This fellow persuadeth men to worship God contrary to the law." And when Paul was now about to open his mouth, to defend himself, Gallio said unto the Jews, to show to them the groundlessness of their accusations, "If it were a matter of wrong or wicked lewdness, O ye Jews, reason would that I should bear with you: but if it be a question of words and names, and of your law, look ye to it: for I will be no judge of such matters. And he drave them from the judgment seat." Acts 18:12-16.
After this, there came down from Judea a prophet, named Agabus, who took Paul's girdle, and bound himself saying, "Thus saith the Holy Ghost, So shall the Jews at Jerusalem bind the man that owneth this girdle, and shall deliver him into the hands of the Gentiles." Thereupon the brethren besought Paul, not to go up to Jerusalem. But he answered, "What mean ye to weep and to break mine heart? for I am ready not to be bound only, but also to die at Jerusalem' for the name of the Lord Jesus." Acts 21:10-13. Oh, the great resolution of the Apostle Paul!
After that, when he, standing on the stairs at Jerusalem, defended himself before those who had accused him, it came to pass that the Jews, having given him audience for awhile, cast off their clothes, threw dust into the air, and cried, "Away with such a fellow from the earth: for it is not fit that he should live." Acts 22:22, 23.
In the meantime he was bound, in order to be scourged; which he would not have escaped, had he not declared that he was a Roman citizen: Verses 25-29.
"Paul, earnestly beholding the council, said, Men and brethren, I have lived in all good conscience before God until this day. And the high priest Ananias commanded them that stood by him to smite him on the mouth" (Acts 23:1, 2).
"The night following, the Lord stood by him, and said, Be of good cheer, Paul: for as thou hast testified of me in Jerusalem, so must thou bear witness also at Rome" (verse 11).
And when it was day, certain of the Jews banded together, and bound themselves neither to eat nor to drink till they had killed Paul. And they were more than forty which had made this conspiracy. Verse 12.
But Paul was warned of this ambuscade by his sister's son, and when the latter made it known to the chief captain of the Romans, measures were taken to escape it; wherefore.he was brought in the third hour of the night to Caesarea, unto Felix the governor. Verses 16-33. And Felix kept him in Herod's judgment hall, till his accusers should come. Verse 35.
After five days Ananias the high priest descended with the elders, and with the orator Tertullus, who informed the governor against Paul. And when Paul was called forth, Tertullus, after having saluted Felix with many flattering words, began to accuse him, saying, "We have found this man a pestilent fellow, and a mover of sedition among all the Jews throughout the world, and a ringleader of the sect of the Nazarenes: who also hath gone about to profane the temple: whom we took, and would have judged according to our law. But the chief captain Lysias came upon us, and with great violence took him away out of our hands," etc. "And the Jews also assented, saying that these things were so." Acts 24:1-9.
But that this was not so (although they sought to bring about his death by these accusations), is evident from the preceding facts mentioned in the Acts of the Apostles, and from the following dedense of Paul, verses 10-21.
"But after two years Portius Festus came into Felix' room: and Felix, willing to shew the Jew a pleasure, left Paul bound" (verse 27).
Now when Festus was come into the province, after three days he ascended from Caesarea to Jerusalem. Then the high priest and the chief of the Jews went to him, and desired favor, that he would send for Paul to Jerusalem; laying wait in the way to kill him. Festus replied to the Jews, that Paul should be kept at Caesarea, and that those who were to accuse him, might come thither. Acts 25:4, 5.
And when they were come, they brought forward many and grievous complaints, which they could not prove, and which Paul briefly and conclusively .refuted, declaring that he had offended neither against the law of the Jews, nor against the temple,; nor against Caesar. But being deceitfully asked by Festus, whether he was willing to go up to Jerusalem, to be judged there (where his mortal enemies were), he fearlessly replied, "I stand at Caesar's judgment seat, where I ought to be judged: to the Jews have I done no wrong, as thou very well knowest. But if I be an offender, or have committed anything worthy of death, I refuse not to die." Acts 25:9-11.
After this, Paul was examined by King Agrippa, in the presence of Festus. His defense caused Festus, who was a friend of the Jews, to exclaim
Paul, thou art beside thyself. Agrippa, however, declared that he was almost persuaded to become a Christian. He also gave as his opinion, that there was nothing worthy of death in him; wherefore he said to Festus,. This man might have been set at liberty, if he had not appealed unto Caesar. Acts 26:1-32.
In the meantime it was determined that he should sail to Italy, to be examined before Caesar. To this end he and certain other prisoners were delivered to Julius, a centurion of the imperial band. Having embarked in a ship of Adramyttium, they sailed along Cyprus, Cilicia, Pamphylia, and other countries, to Myra in Lycia, where they were transferred into a ship of Alexandria bound for Italy. In this ship they sailed against Cnidus, as far as under Crete, over against the city of Salmone; thence to a place which is called the Fair Havens, nigh to Lasea. Acts 27:1-8.
At this place Paul foretold them, that they would not complete this voyage without great damage, clanger of shipwreck, and peril of life; but the centurion believed the master and the owner of the ship, more than those things which were spoken by Paul. Verses 10, 11.
Departing thence, they hoped to winter at Phenice, a haven of Crete; but they touched at Asson, and sailed close by Crete. Verses 12, 13.
Then the ship was caught by a northeast wind, which had sprung up, and carried her, against their purpose, through the billows so that they had to let her drive before it; however, they came to the Island Clauda, yet with fear, lest they should fall into the quicksands. Verses 16, 17. For many days and nights they saw neither sun nor stars through the mighty tempest, so that all hope that they should be saved was taken away. Verse 20.
Meanwhile God sent His angel on a certain night to Paul, saying, "Fear not: thou must be brought before Caesar: and, lo, God hath given thee all them that sail with thee." Verses 23, 24.
Thereupon Paul urged them to take meat, for the preservation of their lives, for, on account of their deadly fear, they had not eaten anything for fourteen days; and breaking the bread, for to eat, he gave thanks to God in the presence of them all. Verses 33-36.
And when it was day, they knew not the land but they discovered a creek; which however they could not enter, but ran aground, before the island of Melita (now called Malta); where the forepart of the ship stuck fast, but the hinder part was broken in pieces by the waves. Verses 39-41. Here the soldiers held a council and decided to kill the prisoners, including Paul, lest any of them should swim out, and escape. The centurion, however, willing to save Paul, kept them from their purpose: and commanded that they who could swim should cast themselves first into the sea, and get to land which was done; and the rest floated, some on boards, and some on broken pieces of the ship, so that all, namely, one hundred and seventy souls, escaped to land. Verses 42-44. Thus was fulfilled what Paul had foretold them, namely, that they should suffer shipwreck, and yet escape with their lives.
Here Paul was first pronounced a murderer, but afterwards a god, by the inhabitants of the island; and this, because they observed a viper fastening itself on his hand, which he shook off into the fire, without suffering any harm. Acts 21:3-6.
After three .months they sailed for Italy in a ship which had wintered in the isle: yet they arrived first at Syracuse, in Sicily, and then at Puteoli, on the Italian .border, where Paul found brethren, with wham he tarried seven days; others came to meet him as far as Appii Forum, and the Three Taverns. Proceeding, he came to Rome, where the centurion delivered him to the chief captain, to be brought before Caesar. In the meantime he was kept by a soldier, and bound with a chain. Verses 11-16, 20.
We have narrated all these things the more circumstantially (and this, according to Holy Scripture) in order that it may be seen, how much this pious man suffered in his travels by sea and by land, for the sake of the holy Gospel. Of all this he gives a brief account in his second epistle to the Corinthian church, writing thus: "Of the Jews five times received I forty stripes save one. Thrice was I beaten with rods, once was I stoned, thrice I suffered shipwreck, a night and a day I have been in the deep; in journeyings often, in perils of waters, in perils of robbers, in perils by mine own countrymen, in perils by the heathen, in perils in the city, in perils in the wilderness, in perils among false brethren; in weariness and painfulness, in watchings often, in cold and nakedness" (II Cor. 11:24-27).
Yea, it appears from the first epistle to the Corinthians, that he was thrown before the wild beasts in a theater at Ephesus, to be torn to pieces, or at least, to fight for his life with them; from which God at that time delivered him. Concerning this, the intelligent may judge; he writes, "If after the manner of men I have fought with beasts at Ephesus, what advantageth it me, if the dead rise not?" (I Cor. 15:32) .
As regards his imprisonment at Rome, most of the ancient writers are of the opinion that, although nearly all his friends forsook him at the time when he was to make his defense, he, being brought before Caesar, defended himself so cleverly against the accusation of the Jews, that he was set free for this time. But how true this is, we leave to its own merits, and to the omniscient God. This much, however, is certain, that while in prison at Rome, he wrote to his spiritual son Timothy, that he was now ready to be offered as a drink offering, and that the time of his departure was at hand; but that he took comfort in the thought, that he had fought a good fight, finished his course, and kept the faith, and that there was laid up for him a crown of righteousness, which the Lord, the righteous judge, should give him at that day. II Tim. 4:6-8.
According to ancient records he was then beheaded at the command of Nero, outside of Rome, on the road that leads to Ostia, called Via Ostiensis, where the Romans used to have their place of execution, in the last year of Nero, or about A.D. 69. Joh. Gys. in the History of the Martyrs, from Joseph Scaliger, about Paul. Egesipp. Hist. Destruc. Jerusal., lib. 3, cap. 2. Konst tooneel van veertig heerlijke afbeelding.en Christi en sijner Apostelen, printed Anno 1609; about the life of Paul. Itinerarium Sacra?, Scri¢turce per H. Bunt;ing, translated into the Dutch by Matthias Hazard; printed Anno 1624. in the Travels o f Paul, page 162. col. 1.
THE MARTYRDOM OF SOME OF PAUL'S FRIENDS AND
BRETHREN WHO WERE IMPRISONED WITH HIM
SHORTLY AFTER HE WAS OFFERED UP;
BESIDES OTHERS WHO WERE SLAIN
AFTERWARDS
It is related that shortly after the death of the Apostle Paul, his brethren and fellow prisoners, whom he mentions in the epistles which he wrote from his prison, namely, Aristarchus, Epaphras, Aquila, Prisca, Andronicus, Junias, Silas or Silvanus, Onesiphorus, etc., followed in his footsteps in suffering for the name of Christ.
ARISTARCHUS, A TRAVELING COMPANION OF PAUL,
SLAIN AT ROME, UNDER NERO,
ABOUT A. D. 70
Aristarchus, a native of Thessalonica, was, with Gaius, Paul's companion in his journey from Macedonia to Asia; with which Gaius he was apprehended at a certain time, in an uproar at Ephesus, but for that time made his escape. Afterwards, however, he was brought to Rome a prisoner, just at the time that Paul also was apprehended for the testimony of Jesus Christ.
This friend of God saluted the church at Colosse by the hand of Paul; of which Paul makes mention, writing, "Aristarchus my fellow prisoner saluteth you" (Col. 4:10).
This imprisonment, however, was not the end of it; for he was also devoured by that cruel lion. Nero, about the time of Paul's death after having been several years previously a faithful pastor of the church at Thessalonica, A. Mell. 1st Book, van de Hist. der vervolg. en Mart., printed at Dort, Anno 1619, fol. 17, col. 4, froze Bedw Usuard. Adon Mart. Rom. 4 aug. Also, Menol. Grcec. 14 April.
EPAPHRAS, A FELLOW PRISONER OF PAUL, SLAIN
UNDER NERO, ABOUT A. D. 70
Epaphras was a faithful minister of Jesus Christ for the church at Colosse, which, while in bonds at Rome, he saluted by the hand of Paul, as appears from the epistle Paul wrote from his prison at Rome to the Colossians, in which, among other things, he says: "Epaphras, who is one of you, a servant of Christ, saluteth you, always laboring fervently for you in prayers, that ye may stand perfect and complete in all the will of God. For I bear him record, that he hath a great zeal for you, and them that are in Laodicea, and them in Hierapolis" (Col. 4:12, 13).
Concerning his being a prisoner with Paul, or, apparently, sharing the same dungeon with him, Paul writes to Philemon, in the conclusion of the epistle: "There salute thee Epaphras, my fellow prisoner in Christ Jesus" (verse 23).
Hence, it follows that those write not without foundation, who hold that Epaphras also suffered a violent death under the persecution of Nero. Idem, Ibidem. ex Mart. Rom. 19. Jul.
FOUR FELLOW LABORERS AND RELATIVES OF PAUL,
NAMELY, PRISCA, AQUILA, ANDRONICUS, AND
JUNIA, MARTYRED AT ROME, UNDER
NERO, ABOUT A. D. 70
The apostle Paul, at the conclusion of his epistle to the church of God at Rome, very lovingly saluting different saints residing there, mentions, among others, two persons who had laid down their own necks for his life; also two others whom he calls his fellowprisoners, doubtless, because they were subject, with him, to like persecution and suffering on account of the name of Christ. All these he mentions by name, and salutes them in apostolic manner.
Of the first two he writes thus: "Greet Priscilla and Aquila, my helpers in Christ Jesus, who have for my life laid down their own necks" (Rom. 16: 3, 4).
The last two he mentions in this manner: "Salute Andronicus and Junia, my kinsmen, and my fellowprisoners, who are of note among the apostles, who also were in Christ before me" (verse 7).
What was the end of these persons, is stated neither in Paul's epistles nor in any other part of the New Testament; but other writers hold, that, in the aforementioned persecution of Nero, they suffered and fought unto death for the truth of Jesus Christ; which can not well be contradicted, since the bloodthirstiness of this emperor, especially against the Christians, was so great, that but few of those who fell into his hands escaped without bloodshed or a miserable death. See above.
SILAS, OR SILVANUS, SCOURGED AT PHILIPPI,
IN MACEDONIA, AND DIED A MARTYR,
ABOUT A. D. 70
Silas, also called Silvanus, together with Judas, surnamed Barsabas, was added to the apostles Paul and Barnabas. These men were leaders among the brethren, and were to bear testimony to those matters which had been considered and decided upon by the apostles at Jerusalem, for the welfare of the church of God. Acts 15:27, 34.
This Silas having once promoted, with Paul, the work of the holy Gospel, at Philippi, in Macedonia, he was apprehended together with Paul, brought before the rulers, publicly scourged, though without trial, and thus maltreated, cast into prison, against right and reason, with his feet made fast in the stocks; but was by divine Providence miraculously delivered, an earthquake at midnight opening the doors of the prison. Acts 16:19-39.
According to the statements of some writers, he afterwards became bishop of the church at Corinth, and died a martyr after having done much preaching. This much is certain, according to the testimony of Holy Scripture, that he was not only apprehended and scourged for the Gospel's sake, but suffered many indignities before his end. A. Mell., 1st Book, van de Hist. der hervolg., fol. 18, col. 1.
ONESIPHORUS, A FRIEND OF PAUL, AND PORPHYRIUS,
HIS COMPANION, TIED TO WILD HORSES,
AND DRAGGED, OR TORN, TO DEATH, AT
HELLESPONTUS, THROUGH THE
EDICT OF NERO, ABOUT A. D. 70
Onesiphorus was an Asian, a citizen of Ephesus, in Asia Minor, and very virtuous and godly in life, so that he frequently came to visit, converse with, and comfort, the apostle Paul in his bonds at Rome; on account of which Paul rejoiced with all his heart, and prayed to God to reward him for this kindness in the great day of recompense. Concerning this, Paul writes thus to Timothy. "The Lord give mercy unto the house of Onesiphorus; for he oft refreshed me, and was not ashamed of my chain: but when he was in Rome, he sought me out very diligently, and found me. The Lord grant unto him that he may find mercy of the Lord in that day: and in how many things he ministered unto me at Ephesus, thou knowest very well" (II Tim. 1:16-18). In the conclusion of the same letter he affectionately salutes the household of Onesiphorus, saying, "Salute . . . . and the household of Onesiphorus . . . Grace be with you. Amen" (II Tim. 4:19, 22) .
Some writers say that this pious man was bishop of (the church of) Colophon; others, of Coronia but whether Colophon and Coronia at that time were not one and the same city, called by two different names; or, if they were two separate cities, whether he had the oversight over both churches at once, is a matter of little consequence. It is sufficient for us, that the historians agree in the fact that he and Porphyrius, his fellow servant of Jesus Christ, were first beaten with many severe stripes at Hellespontus, by the order of Adrianus the governor, and afterwards, both together, tied to wild horses, and thus dragged or torn to death, by virtue of Nero's bloody edict. A. Mellin., 1st Book van de histmrien der hervolgingen en Martelaren, printed A. D. 1619, fol. 18, cot. 2, from Doroth., in Synopsi Mart. Rom. 6 Sept.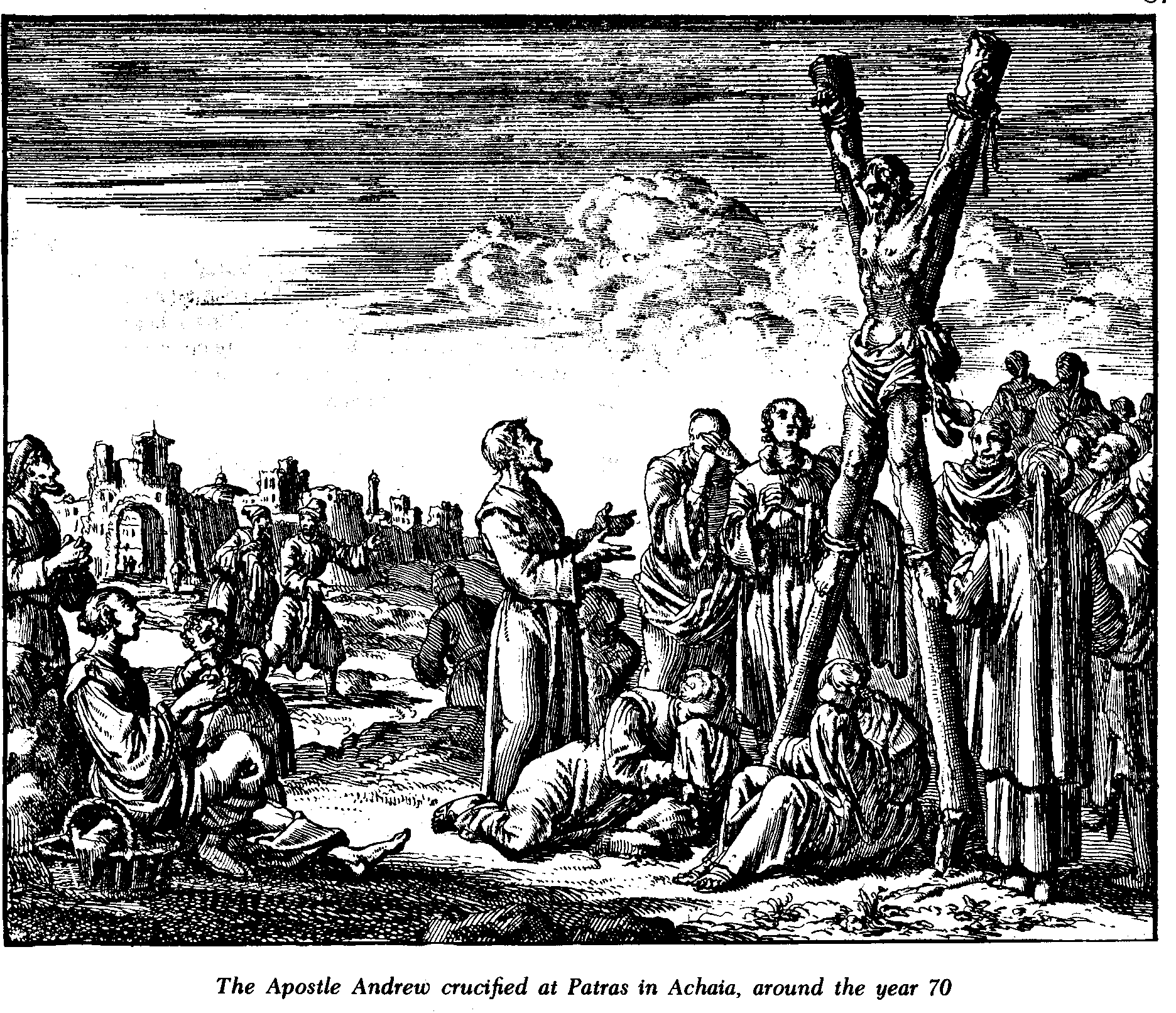 ANDREW, THE HOLY APOSTLE, CRUCIFIED AT
PATRAS, IN ACHAIA, ABOUT A. D. 70
Andrew, the son of Jona, and brother of Peter, was a native of Bethsaida in Galilee. He was first a disciple of John the Baptist, ,and since he was older than Peter, and knew Christ first, he brought his brother to Christ as to the true Messiah. Being also a fisherman, like Peter, the Lord called him, and promised to make him a fisher of men. John 1:44, 40, 42; Matt. 4:18, 19.
And because he zealously followed the Lord, and was instructed in the evangelical doctrine, so that he was worthy to be filled with the spirit of miracles, the Lord ordained him as one of His twelve apostles; in which ministry he, with the others, faithfully labored among the Jews. Matt. 10:2; Mark 6:7.
He was held in no small esteem by the Lord; for he had, as it appears, a freer access to Him, than Philip himself. Compare John 1:40 with verses 42, 43.
Further, although he fell through weakness, like all the other apostles, in forsaking his Master; yet he recovered from his fall, and again joined himself to Christ and to his fellow brethren. Matt. 26:31; Luke 24:33.
Afterwards he with all his fellow ministers received command to preach the Gospel in the whole world, and to all nations; to which end he was endued, on the day of Pentecost, with the Holy Ghost, whom he received in all fullness.. Matt. 28:19.
Going out, in obedience to the command of Christ, he taught in many countries, as in Pontus, Galatia, Bethynia, as well as at Antropophages, and afterwards in Scythia. He also traveled in the northern and the southern countries, yea, as far as into Byzantium; further, in Thracia, Macedonia, Thessalia, and Achaia, everywhere preaching Christ; whereby he converted many to the Christian faith.
He also confirmed the doctrine of his Master with many miracles, according to the words of the Lord: "These signs shall follow them," etc. But since other authors do not .treat accurately of this, we shall omit the particulars of these signs. Abdias, van den strijd der Apostelen.
Finally, when he had finished his course, according to the will of the eternal God, Aegaeas, the governor of Edessa, in the name of the Roman senate, caused him to be crucified in the city of Patras, in Achaia. Joh. Gys. His. Mart., fol. 10, col. 1, 2, from Sophronis and Aug. Solilo., cap. 2.
Concerning the cause and manner of his death, the following is contained in Apophthegm. Christian. Baudart., page 3: At Patras, a city in Achaia, he converted besides many others, Maximillia, the wife of Aegaeas, the governor, to the Christian faith. This so enraged the governor against Andrew, that he threatened him with death of the cross. But the apostle said to the governor: "Had I feared the death of the cross, I should not have preached the majesty and gloriousness of the cross of Christ."
The enemies of the truth having apprehended and sentenced to death the apostle Andrew, he went joyfully to the place where he was to be crucified, and, having come near the cross, he said, "O beloved cross! I have greatly longed for thee. I rejoice to see thee erected here. I come to thee with a peaceful conscience and with cheerfulness, desiring that I, who am a disciple of Him who hung on the cross, may also be crucified." The apostle said further, "The nearer I come to the cross, the nearer I come to God; and the farther I am from the cross, .the farther I remain from God."
The holy apostle hung three days on the cross; he was riot silent, however; but as long as he could move his tongue, he instructed the people that stood by the cross, in the way of the truth, saying, among other things: "I thank my Lord Jesus Christ, that He, having used me for a time as an ambassador, now permits me to have this body, that I, through a good confession, may obtain everlasting grace and mercy. Remain steadfast in the word and doctrine which you have received, instructing one another, that you may dwell with God in eternity, and receive the fruit of His promises."
The Christians and other pious people besought the governor to give Andrew unto them, and take him down from the cross.,, (For it appears that he was not nailed to the cross, like Christ, but tied to it). When .the apostle learned of this, he cried to God, Saying, "O Lord Jesus Christ! suffer not that Thy servant, who hangs here on the tree for Thy name's sake, be released, to dwell again among men; but receive me. O my Lord, my God! whom I have known, whom I have loved, to whom I cling, whom I desire to see, and in whom I am what I am." Having spoken these words, the holy apostle committed his spirit into the hands of his heavenly Father. M. W. Baudart. in Apophthegm Christian. lib. 1, super Andream, ex August. de Vera et Falsa Poenitentia., cap 8, Bernhard. in Sermon. de Andrea. Lanfrancus contra Berengar. Niceph., lib. 2, cap. 39, and lib. 15, cap. 39. Remigius in Psal. 21 and 40. Johan. Strac. in Festo Andreae, p. 23, haec et alia. Also, Konst tooneel van veertig, by N. D. C., Concerning the Life o f Andrew.
BARTHOLOMEW, THE HOLY APOSTLE OF CHRIST,
FIRST GREATLY TORTURED, THEN FLAYED
ALIVE, AND FINALLY BEHEADED, IN
ARMENIA, BY KING ASTYAGES,
ABOUT A. D. 70
Bartholomew, which signifies, the son of Tholomaeus, was a Galilean, like all the other apostles; and also a fisherman, according to the opinion of Theodoretus; some, however, hold, that he was of royal descent, and the nephew of the king of Syria.
Little is said of him in Holy Scriptures aside from what relates to his call to the apostleship to preach the Gospel with the others throughout Judea and Galilee, to the lost sheep of the house of Israel. After Christ's resurrection he was confirmed in his apostleship, and, with the others who were in like ministry, received the gift of the Holy Ghost. Matt. 10:3; Mark 3:18; Luke 6:14,15; Acts 2:1-5.
After the separation of the apostles he exercised his ministry first in Lycaonia, then in Syria and the upper parts of Asia., and afterwards in India, where, as the chronicles relate, Pantenus, a teacher of Alexander, coming to the same place, about a century afterwards, found and took away with him the Gospel of Matthew, which Bartholomew had brought thither, and which he had taught the Indians in their native tongue. Isid. de part N. T., J. Gys. Hieron, Catal. Pantaleon, Euseb., lib. 3, cap. 10, J. Gys.
Finally he spread the Gospel in Great Armenia, and there, in Albana, or Albanopolis, the capital and residence of the kingdom of Poleno, or Palemonio, and converted King Astyages' brother, together with his wife, two sons, and a daughter, to the faith. Hieron. Cat. Barthol., J. Gys.
He moreover, as is stated by others, delivered from idolatry, and enlightened with the knowledge of Jesus Christ, twelve cities in that country. in which the devil was worshiped through the idol Ashtaroth. But the priests of Ashtaroth, being very much vexed on account of this, complained to King Astyages, who caused Bartholomew, this holy apostle of Christ, to be apprehended and brought before him.
When Bartholomew stood before the king, the latter upbraided him, that he had perverted his brother, and unsettled the worship of the gods in his country. He therefore threatened him with death, unless he would desist preaching Christ, and sacrifice to his gods.
When Bartholomew had replied to this accusation, saying, that he had not perverted, but converted, his brother, that he had preached the true worship of God in his country, and that he would rather seal his testimony with blood, than suffer the least shipwreck of his faith or conscience, the king gave orders, that he should first be severely tortured and beaten with rods, then be suspended on a cross with his head downwards, flayed alive, and finally beheaded with the ax. This having been done with him, he was united with Christ, his Lord. Niceph. lib. 3, cap. 39, Isid. Hisp. de vita et obitu sanet. 1. Gys. Hi st. Mart. super Bartholomeum.
Others relate that the sentence pronounced upon Bartholomew extended no further, than that he should be flayed on the cross, without any mention of decapitation; but that, as he, being still alive after having been flayed, exhorted the people, his head was struck off with an ax, in order to prevent this, he having committed his spirit into the hands of God. Konst tooneel van veertig, about the Life of Bartholomew. Also, Bybelsch Naemboek, printed at Horn, Anno 1632, letter B. on the nawne Bartholomew, fol. 159, col. 2.
THOMAS, THE HOLY APOSTLE OF CHRIST, TOR 
MENTED WITH RED HOT PLATES, CAST INTO A
FURNACE, AND HIS SIDE PIERCED WITH
SPEARS BY THE SAVAGES, AT CALA;
MINA, ABOUT A. D. 70
Thomas, surnamed Didymus, that is, twin, was a native of Galilee, and his occupation, as it appears, that of a fisherman. John 11:16. Concerning his parents and the time of his conversion, we find no account in the Evangelists, who mention only his call to the apostleship. Matt. 10:3.
His love and ardent affection for Christ appears from the fact that he exhorted his brethren, to go up to Jerusalem, that they might die with Christ. John 11:16. But as he had not yet resisted unto blood, and labored also under a certain misapprehension concerning the death of Christ, he with the others forsook the Lord in the time of need. John 14:5; Matt. 26:31.
Afterwards, when the Lord had arisen, and appeared to the other apostles, in the absence of Thomas, he could not believe it,, as he said, unless he should put his fingers into the prints of the nails with which He had been crucified, and thrust his hand into the Lord's side, which a soldier had opened with a spear. But when the Lord carne again, and appeared also to him, saying, "Reach hither thy finger, and .behold my hands; and reach hither thy hand, and thrust it into my side," etc., then he, being convinced, began to salute Christ with divine titles of honor, saying, "My Lord and my God." John 20:24-28.
After this, he, together with the other apostles, received commandment to preach the Gospel in the whole world, and to baptize the believers; to which end, ten days after, namely, on the day of Pentecost, he, with all his fellow ministers, received the Holy Ghost in full abundance. Matt. 28:19, 20; Mark 16:15, 16.
According to history, he sent Thaddeus unto King Abgarus, shortly after Christ's resurrection. Euseb. Hilt. Eccl., lib. 1, cap. 13.
As Parthia, India, Ethiopia, and many other countries had as his portion, been assigned him, he traveled through them; he dreaded, however, as it appears, to go to the moors and the savage nations of India. Nevertheless, God having strengthened him, he there converted many to God. Euseb. Hilt. Eccl., lib: 3, cad. 1.
Concerning the end of Thomas, the most probable account found by the ancients is this, namely, that at Calamina, a city in the East Indies, he put a stop to the abominable idolatry of the heathen, who worshiped there an image of the sun; so that through the power of God he compelled the Evil One to destroy the image. Thereupon the idolatrous priest accused him before their king, who sentenced him, first to be tormented with red hot plates, and then to be cast into a glowing furnace, and burned. But when the idolatrous priests, who stood before the furnace, saw that the fire did not hurt him, they pierced his side, as he lay in the furnace, with spears and javelins; thus he conformed in steadfastness unto his Lord Jesus Christ, whom he confessed even unto death. Jerome states that his body, which, it seems, was taken out of the fire, was buried in the same place where he died. Joh. Gysii Hist. Mart., fol. 11, Col. 4. Konst tooneel van veertig, in the life of Thownas.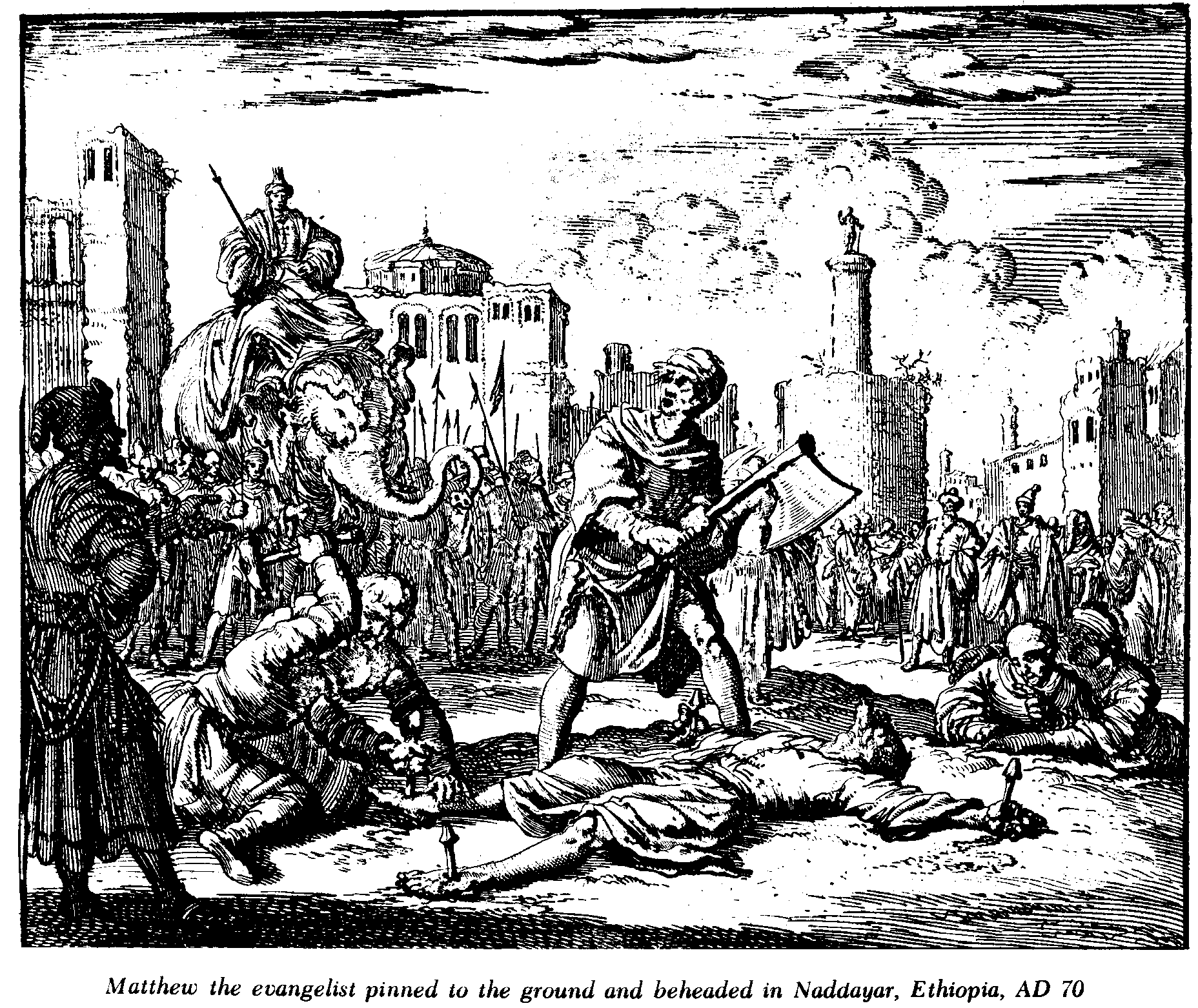 MATTHEW, THE HOLY EVANGELIST, NAILED TO
THE GROUND, AND BEHEADED AT NAD DAVAR,
UNDER KING HYTACUS, ABOUT A. D. 70
Matthew , also called Levi, the son of Alpheus, was a publican in Capernaum. The publicans were detested by the Jews, because the latter did not consider themselves justly bound to pay toll or tribute to any foreign prince. Matt. 9:9; Mark 3:18; Luke 5:29. As touching the condition of publicans at that time, it was such that they generally exacted more from the people than was just; on which account they were shunned by the pious, so that open sinners, who were separated from the church, were compared to publicans. Matt. 9:11; 18:17.
When Matthew, or Levi, was still unconverted, and made his living in this unjust business, Christ met him with His grace, and commanded him to follow Him as a disciple. Obeying through an inward impulse, he forsook the customhouse, and, having prepared a great feast for the occasion of taking leave of his companions, he invited his fellow publicans, and also the Lord Jesus; apparently for an adieu, that they might find opportunity to become converted through the discourse of the Lord Jesus.
After this, Matthew immediately forsook all, and zealously followed his Lord, who had called him, and who, after He had more fully instructed him, placed him among the apostles, which office he, too, exercised among the Jews, till the death of Christ. Matt. 10:3; Luke 6:15.
Afterwards, when he was sent out to teach among the heathen, Ethiopia fell to his lot. But before he left Judea, he, through the illumination of the Holy Spirit wrote his Gospel, in the Hebrew language, and left it to them. Euseb. lib. 5, cap. 1. Joh. Gys. Niceph. lib. 3, cap. 20. Second. J. Gys.
In Ethiopia he accomplished much, with teaching as well as with miracles; and there he also left unto posterity after his death his written Gospel, from which it can easily be seen what faith he maintained, namely, the faith in Jesus Christ, the Son of God, that He became a real man, through the power of the Holy Ghost, in His mother Mary. Matt. 1st chapter, throughout.
History states that immediately after the death of King Aeglippus, who was attached to the Christians, his' successor Hytacus, an unbelieving heathen, persecuted this apostle, and that at a certain time, when this pious apostle of Christ was teaching the church of God, he caused him to be apprehended and, as some write, nailed to the ground, and beheaded, in Naddavar, the capital of Ethiopia, where he is also buried, according to Venantius Fortunatus, who wrote, over a thousand years ago, "For the great city Naddavar shall restore to us at the last day the eminent apostle Matthew." J. Gys. in Hist. Mart., fol. 12, Col. 2. Also, Konst tooneel van veertig, in the life o f Matthew. Also, P, 1. Twisck, Bybelsch Ncpmbwch, fol. 65, Col. 2, letter M. This writer states that he was fastened to the ground with darts, whereupon death ensued. Joh. Gys., from henantius Fortunatus, de Gaud. hitcr, lib. 7.
SIMON ZELOTES AND HIS BROTHER JUDAS THAD;
DEUS, BOTH SLAIN FOR THE TRUTH OF CHRIST
THE ONE CRUCIFIED, AND THE OTHER
BEATEN TO DEATH WITH STICKS,
ABOUT A. D. 70
Simon the Canaanite, surnamed Zelotes, that is, Zealot, the son of Alpheus, the brother of James, Joses, and Juda, and a relative of Christ, was constituted by Christ one of His twelve apostles, to preach the Gospel, first among the Jews, and afterwards among the heathen; to which end he, together with the others who were in like ministry with him, received the Holy Ghost on the day of Pentecost. Matt. 10:4; Acts 1:13; Matt. 13:55; Mark 6:3.
He traveled in Egypt, Cyrene, Africa, Mauritania, throughout Lybia, and in the islands of Great Britain, where he preached the Gospel. Isid. de Vita et Mort. 5, 5. Niceph., lib. 2, cap. 40.
Afterwards having preached everywhere, writes N. D. C., he came to the Western Sea, also into England, and their neighboring places.
Finally, it is stated by others, he went to Persia, where he found his brother Judas. Continuing together steadfastly in the duties of their apostleship, they sealed the divine truth with their blood.
Concerning Simon Zelotes in particular, it is stated that he was crucified in a very painful way by a certain governor in Syria. Bybelsch Ncpmbcech, Letter S. on the name Simon, fol. 570, Col. 1, from Eus. and Niceph., and Hist. Andrcp, fol. 18, Konst tooneel van veertig, in the life o f Simon Zelotes.
As regards his brother Judas, surnamed Lebbeus, and also, Thaddeus, who was likewise an apostle of Jesus Christ, nothing is said of him in Evangelical history; only there is mention made of a question which he asked the Lord Jesus, saying, Lord, how is it that thou wilt manifest thyself unto us, and not unto the world? Matt. 10:3; Mark 3:18; John 14:22.
It was this apostle who also wrote a comforting letter to the believers, in which he admonishes them to remain steadfast in the faith once received; and threatens the unbelievers with the severe judgment of God.
In accordance with the division of the world made by the apostles for the preaching of the Gospel, he traveled in Mesopotamia, Syria, Arabia, and as far as Edessa. Finally, having gone to Persia, he there reproved and opposed the pagan idolatry; on which account he was beaten to death by the idolatrous priests, who were losing their gain. Isidor. and Niceph., Sabell. Enece. 7, lib. 14. Bybelsch Ncrmbcrck, letter 1., on the name o f Judas Thaddeus, fol. 535. Konst tooneel, etc., in the life of Judas Thaddeus, or Lebbeus.
Simon the Canaanite, or Zelotes, who was a son of Alpheus, is not distinguished by some from Simon the bishop at Jerusalem, who was a son of Cleophas; hence has originated the error that Simon Zelotes is said to have been killed A. D. 108 (see Byb. Ncemb., fol. 870, col. 1), which, properly, is to be understood of Simon, the bishop at Jerusalem, the son of Cleophas; for Simon Zelotes and his brother Judas Thaddeus, according to testimony, were killed towards the close of the persecution by Nero, or about A. D. 70.
MATTHIAS, THE HOLY APOSTLE OF CHRIST, TIED
ON A CROSS UPON A ROCK, STONED, AND
THEN BEHEADED, A, D. 70
Matthias, according to the opinion of some, was of the royal house of David; and from his youth was well instructed in the law of God, at Bethlehem. He was one of the seventy disciples of Christ; but shortly after the Lord's ascension, Judas Iscariot, having faithlessly departed from his apostleship, and taken his own life, the remaining eleven apostles, and one hundred and twenty men, through prayer to God, and by the lot, unanimously elected him in place of the aforementioned faithless Judas, an apostle and ambassador of Jesus Christ, to preach the Gospel, according to the command of the Lord, to all nations, and to baptize the believers. Acts 1:23-26.
Afterwards he and the other eleven apostles were scourged by the Jewish council, for the name of Jesus Christ, and commanded that they should preach no more in the name of Jesus Christ. Acts 5:38-40. But they departed from the council, rejoicing that they were counted worthy to suffer shame for His name. And daily in the temple, and in every house, they ceased not to teach and preach Jesus Christ.
After the separation of the apostles, who went everywhere to preach, Matthias, according to the opinion of Jerome, penetrated far into Ethiopia, where no other apostle had been, into the very interior of the land, yea, to the uttermost ends, to the inlet of the creek or river Asphar and Hyssus; where the most ignorant and barbarous people were. Unto these people, sitting as they were, in the deepest darkness and ignorance, there arose, through the ministry of this apostle, the true light of the Gospel. But, after having there gained many souls to Christ, he returmed, according to history, to Judea, Galilee, and Samaria. namely, as in consequence of the dispersion of the apostles, the Jews who dwelt in those parts, could not enjoy the benefits of the ministry of the holy Gospel, unto their conversion. Hieron. in Catad. Script. Eccl. Isidor. Naucler. Sabell. and Anthon., in Hist. Matthiae.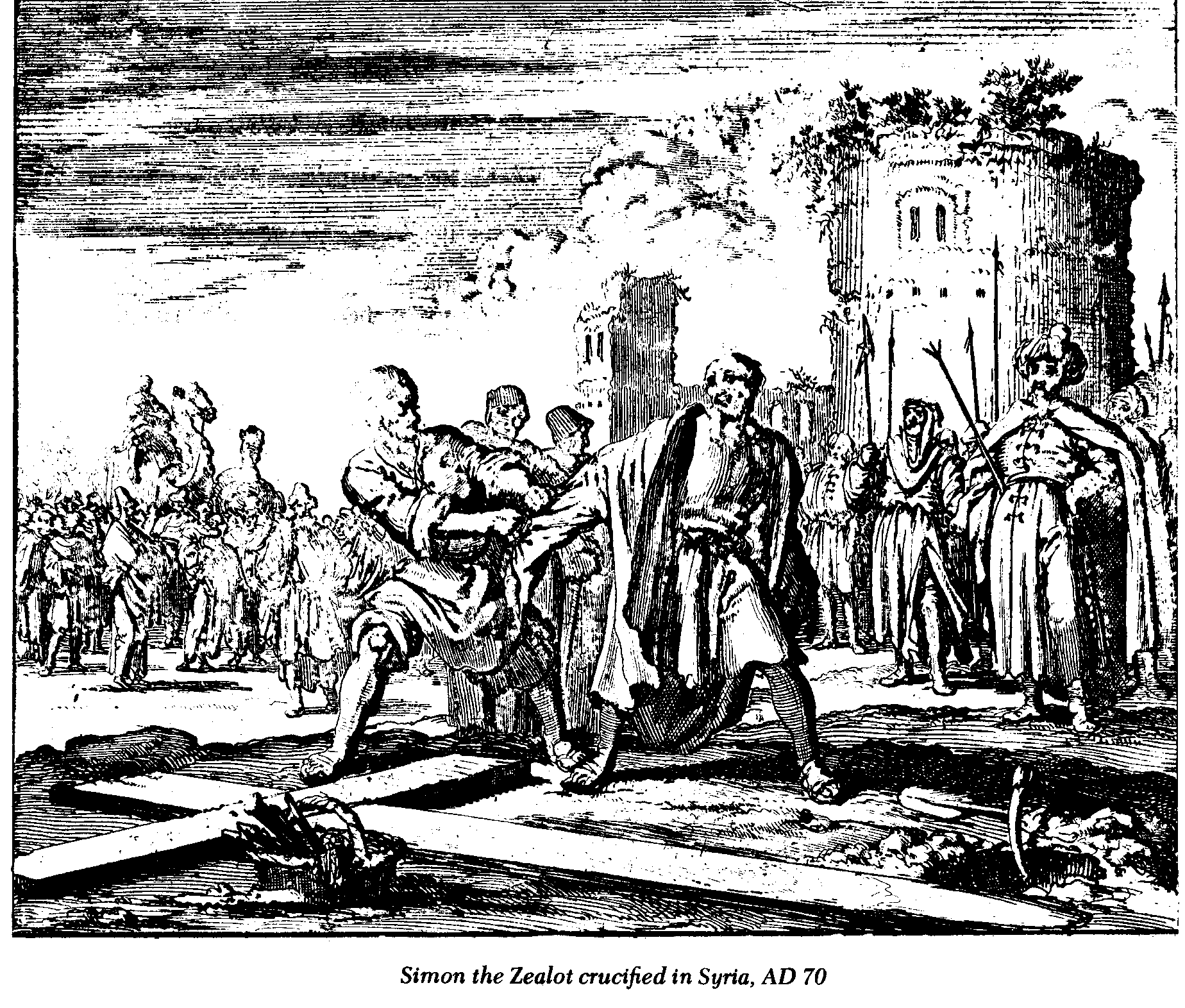 Concerning the end or martyrdom of Matthias, some write that he would not sacrifice to. the false god Jupiter, and was therefore put to death by the heathen. Others, however, state that for the blasphemy which the Jews said he had committed against God, Moses, and the law, he was sentenced by their high priest, first to be hung on a cross and stoned, and afterwards beheaded with an ax. In short, when he would not deny Jesus, his Saviour, but steadfastly confessed Him, his sentence was this: ',Thy blood be upon thy head, for thine own mouth hath spoken against thee." Thereupon, having been tied on a cross, as some write, or conducted upon a rock, as others say, he was stoned, and finally, according to the sentence, beheaded. Joh. Gys., in Hist. Mart., fol. 13, cot. 2, ex Anton., in part 1. Also, Konst tooneel, etc., in the life of Matthias. Also, P. J Twisck in the Byb.elsch Ncpynbcpck, letter M. on the nanie Matthias, fol. 652, cot. 1, 2.
SOME OF THE SEVENTH DISCIPLES OF CHRIST, AND
SEVERAL FELLOW TRAVELERS OF THE APOSTLES,
SLAIN, TOWARDS THE CLOSE OF THE
PERSECUTION BY NERD, ABOUT
A. D. 70
Prochorus,. one of the first seven deacons at Jerusalem, a nephew of the pious martyr Stephen, and companion of the apostle John, but afterwards bishop of the church at Bithynia, in Macedonia, suffered and died at Antioch.
Nicanor, also one of the first seven deacons at Jerusalem, was likewise executed for the truth's sake.
Likewise Parmenas, also one of the seven deacons.
Olympus was imprisoned at Rome with Paul, for the Gospel's sake.
Carpus, a servant of Paul, and afterwards bishop of the church at Troas, was put to death in that place, for the faith.
Trophimus, Paul's companion, was beheaded for the truth of Christ.
Maternus and Egystus, two of the seventy disciples of Christ, together with Marianus, the Christian deacon, were put to death in Germany, for the faith.
Hermagoras, bishop of the church at Aquileia, ordained thereto by Peter, suffered likewise under Nero.
Onesimus, Dionysius, Areopagitae, and others, also died at that time for the divine truth.
This persecution, which was originated by Nero, continued a long time, extending even into the time of Vespasian; so that it is stated that in the third year of his reign, there was put to death in the city of Ravenna, for confessing Christ, Apollinaris, a disciple of Peter, with many others, whose names are not mentioned.
----
----
OF THE SECOND PERSECUTION OF THE CHRIS;
TIANS, UNDER DOMITIAN, WHICH COMMENCED
A. D. 93; IN WHICH, AMONG OTHERS, THERE
WERE APPREHENDED, BANISHED, OR SLAIN,
THE FOLLOWING PERSONS:
LUKE, THE HOLY EVANGELIST, HANGED ON A
GREEN OLIVE TREE, IN GREECE, A. D. 93
Luke, the third among the holy evangelists, was, according to the testimony of the ancients, a Syrian of Antioch, and by occupation a physician. Bybelsch Nwmbwck, about Luke, from Euseb. and Hieron. Col. 4:14.
It was the will of the Lord to use him as a physician of souls; to which end he has left to mankind two excellent books on spiritual medicine; namely, his holy Gospel and the Acts of the holy Apostles.
Concerning his parents there is nowhere anything mentioned; hence little or almost no account can be given of his natural descent, excepting his birthplace, and that he descended from the Syrian nation. It is supposed that he had no wife; though nearly all the other apostles and evangelists were married.
According, to the, opinion of Jerome, he was, before his conversion, a Jewish proselyte, though of Gentile descent; which is quite probable, since, according to the judgment of linguists, his style is far more excellent and perfect in Greek than in Hebrew. Jolt. Gys., in Hist. Mart. ex Hieronimo.
He afterwards, through the preaching of Paul, became a Christian A.D. 38, after he had come from Thebes to Antioch. Konst tooneel, etc., ivy the life o f Luke.
He became a disciple of the apostles, but especially a traveling companion of the, apostle Paul, so that he was with him in many perils and difficulties an sea and on land.
He was so intimate with Paul, and his special friend to such a degree that, according to the ancients,, he wrote the  Gospel under his dictation and instruction. He had also . given a faithful account of Paul's principal travels until his first imprisonment at Rome. Joh. Gys. Hist. Mart., concerning Luke the evangelist.
Paul makes frequent mention of him in his epis .ties; for to the Colossians he writes: "Luke, the physician, . . . greet you" (Col. 4:14). To Philemon: "There salute thee Epaphras, my fellow prisoner in Christ Jesus; Marcus Aristarchus; Demos, Lucas, my fellowlabourers" ( Philem. 23; 24). Likewise, to Timothy: "Only Luke is with me" ( II Tim. 4:11) .
Luke was therefore, as it appears, a companion of Paul, not only in his travels, but also during his imprisonment at Rome: So that he was twice brought, , together with Paul, before the Emperor Nero. P. J. Twisck, taken from Paul's epistles to Timothy.
Respecting: his end, some write that, while preaching in Greece, he was hanged by the ungodly to a. green olive tree; others relate that he was in the eighty fourth year of his age, at the time of his death. Bybelsch Ncembwch, letter L., on the name Luke, fol. 624, col. 1, Konst tooneel van veertig,
ANTIPAS, THE, FAITHFUL WITNESS OF JESUS CHRIST,
BURNED' LIT  PERGAMOS IN A RED HOT BRAZEN
OX, A, D. 95
Antipas was an upright man and a pious witness of the San of God; Who, in proof of his faith, tasted death, rather than dishonor his Saviour, by denying Him, or otherwise. This happened in the lifetime of the apostle John. Hence he may be reckoned one of the first of those who suffered, during the time of Domitian, for the testimony of Jesus Christ.
Of this hero and knight of God, the Lord Himself made mention to His servant John, yea, commanded him, to write to the teacher at Pergamos concerning him, saying: "To the angel of the church in Pergamos write: These things saith he which hath the sharp sword with two edges; I know thy works, and where thou dwellest, even where Satan's seat is: and thou holdest fast my name, and host not denied my faith, even in those days, wherein Antipas was my faithful martyr, who was slain among you, where Satan dwelleth" (Rev. 2:12-14).
Touching the time and manner of his death, there is nothing stated in Holy Writ; but some of the ancient writers maintain that he was enclosed in a red hot brazen ox, and thus burned alive with great pain, yet in steadfastness. As regards the time when this happened, we ascertain from Holy Scripture, that he was killed in the lifetime of John. Some fix this occurrence in the time of Domitian of about A.D. 95. See concerning this, A. Mel[., Ist Book, van de Hist. der Vervolg, en Martel., printed A. D. 1619, fol. 22, col. 1. Also, d' Annotation der Laetste Bybelsch Oversettinge, Rev. 2:12,13.
JOHN, THE HOLY EVANGELIST, BANISHED TO THE
ISLE OF PATMOS, BY EMPEROR DOMITIAN,
A. D. 97
John, the apostle and evangelist, was a son of Zebedee, and brother of James the Greater; he was born at Nazareth, and by occupation was a fisherman. Matt. 4:21. He was called by Christ, when engaged with his father and brother in mending their nets for fishing. Verse 22. As soon as he heard the words of Christ, he immediately left the nets, the ship, and his father, and, together with James, his beloved brother, followed Christ. Chrysost. Homil. 1., in Joh.
Afterwards he became from a disciple an apostle of Christ, and was numbered with the twelve whom the Lord had specially chosen for His service. Matt. 10:2.
He was greatly beloved by the Lord, so that at the Supper he reclined on Christ's bosom, and leaned, or rested, on His breast. John 13:23; 21: 20. The Lord, moreover, had accepted him as one of His three most special friends, to bear testimony of His works, not only in His conflict and suffering in the garden of Gethsemane, but also in His glory, in the raising of the daughter of Jairus as well as in the showing forth of His majesty, when, on the holy mount, His face shone as the sun, and His raiment became white as the light. Matt. 26:36; Luke 8:51; Matt. 17:1-4.
From an inward love, he followed the Lord not only into the house of the priest Caiaphas, but also to Mount Calvary, without the city of Jerusalem, where the Lord was put to death. There the Lord, hanging on the cross, addressed him, saying, "Son, behold thy mother!" ( John 19:27 ) .
He was so eager after the resurrection of Christ, that in running to His grave with his fellow apostle Peter, he outran the latter, thus showing his affection for his Lord, who had died an ignominious death, and was entirely forsaken by His other friends. John 20:4.
Some years afterwards, in order to refute the errors. of Ebion and Cerinthus, who denied the divinity of Christ, he wrote his Gospel, to the honor and magnifying of His Saviour, commencing thus "In the beginning was the Word, and the Word was with God, and the Word was God. The same was in the beginning with God. All things were made by him; and without him was not anything made that was made." "And the Word was made flesh," etc., John 1:1-14. In these words he gives us to understand the true incarnation of the Son of God, to whom be praise and glory forever. Amen.
John is called throughout the Gospel the beloved of the Lord, or the disciple "whom Jesus loved;" because the Lord so especially loved him John 13:23; 20:2; 21:20.
But since it is the will of God to bring His children to glory through much tribulation and distress, this beloved friend of God, John, also could not escape, but was tried throughout his life, with manifold tribulations, according to what the Lord had told him and his brother James: "Ye shall indeed drink of the cup that I drink of; and with the baptism that I am baptized withal shall ye be baptized," that is, ye shall also be subjected to my suffering and distress. Mark 10:39.
This was afterwards fulfilled in him in manifold ways; for, besides what ancient writers have recorded concerning it, namely, that at Rome he was put into a vat full of boiling oil, but was miraculously delivered out of it, the merits of which account we leave unquestioned; this much, according to the Scriptures, is certain, namely that he spent a long time on the desert island of Patmos, whither he had been banished, for the testimony of Jesus Christ. Concerning this, John himself makes this declaration, Rev. 1:9: "I, John, who also am your brother and companion in tribulation, and in the kingdom and patience of Jesus Christ, was in the isle Patmos, for the word of God, and for the testimony of Jesus Christ."
But by whom, and in what manner he was banished to that desert island, is not stated in the Scriptures, except that he was in tribulation for the Word of God. Some of the ancient writers, however, state that he was banished by Emperor Domitian, about A. D. 97; who, in his wrath .and displeasure, because he preached the Word of God, and confessed Christ as the Son of God, had him sentenced and banished thither.
On this island, which lies in the Mediterranean, between Asia Minor and Greece, one hundred and twenty five miles north westward of Jerusalem, he was indeed forsaken of men, and had scarcely any companionship, aside from poisonous and noxious animals, which dwelt in the place; nevertheless, the Lord God dwelt with him with His heavenly consolation, and during his banishment presented and revealed to him, very beautiful scenes and glorious visions concerning the condition of the church of God to the end of the world.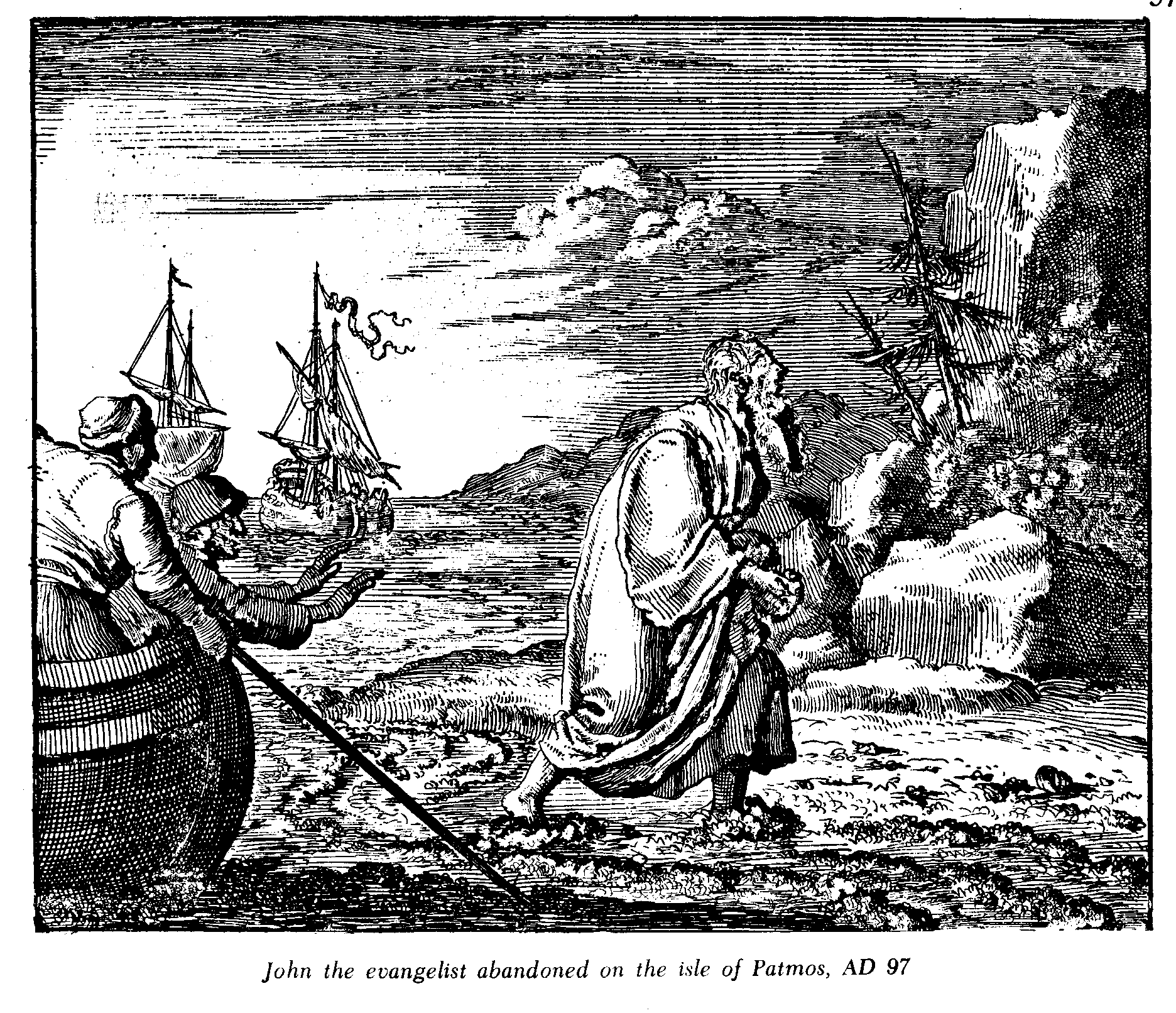 How he wrote his Apocalypse or Revelation, an excellent book, full of divine and truthful prophecies, taken from the preceding visions and heavenly sights; some of which are already fulfilled, and others remain to be fulfilled.
As the time of his deliverance began to draw nigh, the Lord spoke to him on this island, saying, "Behold, I come quickly, Amen." Whereupon John replied with a well comforted soul, "Even so come, Lord Jesus." Rev. 22:20.
When the Emperor Domitian, who had banished him to the aforesaid island, was dead, and Nerva reigned in his stead, he was delivered and brought back to Ephesus, where he had previously been bishop of the church. This occurred, according to history, about A. D. 99; consequently, his confinement there lasted two years. The ancients write that he suffered much yet for the name of Christ, and was compelled to drink poison, yet remained unharmed, according to the promise of Christ; and that he finally died in peace at Ephesus, in the time of the Emperor Trajan, having served in the holy Gospel for fifty one years, and being eighty years old: and thus this great light rests in Asia. Joh. Gys. Hist. Mart., fol. 14, col. 2, from Euseb. Hist. Eccl. and Epiphanio., Joh. Gys., ibidem ,. from Euseb., lib. 3, cap. 20, 23, Niceph, lib. 3, cap. 4, Iren., lib. 3, cap. 3. Also, Konst tooneel, in the life o f John. Also, Bybelsch Ncpmbcpck, letter J. on the name John, fol. 538, col. 2, and fol. 539, col. 1, 2, also, fol. 540, col. 1.
TIMOTHY, THE SPIRITUAL SON OF THE APOSTLE
PAUL, STONED TO,DEATH BY THE HEATHEN
IDOLATERS AT EPHESUS, ABOUT A D. 98
Timothy was a native of Lystra in Lycaonia. His father was a Greek, but his mother and grandmother, though of Jewish descent, were Christian believers, the one named Eunice, the other Lois; by whom he was instructed from his youth in the holy Scriptures. Acts 16:1; II Tim. 1:5.
Timothy was well reported of by the brethren that were at Lystra and Iconium; wherefore Paul received him as his companion in the ministry of the holy Gospel among the Gentiles. Acts 16:2, 3.
Paul loved him with a godly love, and called him his dearly beloved son in the Lord. II Tim. 1:2. He afterwards appointed him bishop or teacher of the church, and commended to him the flock of Jesus his Saviour, with the admonition, uprightly to feed and govern the same; to which end he wrote two special epistles to him.
"O.Timothy," he writes, "keep that which is committed to thy trust, avoiding profane and vain babblings, and oppositions of science falsely so called" (I Tim. 6:20).
Further: "This charge I commit unto thee, son Timothy, according to the prophecies which went before on thee . . . . Through faith and a ,good conscience" (1:18).
In another place: ."Thou, therefore, my son, be strong in the grace that is in Christ Jesus. And the things that thou hast heard of me among many witnesses, the same commit thou to faithful men, who shall be able to teach others also" (II Tim. 2:1, 2).
In this ministry Timothy acquitted himself as an upright evangelical preacher, until it pleased God, to let him finish his course, not by a common death, but by martyrdom; so that he, with his spiritual father Paul, who had steadfastly preceded him, and especially with his Lord Christ Jesus, who had gone through the conflict many years before, might enjoy the unfading crown of honor in the life of bliss. Thus it happened afterwards, according to history, that, having been bishop at Ephesus for fifteen years, he was there stoned to death by the heathen, whose idolatry he had reproved. This is stated to have taken place in the reign of Domitian, or about A. D. 98, though some have fixed it in the time of Nero. Ioh, Gysii Hist. Mart., fol. 14, col. 4, also, Bybelsch Nambock, letter T. on the name Timothy, fol. 925, Col. vJB.
URTICINUS, A PIOUS CHRISTIAN, BEHEADED WITH
THE AX, AT RAVENNA, A. D. 99
Next to Timothy is placed Urticinus or Ursinius, a physician at Ravenna in Italy. Having been reported to the judge Paulinus, as being a Christian, he was tortured in manifold ways for the name of Christ. Having borne all with constancy, and still refusing to sacrifice to the gods of the heathen, he was finally sentenced by the judge, to be beheaded with the ax.
When Urticinus received this sentence of death, he began to tremble and shake before the impending death, and to deliberate with himself, whether he should deny Christ, or how he might the most easily escape death.
----
----
But while he was thus counseling with flesh and blood, one of the company of judge Paulinus, whose name was Vitalus, stepped up to him from behind, and strengthened him with these words: "My beloved brother in Christ, Urticinus, who, as a faithful physician, by the potions, didst so often and so happily restore to health the sick, take heed, lest by thy denial thou plunge thyself into eternal death and damnation."
Through this admonition Urticinus regained such courage, that he joyfully prepared for death, and, having of his own accord offered his neck to the ax, he thus, through the separation of his head from the body, came to a godly and noble end. See concerning this, A. Mell., 1st book, van de Hist. der hervolg., fol. 18, col. 3 and 4, according Tenant. Fortunat., lib. 4. hitce S. Martini, Hieronym. Rub. Hilt. Raven., lib. 1. Beda, Usard. Ado: Vincent, Spec. Hist., lib. 9, cap. 50. holateran. in AntrhoQal. Pet. Dam., in Senn. de S. S. Vitale and haleria.
VITALUS, BURIED ALIVE AT RAVENNA FOR THE
NAME OF JESUS CHRIST; AND HIS WIFE
BEATEN TO DEATH WITH STICKS, AT
MILAN, ABOUT A. D. 99
Vitalus, before his conversion, was a Roman knight and citizen of Milan. He had come to Ravenna with Paulinus, the judge; but when he perceived the blood' thirstiness of his lord, whom he had hitherto served faithfully according to the manner of the world, he bravely left him, and straightway enrolled himself under the banner of Christ, but was very soon apprehended by the enemies of truth. For Paulinus, his lord, not knowing why he had left him, but having learned that he had encouraged Urticinus who had just before been beheaded with the ax, for the faith when the latter wavered, and that he had restrained him from sac  rificing to the gods; likewise, that he had buried him after his death, conceived a suspicion that he also must be a Christian. Upon this suspicion, and through the accusations of others, he had the pious Vitalus apprehended, and having found from his own confession, that he was really a Christian, he caused him to be put on the rack, to try him whether he would not apostatize from Christ.
Thereupon Vitalus addressed Paulinus, the criminal judge, in these words: "You must certainly be deprived of your reason, to think that I should be deceived by you, and brought to eternal suffering in soul and body, while I have sought to deliver others from the danger of delusion."
A wicked heathen priest, perceiving that he adhered firmly to Christ, and would in no wise do honor to the gods, advised Paulinus to bury Vitalus alive. Paulinus, following the evil suggestion of this priest, had a deep pit dug down to the water, at the place where the Christians were usually executed called ad Palmam because a palm tree stood there and had Vitalus buried in it, up to the middle( of his body), and then covered up with stones and earth.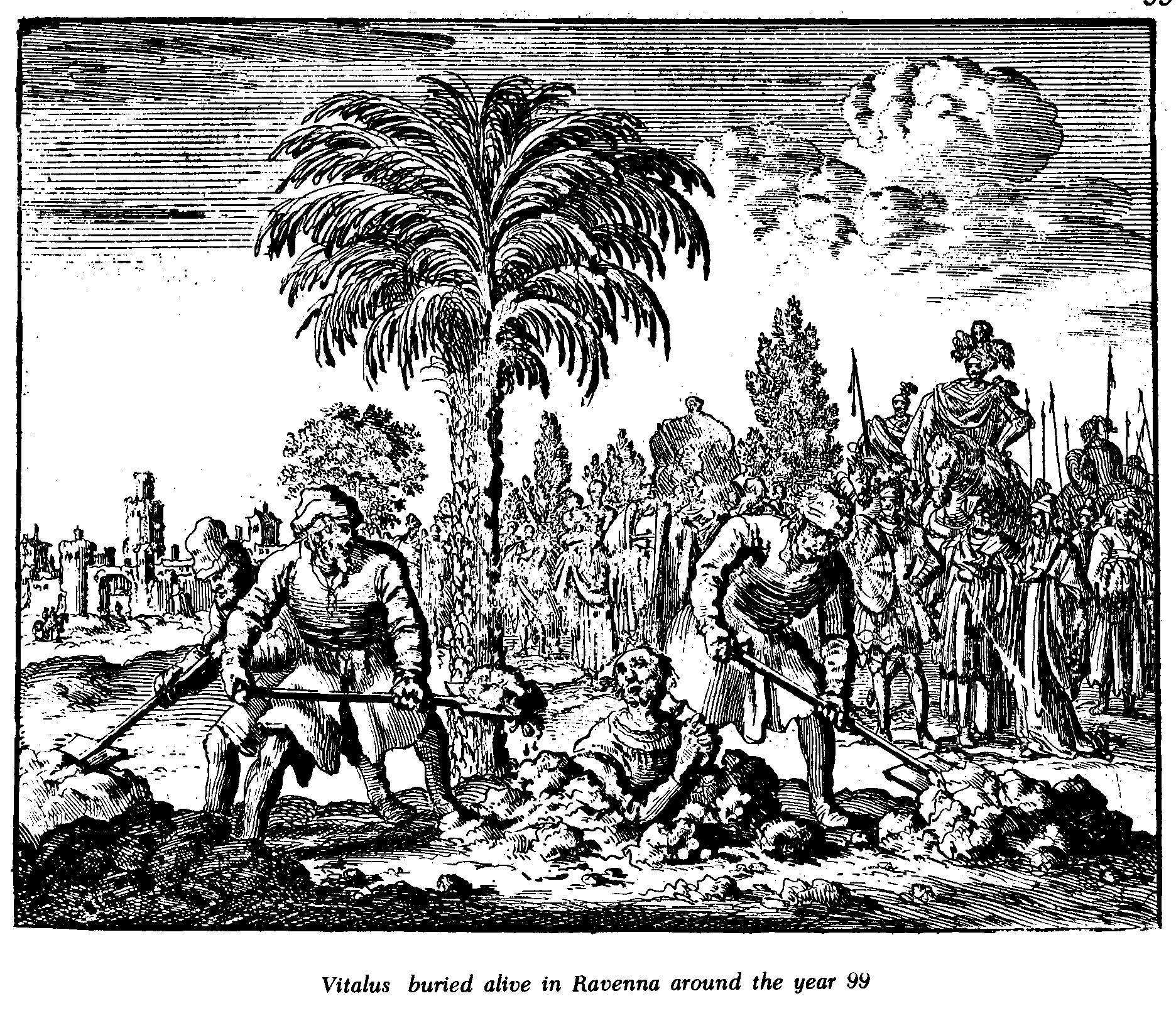 Now when Valeria, the wife of Vitalus, after the death and burying alive of her husband, returned home from Ravenna to Milan, where she resided and had her children, she could not remain concealed long, but made herself known to be a Christian woman; for when she was constrained to eat of that which was offered to idols, she very steadfastly refused and resisted, yea, moreover, openly reproved the idolaters, saying, "I am a Christian, and can, therefore, in no wise eat that which is offered to Sylvanus, your god."
Thereupon these idolaters seized her, and beat her to death with sticks. She was buried at Milan by the Christians. This happened by virtue of the first persecution, or the edict of Nero, which, it is stated, remained in force under Vespasian and under Domitian. A.:dell. Hist., fol.~ 16, col. 3, about Luke.
Concerning this martyrdom see the above mentioned authors, annotated with regard to Urticinus.
----
----
OF DIFFERENT OTHER PERSONS WHO WERE SLAIN
FOR THE NAME OF CHRIST ABOUT A. D. 100
According to ancient history there were also slain for the testimony of the Son of God; In France, Lucianus, bishop of the church of Bellovaco; Maximianus and Julianus, elders; Nicasius, bishop of the church of Rouen; Quirinus, an elder; Scubiculus, a deacon; Pascientia, a virgin. In Italy, Romulus, bishop of the church of Fesula, and others, in different places. 7. Gys. Hist. Mart., fol. 14, col. 4.
It is further recorded, that Marsilius Glabrio also had to suffer for the name of Christ and the true faith.
At this time (it is stated in the Introduction to the Martyrs' Mirror to the Defenseless Christians fol. 36, col. 2,) "The Christians were so little esteemed, that they were called cobblers, as may be seen from a heathen author, according to Baronius."