Hannah Whitall Smith
Quaker Holiness author
Page loading...
Summary
Biography
Works by
Summary
1
Importance is calculated using the length of this author's Wikipedia entry, as well as the number of works by and about this author.
Top
Biography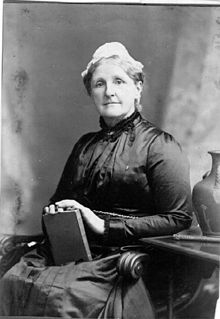 Source: Wikipedia
Hanna was raised in a strict Quaker home and was given to morbid introspection that found little relief until her marriage to Robert Piersall Smith in 1851. They were both converted under Plymouth Brethren influence in 1858 and in 1867 had a new experience of faith that propelled them on a speaking tour of the United States and Europe. Their "Higher Christian Life" meetings in England were exceedingly popular, partly because of D. L. Moody's success there.
They remained in England due to Robert's declining health and observed the founding of the Keswick Convention in 1874, an outgrowth of their conferences. Trouble followed, however. Robert began to entertain notions of spiritual wifery, was criticized, and eventually claimed to be a Buddhist.
Hannah was the author of the spiritual classic, The Christian's Secret of a Happy Life (1875) and later developed ideas on the final restitution of all things, diverted herself into social causes and writing. She produced The Unselfishness of God and How I Discovered It in 1903. A year later she was stricken with arthritis. Although confined to a wheelchair and in much pain, she maintained an optimistic spiritual outlook until her death.
Top
Works by Hannah Whitall Smith
Filter:
Only CCEL
CCEL + External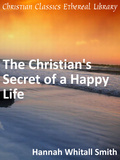 Sometimes it just feels like life is beating us up. We worry about our family, our health, our money, our time, and in the process we run ourselves ragged. These stressors are not a recent phenomenon, but have been with humanity since the fall. Even though The Christian's Secret to a Happy Life is over 130 years old, author Hannah Whitehall Smith was aware of the age-old problems that plague humanity. In her studies, she discovered that there is a way to handle the stressors in our life in a healthy way that builds us up instead of tearing us down. That way of dealing with life's trials is through living faithfully in the rest and comfort that Jesus offers us. True happiness does not come from an absence of difficulty, but through the loving embrace of our Savior.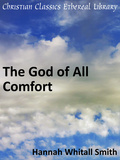 Comfort is a word seldom associated with religious faith by those who are not Christians. Doesn't religion make people uncomfortable with its demands? Isn't life more comfortable when we just live the way we want? Who needs to worry about a judgmental God watching our every move? Even the word Jesus is enough to cause people to squirm in their seats.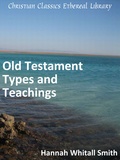 No description available.
Top
Popularity: %
Popularity is calculated by comparing this book's number of views to our most commonly read book.
Popularity is calculated by comparing this book's number of editions to the book with the largest number of editions.