A. W. Pink
Evangelist and Biblical scholar
Page loading...
Summary
Biography
Works by
Works about
Summary
5
Importance is calculated using the length of this author's Wikipedia entry, as well as the number of works by and about this author.
Top
Biography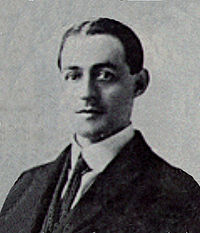 Source: Wikipedia
Pink was born in Nottingham, England on April 1, 1886 and became a Christian in his early 20's. Though born to Christian parents, prior to conversion he migrated into a Theosophical society (an occult gnostic group popular in England during that time), and quickly rose in prominence within their ranks. His conversion came from his father's patient admonitions from Scripture. It was the verse, Proverbs 14:12, 'there is a way which seems right to a man, but its end is the way of death,' which particularly struck his heart and compelled him to renounce Theosophy and follow Jesus.
Desiring to grow in knowledge of the Bible, Pink immigrated to the United States to study at Moody Bible Institute. In 1916 he married Vera E. Russell, who was from Kentucky. However, he left after just two months for Colorado, then California, then Britain. From 1925 to 1928 he served in Australia, including as pastor of two congregations from 1926 to 1928, when he returned to England, and to the United States the following year. He eventually pastored churches Colorado, California, Kentucky and South Carolina.
In 1922 he started a monthly magazine entitled Studies in Scriptures which circulated among English-speaking Christians worldwide, though only to a relatively small circulation list of around 1,000.
In 1934 Pink returned to England, and within a few years turned his Christian service to writing books and pamphlets. Pink died in Stornoway, Scotland on July 15, 1952. The cause of death was anemia.
After Pink's death, his works were republished by the Banner of Truth Trust and reached a much wider audience as a result. Biographer Iain Murray observes of Pink, "the widespread circulation of his writings after his death made him one of the most influential evangelical authors in the second half of the twentieth century." His writing sparked a revival of expository preaching and focused readers' hearts on biblical living.
Top
Works by A. W. Pink
Filter:
Only CCEL
CCEL + External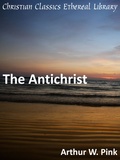 A.W. Pink was an English evangelist of Puritan and Calvinist background who lived in the 19th century. His work Antichrist is a complete collection of all the Bible's references to an antichrist figure, from both the Old and New Testaments. Pink first describes the nature of the Antichrist -- who he will be like, what his purpose is, etc. Then he works through all of the names used to describe the Antichrist in scripture (The Lawless One, The Son of the Morning, The Prince that Shall Come). He notes the "genius and character" of the Antichrist, compares him to Christ, and even outlines his doom. Before conversion, Pink was a member of an occult gnostic group, and so shows special interest in this dark, speculative subject, but his work is studied and replete with Biblical references. Not for the faint of heart, this book serves as both an informative study guide and a warning for modern Christians.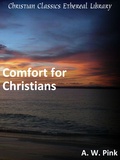 This short devotional book focuses on God's promises in the New Testament, the Pauline letters especially. These promises of contentment, everlasting life, mercy, and justice empower Christians and give them hope in times of affliction. At the same time, these same promises challenge Christians to serve and persevere in times of suffering. Pink not only writes with great sensitivity towards his reader, but he also reveals his precision as a Moody Bible Institute scriptural scholar. To this day, Pink remains a source of knowledge and inspiration for evangelical Christians.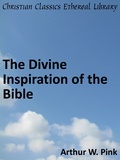 "Deny that the Bible is, without any qualifications, the very Word of God, and you are left without any ultimate standard of measurement and without any supreme authority." In his book Divine Inspiration of the Bible, Arthur Pink aspires to defend the groundwork of Christianity--the Bible. Pink defines the Scriptures, or Word of God, as the foundation of the Christian religion. The Bible claims to be a divine revelation, and as such, it transcends human productivity. Pink's book examines the idea of divine inspiration and presents several arguments which aim to prove that God Almighty is the author of the Bible. As Christians, the Bible demands our attention, and Pink's book helps Christians gain a firmer understanding of the Bible's authority.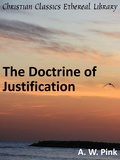 During the Reformation, the doctrine of justification was considered a distinguishing factor in the division between Protestant and Catholic theology. In his book The Doctrine of Justification, Pink makes note of this division and proceeds to present a Protestant doctrine of justification--its meaning, basis, nature, sources, evidence. What is justification? What is it not? How can we harmonize the idea of justification with other religious truths? Pink defines justification as God's declaration of forgiveness and acceptance through which our souls are moved from a state of sin and guilt to a state of righteousness through Christ. Pink emphasizes the fact that this change in our souls is not subjective; it is a change in the sinner's legal status in the eyes of heaven. In the event of justification, we are confronted with God's goodness, justice, and wisdom. We are delivered from death through Christ, and by justification, God calls us his own. Justification is a topic that is relevant to all Christians, and this book successfully dispels some of the confusion surrounding the term.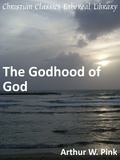 A.W. Pink was an English evangelist of the 19th century. His Puritan and Calvinist background no doubt inspired him to write Godhood of God. These traditions emphasize the absolute power of God. "What is Godhood?" Pink asks. It is "the omnipotency of God, the absolute sovereignty of God. When we speak of the Godhood of God we affirm that God is God," he says. "We affirm that God is something more than an empty title: that God is something more than a mere figure-head: that God is something more than a far-distant spectator, looking helplessly on at the suffering which sin has wrought." Pink believes that Godhood is seen in creation, administration, the giving of scriptures, and salvation, and he writes a brief chapter on each aspect. This book is very short and easily understandable for readers of any level. The piece emphasizes God's dominion over all other powers and things of the world, which is comforting to modern believers. It also encourages Christians to remember not only God's love, but his other nature as the all-powerful ruler of the universe who should be revered.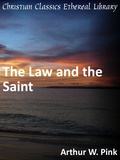 In his book The Law and the Saint, Pink claims that our age is an age of lawlessness. As Pink worked in churches, homes, and communities, the contemporary evangelist witnessed an increasing disrespect for the Divine Law. Why has creation drifted so far away from the moral law which the Creator placed upon us? By expositing Scripture, Pink demonstrates the ways in which the moral law binds us as rational creatures and as Christians. Several passages in the New Testament reveal that this connection between creation to Creation is lasting--even today, God commands that we obey his law. Pink explores the relationship between modern Christians and the ancient rule of the Ten Commandments. Even though the Ten Commandments may sometimes seem inapplicable in today's fast-paced world, Pink reminds us that God's law is timeless. It is Pink's hope that one day all Christians will be able to say, "The Law of Thy mouth is better unto me than thousands of gold and silver...O how love I Thy law! It is my meditation all the day."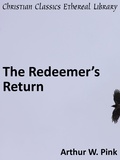 The early converts of the New Testament were instructed by the apostles to wait vigilantly for the second coming of Christ. Sadly, many of today's Christians have abandoned the task of preparing for Christ's return. In this book, Pink searches the Old and New Testament for information regarding Jesus' second coming. First, he looks at several examples of Biblical prophecies which foretell Christ's second coming. Then, he discusses the necessity of Jesus' return and explores signs leading up to His arrival. Pink closely examines Christ's first coming to gain a better understanding of the glory and power that will manifest itself in Christ's second coming. Finally, Pink discusses the events that will occur in the church and the world as a result of this momentous occasion. Redeemer's Return is designed mainly for those who are beginners in the study of prophetic and dispensational truth.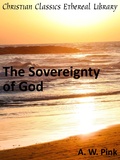 In his book The Sovereignty of God, A.W. Pink outlines the sovereignty of God from a Calvinist standpoint. He defines God's sovereignty, and then explains how God's sovereignty is characterized in creation and salvation. Then Pink discusses the relationship between God's sovereignty and the human will. Finally, Pink describes the appropriate attitude Christians should take towards God's sovereignty, and considers several difficulties that Christian may face in adopting this attitude. The issues Pink raises in this book have previously been addressed by many prominent figures such as St. Augustine, St. Aquinas, Calvin, and Jonathan Edwards. Pink studied these wise men and draws from their conclusions in his own writing, but ultimately, the author places his perspective in light of God's Word. Pink strongly believed that true faith rests "not in the wisdom of men but in the power of God." Pink wants his readers to gain a firm grasp on the biblical text rather than the secondary literature, and he aims to highlight Scripture in his book.
In his book Tithing, A.W. Pink uses the Bible as a guide to Christian giving. In Leviticus, the Mosaic Law was given to God's people, and the obligation to tithe was clearly stated within it. But Pink shows us that even long before the Law was handed down at Sinai, God's people tithed in the form of sacrifices. Pink notes several passages in the Old and New Testament where God shows his disappointment with those who fail to give back to him. In the New Testament, we see that God places today's Christians under an even stronger obligation to tithe. Pink speaks directly to those who, as a result of their ignorance, laziness, financial distress, or pride believe that the call to tithe does not apply to them. Pink gives these readers practical advice which helps make tithing meaningful and manageable.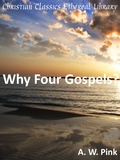 Since all of the Gospels in the Bible tell the story of the same man, Jesus Christ, why did we need four different accounts? Given the overlap we observe in the Gospels, it may seem as if one Gospel would have been sufficient. In his book, Why Four Gospels, Arthur Pink explains how the four Gospels necessarily work together to paint a multi-faceted picture of Jesus. In Matthew, we see Jesus as the Son of David, King of the Jews. In Mark, Jesus is presented as the Servant of Jehovah. In Luke, we see Jesus as the Son of Man, Adam's descendent. Finally, John presents Jesus as the Son of God, emphasizing Jesus' relationship with the Divine. Christ fulfilled four distinct roles during his time on earth, and these four roles are illustrated in the four distinct Gospels. Pink's Why Four Gospels will give Christians a better understanding of Jesus' earthly ministry.
Show all 10 works
Top
Popularity: %
Popularity is calculated by comparing this book's number of views to our most commonly read book.
Popularity is calculated by comparing this book's number of editions to the book with the largest number of editions.
Works about A. W. Pink
Top