1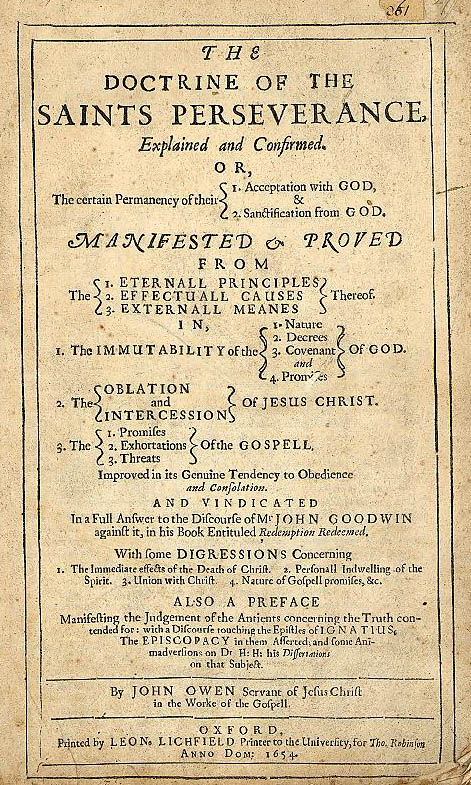 THE
DOCTRINE OF THE
SAINTS PERSEVERANCE,
Explained and Confirmed.
OR,
The certain Permanency of their 1. Acceptation with GOD, & 2. Sanctification from GOD.
MANIFESTED & PROVED
FROM
The 1. ETERNALL PRINCIPLES 2. EFFECTUALL CAUSES 3. EXTERNALL MEANES Thereof.
IN,
1. THE IMMUTABILITY of the 1. Nature 2. Decrees 3. Covenant and 4. Promiſes Of GOD.
2. The OBLATION and INTERCESSION Of JESUS CHRIST.
3. The 1. Promiſes 2. Exhortations 3. Threats Of The GOSPELL.
Improved in its Genuine Tendency to Obedience
and Conſolation.
AND VINDICATED
In a Full Anſwer to the Diſcourſe of Mr JOHN GOODWIN againſt it, in his Book Entituled Redemption Redeemed.
With ſome DIGRESSIONS Concerning
1. The Immediate effects of the Death of Chriſt. 2. Perſonall Indwelling of the Spirit. 3. Union with Chriſt. 4. Nature of Goſpell promiſes, &c.
ALSO A PREFACE
Manifeſting the Judgement of the Antients concerning the Truth contended for: with a Diſcourſe touching the Epiſtles of IGNATIUS; The EPISCOPACY in them Aſſerted; and ſome Animadverſions on Dr H: H: his Diſſertations on that Subject.
---
By JOHN OWEN Servant of Jeſus Chriſt in the Worke of the Goſpell.
---
OXFORD,
Printed by LEON. LICHFIELD Printer to the Univerſity, for Tho. Robinſon.
Anno Dom: 1654.