Verses about the Apostles' "TRAVELS and ACTS"
Part 12 - PAUL'S LETTER TO THE GALATIANS
Introduction to Galatians & Location Map
back to J B Phillips HomePage
---
Book 9 of 27 - PAUL'S LETTER TO THE GALATIANS

Writer: The apostle Paul, writing either (1) to the churches of South Galatia such as Pisidian Antioch, Iconium, Lystra and Derbe established during his First Missionary Journey; or (2) to North Galatia, possibly resulting from his Second Journey. Galatia is in present-day Turkey

Date: (1) If South Galatia, c AD48 or 49 before the Council at Jerusalem; or (2) if North Galatia, c AD56 or 57 some time before Paul's Letter to the Romans

Where written: Where written: (1) On the way to the Council at Jerusalem; or (2) possibly from Macedonia or Corinth on Paul's Third Journey

Readers: The churches established (1) during Paul's First or (2) possibly Second Journey's

Why: The church is moving away from Paul's teaching of "justification by faith" in Jesus Christ towards meeting the needs of the Law. Paul condemns those who are teaching in this false way, and in contrast, declares that he has the authority of a true apostle. If the Galatians want to practice Jewish traditions such as circumcision, they have a stark choice - either slavery to the Law or freedom in Jesus. But they must understand that the liberty they enjoy as Christians is not a licence to behave as they want, but an obligation to serve others according to God's will.
Map - Paul Writes to the Galatians
Map Key: Letter sent from 1 to 2 or 3 to 4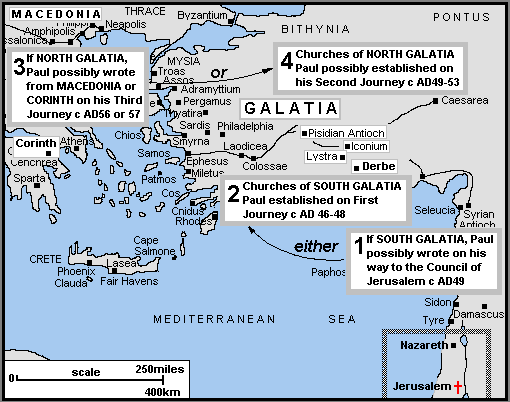 ---

PAUL'S AUTHORITY AS AN APOSTLE TO THE GENTILES

12.1 GREETINGS TO THE CHRISTIANS OF GALATIA ...

Galatians 1:1-5 - I, Paul, who am appointed and commissioned a messenger not by man but by Jesus Christ and God the Father (who raised him from the dead), I and all the brothers with me send the churches in Galatia greeting. Grace and peace to you from God the Father and from our Lord Jesus Christ, who according to the Father's plan gave himself for our sins and thereby rescued us from the present evil world-order. To him be glory for ever and ever!
12.2 .... WHO ARE BEING LED AWAY FROM THE GOSPEL OF CHRIST

Galatians 1:6-7 - I am amazed that you have so quickly transferred your allegiance from him (God) who called you in the grace of Christ to another "Gospel"! Not, of course, that it is or ever could be another Gospel, but there are obviously men who are upsetting your faith with a travesty of the Gospel of Christ.
12.3 PAUL TOTALLY CONDEMNS THOSE RESPONSIBLE FOR FALSE TEACHING

Galatians 1:8-10 - Yet I say that if I, or an angel from Heaven, were to preach to you any other Gospel than the one you have heard, may he be damned! You have heard me say it before and now I put it down in black and white - may anybody who preaches any other Gospel than the one you have already heard be a damned soul! (Does that make you think now that I am serving man's interests or God's? If I were trying to win human approval I should never be Christ's servant.)
12.4 HIS GOSPEL IN CONTRAST WAS REVEALED TO HIM DIRECTLY BY JESUS

Galatians 1:11-12 - The Gospel I preach to you is no human invention. No man gave it to me, no man taught it to me; it came to me as a direct revelation from Jesus Christ.
12.5 PAUL'S ZEAL AS A JEW; HIS EARLY LIFE AS A CHRISTIAN

Galatians 1:13-24 - For you have heard of my past career in the Jewish religion, how I persecuted the Church of God with fanatical zeal and, in fact, did my best to destroy it (Acts 9:1-2). I was ahead of most of my contemporaries in the Jewish religion, and had a greater enthusiasm for the old traditions. But when the time came for God (who had chosen me from the moment of my birth, and then called me by his grace) to reveal his Son (Jesus) within me (on the road to Damascus [3] - Map 15 following) so I that I might proclaim him to the non-Jewish world, I did not, as might have been expected, talk over the matter with any human being. I did not even go to Jerusalem to meet those who were God's messengers (apostles) before me - no, I went away to Arabia [4] and later came back to Damascus [5]. It was not until three years later that I went up to Jerusalem to see Peter (Acts 9:26-30), and I only stayed with him just over a fortnight. I did not meet any of the other messengers (apostles), except James, the Lord's brother.

All this that I am telling you is, I assure you before God, the plain truth. Later, I visited districts [9] in Syria (probably from Syrian Antioch, Acts 11:25) and Cilicia (perhaps from his home town of Tarsus, Acts 9:30), but I was still personally unknown to the churches of Judea. All they knew of me, in fact, was the saying: "The man who used to persecute us is now preaching the faith he once tried to destroy." And they thanked God for what had happened to me.

Map - The Conversion and Earliest Journeys of Saul (Paul) c AD34-45

Map Key:
1. The early journeys of Paul as recorded in his Letter to the Galatians and the Acts of the Apostles. Also in text in [red square brackets]
Part of Paul's pre-conversion and early Christian life (locations 1-2 & 6-8) is covered in Acts 9:1-30
12.6 HOW HE DEFENDED HIS MINISTRY TO THE GENTILES

Galatians 2:1-10 - Fourteen years later, I went up to Jerusalem again (either for the famine relief visit of Acts 11:27-30, or the later journey for the Council at Jerusalem, Acts 15:1-24), this time with Barnabas, and we took Titus with us. My visit on this occasion was by divine command, and I gave a full exposition of the Gospel which I preach among the Gentiles. I did this first in private conference with the church leaders, to make sure that what I had done and proposed doing was acceptable to them. Not one of them intimated that Titus, because he was a Greek, ought to be circumcised. In fact, the suggestion would never have arisen but for the presence of some pseudo-Christians (perhaps the "Judaisers" of Acts 15:1-2), who wormed their way into our meeting to spy on the liberty we enjoy in Jesus Christ, and then attempted to tie us up with rules and regulations. We did not give those men an inch, for the truth of the Gospel for you and all Gentiles was at stake. And as far as the leaders of the conference were concerned (I neither know nor care what their exact position was: God is not impressed with a man's office), they had nothing to add to my Gospel. In fact they recognised that the Gospel for the uncircumcised (the Gentiles) was as much my commission as the Gospel for the circumcised (the Jews) was Peter's. For the God who had done such great work in Peter's ministry for the Jews was plainly doing the same in my ministry for the Gentiles. ...

- Paul either does not know about or is failing to recognise Peter's work amongst such Gentiles as the centurion Cornelius, Acts 10:24-48 -

... When, therefore, James, Peter and John (who were the recognised "pillars" of the church there - the brother of Jesus, and the two apostles) saw how God had given me his grace, they held out to Barnabas and me the right hand of fellowship, in full agreement that our mission was to the Gentiles and theirs to the Jews. The only suggestion they made was that we should not forget the poor - and with this I was, of course, only too ready to agree.
12.7 HIS CONFRONTATION WITH PETER OVER FORCING GENTILES TO FOLLOW JEWISH CUSTOMS

Galatians 2:11-14 - Later, however, when (the apostle) Peter came to (Syrian) Antioch I had to oppose him publicly, for he was then plainly in the wrong. It happened like this. Until the arrival of some of James' companions, he, Peter, was in the habit of eating his meals with the Gentiles. After they came, he withdrew and ate separately from the Gentiles - out of sheet fear of what the Jews might think. The other Jewish Christians carried out a similar piece of deception, and the force of their bad example was so great that even Barnabas was affected by it. But when I saw that this behaviour was a contradiction of the truth of the Gospel, I said to Peter so that everyone could hear, "If you, who are a Jew, do not live like a Jew but like a Gentile, why on earth do you try to make Gentiles live like Jews?"
THE CHOICE IS SLAVERY UNDER THE LAW OR FREEDOM IN CHRIST

12.8 THE GALATIANS MUST NOW CHOOSE BETWEEN BELIEVING THE NEW GOSPEL AND OBEYING THE OLD LAW

Galatians 3:1-5 - O you dear idiots of Galatia, who saw Jesus Christ the crucified so plainly, who has been casting a spell over you? I will ask you one simple question: did you receive the Spirit of God by trying to keep the Law or by believing the message of the Gospel? Surely you can't be so idiotic as to think that a man begins his spiritual life in the Spirit and then completes it by reverting to outward observances? Has all your painful experience brought you nowhere? I simply cannot believe it of you! Does God, who gives you his Spirit and works miracles among you, do these things because you have obeyed the Law or because you have believed the Gospel? Ask yourselves that.
12.9 HAVING TURNED FROM PAGAN RITUALS WHY NOW FOLLOW JEWISH FORMS OF WORSHIP

Galatians 4:8-11 - At one time when you (as Gentiles) had no knowledge of God, you were under the authority of gods who had no real existence. But now that you have come to know God, or rather are known by him, how can you revert to dead and sterile principles and consent to be under their power all over again? Your religion is beginning to be a matter of observing certain (Jewish) days or months or seasons or years. Frankly, you stagger me, you make me wonder if all my efforts over you have been wasted!
12.10 PAUL PLEADS WITH THEM TO RETURN TO THE WAYS HE TAUGHT THEM

Galatians 4:12-16 - I do beg you to follow me here, my brothers. I am a man like yourselves, and I have nothing against you personally. You know how handicapped I was by illness when I first preached the Gospel to you. You didn't shrink from me or let yourselves be revolted at the disease which was such a trial to me (possibly a painful eye disease, epilepsy, or malaria, already referred to in 2 Corinthians 12:7 as a "physical handicap" or "thorn in my flesh"). No, you welcomed me as though I were an angel of God, or even as though I were Jesus Christ himself! What has happened to that fine spirit of yours? I guarantee that in those days you would, if you could, have plucked out your eyes and given them to me (perhaps implying that he does have an eye disease). Have I now become your enemy because I continue to tell you the same truth?
12.11 HE WARNS THEM NOT TO BE LED ASTRAY BY THE FALSE TEACHERS

Galatians 4:17-20 - Oh, I know how keen these men (the "Judaisers") are to win you over, but can't you see that is is for their own ends? They would like to see you and me separated altogether, and have you all to themselves. Don't think I'm jealous - it is a grand thing that men should be keen to win you, whether I'm there or not, provided it is for the truth. Oh, my dear children, I feel the pangs of childbirth all over again till Christ be formed within you, and how I long to be with you now! Perhaps I could then alter my tone to suit your mood. As it is, I honestly don't know how to deal with you.
12.12 THEY NOW HAVE FREEDOM IN CHRIST; THEY MUST NOT BECOME SLAVES TO JEWISH LEGALISM

Galatians 5:1-3 - Plant your feet firmly therefore within the freedom that Christ has won for us, and do not let yourselves be caught again in the shackles of slavery. Listen! I, Paul, say this to you as solemnly as I can: if you consent to be circumcised then Christ will be of no use to you at all. I will say it again: every man who consents to be circumcised is bound to obey all the rest of the Law!
PAUL'S EPILOGUE IN HIS OWN HAND
- The Letter has been dictated to a secretary thus far. Then:

12.13 PAUL'S WAY OF SHOWING HIS DISTRESS

Galatians 6:11 - Look at these huge letters I am making in writing these words to you with my own hand!
12.14 THE SELF-SEEKING AIMS OF THE "JUDAISERS" AND WHAT THE GALATIANS WILL LOSE

Galatians 6:12-16 - These men who are always urging you to be circumcised - what are they after? They want to present a pleasing front to the world and they want to avoid being persecuted for the cross of Christ. For even those who have been circumcised do not themselves keep the Law. But they want you circumcised so that they may be able to boast about your submission to their ruling. Yet God forbid that I should boast about anything or anybody except the cross of our Lord Jesus Christ, which means that the world is a dead thing to me and I am a dead man to the world. But in Christ it is not circumcision or uncircumcision that counts but the power of new birth. To all who live by this principle, to the true Israel of God, may there be peace and mercy!
12.15 PAUL EMPHASISES HIS TOTAL COMMITMENT TO JESUS; A FINAL BLESSING

Galatians 6:17-18 - Let no one interfere with me after this. I carry on my scarred body (from the persecution suffered during his missionary journeys) the marks of my owner, the Lord Jesus.

The grace of our Lord Jesus Christ, my brothers, be with your spirit. PAUL
---
continuing the Apostle's "Travels and Acts", on to Part 13, Romans OR back to J B Phillips HomePage
J.B.Phillips, "The New Testament in Modern English", 1962 edition, published by HarperCollins, is presented here with the kind permission of Mrs Vera Phillips and the J.B.Phillips estate
Maps by Gordon Smith can be used without further permission. Please quote http://www.ccel.org/bible/phillips/JBPhillips.htm