Verses about the Apostles' "TRAVELS and ACTS"
Part 13 - PAUL'S LETTER TO THE ROMANS
Introduction to Romans & Location Map
back to J B Phillips HomePage
---
Book 6 of 27 - PAUL'S LETTER TO THE ROMANS

Writer: The apostle Paul

Date: c AD57 or 58 towards the end of his Third Missionary Journey

Where written: Corinth, during his 3 months stay in Greece

Readers: The Christian church already established in Rome. Paul hoped to visit them for the first time

Why: Probably the most important work ever written on the theory and practise of Christianity. It has had a profound impact on Christians throughout history. It describes our ever-present sinful condition, God's plan to save all mankind through "justification by faith" in his crucified and risen son, Jesus Christ, and our resulting "sanctification" through God's Holy Spirit. There is also a major section on Christian duties and relations with the world

JUSTIFICATION BY FAITH - The doctrine that men are made just, proved or shown to be just and right, vindicated, absolved, by faith in Jesus Christ;

SANCTIFICATION - Made, declared, regarded as, shown to be sacred or holy; free from sin or evil; set apart to sacred use
Map - Paul Writes to the Romans
Map Key: Letter sent from 1 to 2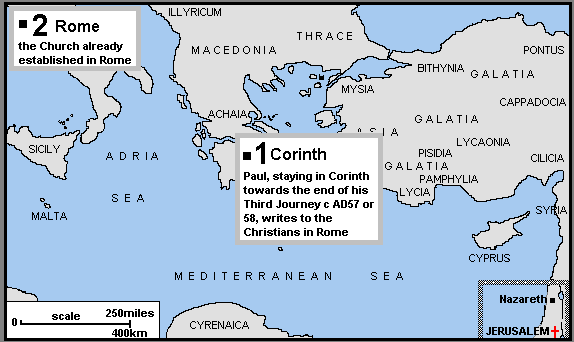 ---

I - THE GOSPEL OF CHRIST AND "JUSTIFICATION BY FAITH"

PAUL'S EAGERNESS TO SHARE THE GOSPEL WITH THE CHRISTIANS OF ROME

13.1 PAUL AN APOSTLE TO ALL GENTILES GREETS THE CHRISTIANS OF ROME

Romans 1:1-7 - This letter comes to you from Paul, servant of Jesus Christ, called as a messenger (an apostle) and appointed for the service of that Gospel of God which was long ago promised by the prophets in the holy scriptures.

The Gospel is centred in God's Son, a descendant of David by human genealogy and patently marked out as the Son of God by the power of that Spirit of holiness which raised him to life again from the dead. He is our Lord, Jesus Christ, from whom we received grace and our commission in his name to forward obedience to the faith in all nations. And of this great number you at Rome are also called to belong to him.

To you all then, loved of God and called to be Christ's men and women, grace and peace from God the Father and from our Lord Jesus Christ.
13.2 PAUL THANKS GOD FOR THE CHURCH IN ROME AND LONGS TO SHARE THE GOSPEL WITH THEM IN PERSON

Romans 1:8-15 - I must begin by telling you how I thank God through Jesus Christ for you all, since the news of your faith has become known everywhere. Before God, whom I serve with all my heart in the Gospel of his Son, I assure you that you are always in my prayers. I am longing to see you: I want to bring you some spiritual strength, and that will mean that I shall be strengthened by you, each of us helped by the other's faith.

Then I should like you to know, my brothers, that I have long intended to come to you (but something has always prevented me), for I should like to see some results among you, as I have among other Gentiles. I feel myself under a sort of universal obligation, I owe something to all men, from cultured Greek to ignorant savage. That is why I want, as far as my ability will carry me, to preach the Gospel to you who live in Rome as well.
13.3 THE POWER OF THE GOSPEL IS FOR EVERYONE'S SALVATION

Romans 1:16-17 - For I am not ashamed of the Gospel. I see it as the very power of God working for the salvation of everyone who believes it, both Jew and Greek. I see in it God's plan for imparting righteousness to men, a process begun and continued by their faith. For, as the scripture says:

'The just shall live by faith' (Habakkuk 2:4).
THE JEWS OF ISRAEL AND SALVATION THROUGH THE GOSPEL OF JESUS CHRIST

13.4 PAUL'S YEARNING FOR HIS FELLOW JEWS TO ACCEPT CHRIST

Romans 9:1-3 - Before Christ and my own conscience I assure you that I am speaking the plain truth when I say that there is something that makes me feel very depressed, like a pain that never leaves me. It is the condition of my brothers and fellow-Israelites (the Jews) and I have actually reached the pitch of wishing myself cut off from Christ if it meant that they could be won for God.
13.5 SOME OF PAUL'S JEWISH BACKGROUND

Romans 11:1 - This (the Jew's rejection of Jesus) leads naturally to the question, "Has God then totally repudiated his people?" Certainly not! I myself, for one, am an Israelite, a descendant of Abraham and of the tribe of Benjamin.
13.6 HE HOPES TO SAVE SOME OF THE JEWS FOR CHRIST

Romans 11:13-14 - Now a word to you who are Gentiles. I should like you to know that I make as much as I can of my ministry as "God's messenger to the Gentiles" so as to make my (Jewish) kinsfolk jealous and thus save some of them.
PAUL'S HOPES AND PLANS

13.7 HIS REASON FOR WRITING SO BOLDLY TO THE CHRISTIANS IN ROME

Romans 15:14-16 - For myself I feel certain that you, my brothers, have real Christian character and experience, and that you are capable of keeping each other on the right road. Nevertheless I have written to you with a certain frankness, to refresh your minds with truths that you already know, by virtue of my commission as Christ's minister to the Gentiles in the service of the Gospel. For my constant endeavour is to present the Gentiles to God as an offering which he can accept, because they are sanctified by the Holy Spirit.
13.8 HE WANTS TO PREACH THE GOSPEL WHEREVER CHRIST IS UNKNOWN

Romans 15:17-22 - And I think I have something to be proud of (through Christ, of course) in my work for God. I am not competent to speak of the work Christ has done through others, but I do know that through me he has secured the obedience of Gentiles in word and deed, working by sign and miracle and all the power of the Spirit. I have fully preached the Gospel from Jerusalem and the surrounding country as far as Illyricum (or Dalmatia, sometime during his visit to Achaia). My constant ambition has been to preach the Gospel where the name of Christ was previously unknown, and to avoid as far as possible building on another man's foundations, so that:

'To whom he was not announced, they shall see; and those who have not heard shall understand' (Isaiah 52:15).

My future plans

Perhaps this will explain why I have so frequently been prevented from coming to see you (... the Christians of Rome who already know Christ).
13.9 PAUL HOPES TO VISIT ROME ON HIS WAY TO SPAIN ...

Romans 15:23-24 - But now, since my work in these places (the eastern part of the Roman Empire - Illyricum, Greece, Asia Minor, Cyprus and Syria) no longer needs my presence, and since for many years I have had a great desire to see you, I hope to visit you on my way to Spain (a visit not made, unless undertaken in c AD64-67 after Paul's release from his first Roman imprisonment). I hope also that you will speed me in my journey, after I have had the satisfaction of seeing you all.
13.10 .... FIRST HE MUST FIRST RETURN TO JERUSALEM WITH GIFTS FOR THE CHURCH

Romans 15:25-29 - At the moment my next call (after leaving Corinth) is to Jerusalem (Acts 21:17, his last visit before his arrest), to look after the welfare of the Christians there. The churches in Macedonia and Achaia, you see, have thought it a good thing to make a contribution towards the poor Christians in Jerusalem ....

- The collection arrangements in Corinth are described in 1 Corinthians 16:1-4; the generosity of the Macedonians in 2 Corinthians 8:1-4; and the approaching departure from Corinth in Acts 20:3-4 -

.... They have thought it a good thing to make this gesture and yet, really, they received "a good thing" from them first! For if the Gentiles have had a share in the Jews' spiritual "good things" it is only fair that they should look after the Jews (in Jerusalem) as far as the good things of this world are concerned.

When I have completed this task, then, and turned their gesture into a good deed done, I shall come to you en route for Spain. I feel sure that in this long-looked-for visit I shall bring with me the full blessing of Christ's Gospel.
13.11 PAUL ASKS THEM TO PRAY FOR HIS SAFETY DURING HIS COMING JOURNEYS

Romans 15:30-33 - Now, my brothers, I am going to ask you, for the sake of Christ himself and for the love we bear each other in the Spirit, to stand behind me in earnest prayer to God on my behalf - that I may not fall into the hands of the unbelievers in Judea, and that the Jerusalem Christians may receive the gift I am taking to them in the spirit in which it was made. Then I shall come to you (in Rome), in the purpose of God, with a happy heart, and may even enjoy with you a little holiday.

The God of peace be with you all, amen.
AN INTRODUCTION AND GREETINGS; A WARNING AND A BLESSING

13.12 HE INTRODUCES PHOEBE WHO IS PROBABLY CARRYING PAUL'S LETTER TO ROME

Romans 16:1-2 - I want this letter to introduce to you Phoebe, our sister, a deaconess of the Church at Cenchrea (one of the two ports of Corinth where this letter is believed to have been written). Please give her a Christian welcome, and any assistance with her work that she may need. She has herself been of great assistance to many, not excluding myself.
13.13 PAUL GREETS THE CHRISTIANS OF ROME MANY BY NAME

Romans 16:3-16 - Shake hands for me with Priscilla and Aquila (now back in Rome). They have not only worked with me for Christ, but they have faced death for my sake, Not only I, but all the Gentile churches, owe them a great debt. Give my love to the little church that meets in their house.

Shake the hand of dear Epaenetus (Epenetus), Achaia's first man to be won for Christ, and of course greet Mary who has worked so hard for you. A handshake too for Andronicus and Junias (or Junia, a woman) my kinsmen and fellow-prisoners; they are outstanding men among the messengers and were Christians before I was.

Another warm greeting for Amplias (or Ampliatus), dear Christian that he is, and also for Urbanus, who has worked with me, and dear old Stachys, too.

More greeting from me, please, to:

Apelles, the man who has proved his faith,

The household of Aristobulus,

Herodion, my kinsman,

Narcissus' household, who are Christians.

Remember me to Tryphena and Tryphosa, who work so hard for the Lord, and to my dear Persis who has also done great work for him.

Shake the hand of Rufus for me - that splendid Christian and greet his mother, who has been a mother to me too. Greetings to Asyncritus, Phlegon, Hermes, Patrobas, Hermas and their Christian group: also to Philologus and Julia, Nereus and his sister, and Olympas and the Christians who are with them.

Give each other a hearty handshake all round for my sake. The greetings of all the churches I am in touch with come to you with this letter.
13.14 HE WARNS THEM ABOUT FALSE TEACHERS AND TROUBLE-MAKERS

Romans 16:17-20 - And now I implore you, my brother, to keep a watchful eye on those who cause trouble and make difficulties among you, in plain opposition to the teaching you have been given, and steer clear of them. Such men do not really serve our Lord Jesus Christ at all but are utterly self-centred. Yet with their plausible and attractive arguments they deceive those who are too simple-hearted to see through them.

Your loyalty to the principles of the Gospel is known everywhere, and that gives me great joy. I want to see you experts in good, and not even beginners in evil. It will not be long before the God of peace will crush Satan under your feet. May the grace of our Lord Jesus Christ be with you.
13.15 GREETINGS FROM SOME OF THE CHRISTIANS IN CORINTH

Romans 16:21-24 - Timothy, who works with me, sends his greetings, and so do Lucius and Jason and Sosipater my fellow-countrymen. (Paul has just told me that I, Tertius, who have been taking down this epistle from his dictation, may send you my Christian greetings too.) Gaius, my host (and the host as a matter of fact of the whole church here), sends you his greetings. Erastus, our town clerk, and Quartus, another Christian brother, send greetings too.
13.6 A FINAL BLESSING

Romans 16:25-27 - Now to him who is able to set you on your feet as his own sons - according to my Gospel, according to the preaching of Jesus Christ himself, and in accordance with the disclosing of that secret purpose which, after long ages of silence, has now been made known (in full agreement with the writings of the prophets long ago), by the command of the everlasting God to all the Gentiles, that they might turn to him in the obedience of faith - to him, I say, the only God who is wise, be glory for ever through Jesus Christ!

PAUL
Paul now leaves Corinth with gifts for the church in Jerusalem
---
continuing the Apostle's "Travels and Acts", on to Part 14, Acts 20-21 OR back to J B Phillips HomePage

J.B.Phillips, "The New Testament in Modern English", 1962 edition, published by HarperCollins, is presented here with the kind permission of Mrs Vera Phillips and the J.B.Phillips estate

Maps by Gordon Smith can be used without further permission. Please quote http://www.ccel.org/bible/phillips/JBPhillips.htm