The Elizabethan Book of Common Prayer (1559) was the form of worship that George Herbert used as a Priest. Although none of George Herbert's sermons survive, one man reports that they were about morality and the liturgy. We see moral teaching in "The Church Porch," and "The Church" poems hint at the liturgy. This edition of the services includes poems from The Temple 1633 amplifying the text from the Prayerbook. These services for George Herbert and his poems suggest a similarity if not an attribution. Here they are only intended for enjoyment and, perhaps, enlightenment, as all Herbert's poems are.

Book of Common Prayer (Temple Edition) links in drop-down menu:
Return to George Herbert & The Temple Home Page.
Related Links to Richard Hooker and the Book of Common Prayer. A service arranged for George Herbert at Christian Homemade Liturgy Exchange.
---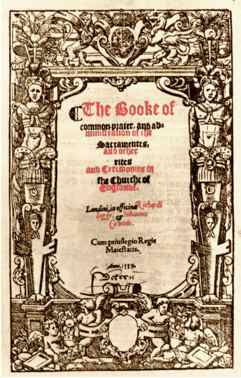 To give thanks and credit to those who created the Elizabethan Book of Common Prayer (1559) for the Internet:
Return to 1559 Book of Common Prayer
Return to Book of Common Prayer Home Page
Web author: Charles Wohlers