George Herbert: "The Church-porch"
Day 32: Evening
In Almes regard thy means, and others merit.
Think heav'n a better bargain, then to give
Onely thy single market-money for it.
Joyn hands with God to make a man to live.
Give to all something; to a good poore man,
Till thou change names, and be where he began.
In alms consider your means and another's merit. Think heaven a better bargain than to give only your single market-money for it. Join hands with God to make a man to live. Give to all good, poor men something till you change names and be where he began.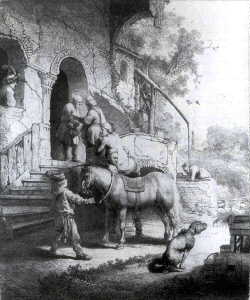 On the subject of alms, the basis for a decision lies with your means and the merit of the person in need. Every person who is both good and poor deserves something, some assistance to better and continue his life of goodness. This does not include anonymous giving due to requests by a third party, over the air ways, in the mail, over the telephone or Internet. This does not include impersonal giving. The decision concerns a person directly or a trusted person who knows you may bring the concern of a poor, good person to your consideration. This gift is personal and is an investment of yourself. You know how much you have, and you know how much the person needs and deserves your help. You make this decision yourself, based on your own information and evaluation. You make a commitment of your resources. On the one hand you have the market money for one day, that you are preparing to spend on your needs, and on the other you have Heaven. Which is the better bargain?
Work with God to keep a man or woman alive. You are God's complement. Give something to all good men who are poor. You may be in their place someday.
---
© 1997 J. R. Arner
---
Go To Next Stanza
Go Back To the Index:
Go To George Herbert: "The Church-porch", Introduction
Go To George Herbert & The Temple Home Page