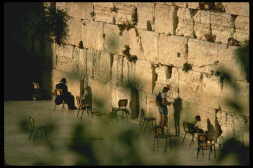 George Herbert: "The Church-porch"
Day 11: Evening
21
Doe all things like a man, not sneakingly:
Think the king sees thee still; for his King does.
Simpring is but a lay-hypocrisie:
Give it a corner, and the clue undoes.
Who fears to do ill, sets himself to task:
Who fears to do well, sure should wear a mask.
Be open in your dealings. Don't work behind people's backs. Think that your ruler, president, governor, boss or parents are watching you because their God does see you. A pouting expression is an unskilled deception: if you give it any room, even a corner, the trace that you have allowed reveals the hypocrisy. If you are afraid to fail, you work against yourself. If you are afraid to succeed, you need something to hide behind.
Deal openly and fairly with others. Lay out the situation with them and the data necessary to solve any problem. You do this because God sees what you do when no one else does. You live your life in the sight of God. If you reserve only one place in your nature for hypocrisy it will taint the rest. Facial expressions are half hearted deceits. If your smile pleases everyone, but there is a sarcastic smirk in the corner, the winning smile is reversed. It is the false smile and the insincere apology that cast doubt on integrity. A perfect life with one deceit calls into question the motive and generation of that otherwise exemplary lifetime. One deceitful expression carefully maintained encourages more and still more until the false face obscures every thing.
There are those who condemn themselves to inaction because they either fear to fail or fear to succeed. The person, who hesitates to do any action because he is afraid to do evil, condemns himself before be begins. No good can come of this. The perfectionist makes his own Hell of frustration, not doing good, or fear doing evil. On the opposite side is the socially sensitive person who avoids doing good when it is against the status quo. He/She bows to public opinion and what his peers demand, rather than what is right or just. The lesson still is Do all things openly.
---
© 1997 J. R. Arner
---
Go To Next Stanza
Go Back To the Index:
Go To George Herbert: "The Church-porch", Introduction
Go To George Herbert & The Temple Home Page