Verses about the Apostles' "TRAVELS and ACTS"
Part 21 - PAUL'S FIRST LETTER TO TIMOTHY
Introduction to 1 Timothy & Location Map
back to J B Phillips HomePage
---
Book 15 of 27 - PAUL'S FIRST LETTER TO TIMOTHY

Writer: The apostle Paul

Date: c AD66, assuming Paul was released from house arrest in Rome and continued his travels

Where written: perhaps Macedonia

Reader: Timothy, Paul's disciples and friend, and now a minister in Ephesus

Why: Paul writes to the young Timothy to encourage and advise him on his conduct and work as a minister;

According to Some Modern Scholarship: Written by an unknown Christian towards the end of the 1st century, using Paul's name and some of his original material to give the letter authority
Map - Paul Writes his First Pastoral or Teaching Letter to Timothy

Map Key: Letter possibly from 1 to 2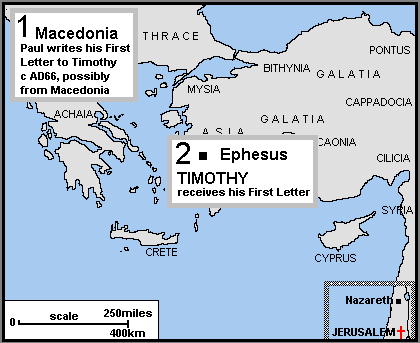 ---

PAUL INSTRUCTS TIMOTHY TO DEFEND THE TRUE GOSPEL

21.1 GREETINGS TO TIMOTHY

1 Timothy 1:1-2 - Paul, Jesus Christ's messenger by command of God our saviour and Christ our hope, to Timothy my true son in the faith: grace, mercy and peace be to you from God our Father and Jesus Christ our master.
21.2 PAUL INSTRUCTS HIM TO STAY IN EPHESUS AND DEAL WITH FALSE TEACHERS

1 Timothy 1:3-4 - I am repeating in this letter the advice I gave you just before I went to Macedonia (... presumably after his release from prison in Rome) and urged you to stay at Ephesus. I wanted you to do this so that you could order certain persons to stop inventing new doctrines and leave hoary old myths and interminable genealogies alone. They only raise queries in men's minds without leading them to faith in God.
21.3 PAUL WAS A WICKED MAN, SAVED BY GOD'S GOODNESS

1 Timothy 1:12-16 - I am deeply grateful to our Lord Jesus Christ (to whom I owe all that I have accomplished) for trusting me enough to appoint me his minister, despite the fact that I had previously blasphemed his name, persecuted his Church and damaged his cause. I believe he was merciful to me because what I did was done in the ignorance of a man without faith, and then he poured out his grace upon me, giving me tremendous faith in, and love for, himself. This statement is completely reliable and should be universally accepted:- "Christ Jesus entered the world to rescue sinners". I realise that I was the worst of them all, and that because of this very fact God was particularly merciful to me. It was a kind of demonstration of the extent of Christ's patience towards the worst of men, to serve as an example to all who in the future should trust him for eternal life.
21.4 TIMOTHY IS TOLD TO HOLD ON TO HIS FAITH; PAUL NAMES TWO MEN WHO DID NOT

1 Timothy 1:18-20 - Timothy my son, I give you the following charge. (And may I say, before I give it to you, that it is in full accord with those prophecies made at your ordination - as a minister - which sent you out to battle for the right armed only with your faith and a clear conscience. Some, alas, have laid these simple weapons contemptuously aside and, as far as their faith is concerned have run their ships on the rocks. Hymenaeus and Alexander are men of this sort, and as a matter of fact I had to expel them from the Church to teach them not to blaspheme.)
21.5 PAUL APPOINTMENT AS AN APOSTLE TO THE GENTILES

1 Timothy 2:7 - I (Paul) was appointed proclaimer and messenger (apostle) of this great act of his (Jesus), to teach (incredible as it may sound) the Gentile world to believe and know the truth.
21.6 PAUL'S REASON FOR WRITING, EVEN THOUGH HE HOPES TO COME SOON

1 Timothy 3:14-15a - At the moment of writing I hope to be with you soon (in Ephesus, travelling possibly from Macedonia), but if there should be any considerable delay then what I have written will show you the sort of character men of God's household ought to have.
HOW TIMOTHY SHOULD DEAL WITH FALSE TEACHERS

21.7 PAUL WARNS TIMOTHY ABOUT THOSE WHO WILL LOSE THEIR CHRISTIAN FAITH

1 Timothy 4:1-2 - God's Spirit specifically tells us that in later days there will be men who abandon the true faith and allow themselves to be spiritually seduced by teachings of the devil, teachings given by men who are lying hypocrites, whose consciences are as dead as seared flesh.
21.8 PAUL REPEATS HIS HOPE TO COME SOON

1 Timothy 4:13 - Concentrate until my arrival on your reading and on your preaching and teaching.
21.9 PAUL'S INSISTENCE ON IMPARTIALITY

1 Timothy 5:21 - Timothy, I solemnly charge you in the sight of God and Christ Jesus and the holy angels to follow these orders (on dealing with problems in the church) with the strictest impartiality and to have no favourites.
21.10 TIMOTHY'S HEALTH, PAUL'S ADVICE

1 Timothy 5:23 - By the way, I (Paul) should advise you to drink wine in moderation, instead of water. It will do your stomach good and help you to get over your frequent spells of illness.
21.11 PAUL'S FINAL WARNING TO HOLD TO CHRISTIAN DOCTRINE; A BLESSING

1 Timothy 6:20-21 - O Timothy, guard most carefully your divine commission. Avoid the Godless mixture of contradictory notions which is falsely known as "knowledge" - some have followed it and lost their faith.

Grace be with you.

PAUL
---
continuing the Apostle's "Travels and Acts", on to Part 22, Titus OR back to J B Phillips HomePage
J.B.Phillips, "The New Testament in Modern English", 1962 edition, published by HarperCollins, is presented here with the kind permission of Mrs Vera Phillips and the J.B.Phillips estate
Maps by Gordon Smith can be used without further permission. Please quote http://www.ccel.org/bible/phillips/JBPhillips.htm