Verses about the Apostles' "TRAVELS and ACTS"
Part 8 - PAUL'S SECOND LETTER TO THE THESSALONIANS
Introduction to 2 Thessalonians & Location Map
back to J B Phillips HomePage
---
Book 14 of 27 - SECOND BOOK TO THE THESSALONIANS

Writer: The apostle Paul

Date: c AD52, a few months after his First Letter to the Thessalonians

Where written: Corinth, during his 18 month stay, Acts 18:11

Readers: The church in Thessalonica

Why: Following his First Letter, Paul must have received reports that the church was still preoccupied with the Second Coming of Jesus. He therefore writes his second "eschatological" letter
Map - Paul Writes his Two Letters to the Thessalonians

Map Key: Letters sent from 1 to 2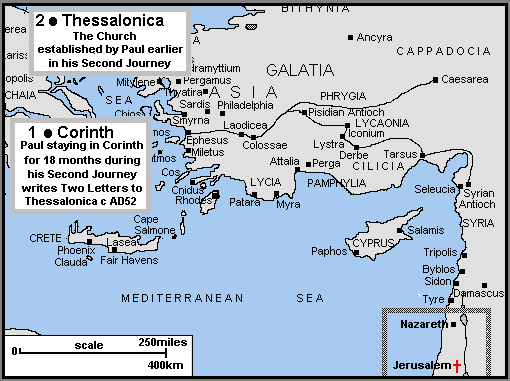 ---

THANKSGIVING AND ENCOURAGEMENT

8.1 PAUL AGAIN GIVES THANKS FOR THE LIFE AND WITNESS OF THE THESSALONIANS

2 Thessalonians 1:1-7a - To the church of the Thessalonians, founded on God our Father and Jesus Christ the Lord, from Paul, Silvanus (or Silas) and Timothy; grace to you and peace from God the Father and the Lord Jesus Christ!

Your sufferings are a guarantee of great joy one day

My brothers, nowadays I thank God for you not only in common fairness but as a moral obligation! Your faith has made such strides, and (without any individual exceptions) your love towards each other has reached such proportions that we actually boast about you in the churches, because you have shown such endurance and faith in all the trials and persecutions you have gone through.

These qualities show how justly the judgment of God works out in your case. Without doubt he intends to use your suffering to make you worthy of his kingdom, yet his justice will one day repay trouble to those who have troubled you, and peace to all of us who, like you, have suffered ....
2 Thessalonians continues

in Part 39 with verses preaching the "Gospel of Jesus"

1: 7b-12
Christ will judge everyone when he returns

THE SECOND COMING

2: 1-12
The anti-christ of Satan must appear before the return of Jesus
2:13-17
Paul's encouragement to stand firm

and concludes with:
A CALL FOR PRAYER AND TO DISCIPLINE

8.2 PAUL ASKS FOR PRAYER FOR HIS WORK AND WARNS AGAINST IDLENESS

- The warning against idleness is for those Thessalonian Christians expecting the imminent return of Jesus, who have stopped concerning themselves with day-to-day living:

2 Thessalonians 3:1-15 - Finally, my brothers, do pray for us here (in Corinth). Pray that the Lord's message may go forward unhindered and may bring him glory, as it has done with you. Pray, too, that we may not be embroiled with bigoted and wicked men; for all men, alas, have not faith. Yet the Lord is utterly to be depended upon by all who have faith in him, and he will give you stability and protection against all that is evil. It is he who makes us feel confident about you, that you are acting and will act in accordance with our commands. May he guide your hearts into ever deeper understanding of his love and the patient suffering of Christ.

Remember our example: everyone should do his fair share of work

One further order we must give you in the name of our Lord Jesus Christ: don't associate with the brother whose life is undisciplined, and who despises the teaching we gave him. You know well that we ourselves are your examples here, and that our lives among you were never undisciplined. We did not eat anyone's food without paying for it. In fact we toiled and laboured night and day to avoid being the slightest expense to any of you. This was not because we had no right to ask our necessities of you, but because we wanted to set you an example. When we were actually with you we gave you this principle to work on: "If a man will not work, he shall not eat." Now we hear that you have some among you living quite undisciplined lives, never doing a stroke of work, and busy only in other people's affairs. Our order to such men, indeed our appeal by the Lord Jesus Christ, is to settle down to work and eat the food they have earned themselves.

And the rest of you - don't get tired of honest work! If anyone refuses to obey the command given above, mark that man, do not associate with him until he is ashamed of himself. I don't mean, of course, treat him as an enemy, but reprimand him as a brother.
8.3 FAREWELLS & BLESSINGS

2 Thessalonians 3:16-18 - Now may the Lord of peace personally give you his peace at all times and in all ways. The Lord be with you all.

This is the farewell message of PAUL, written in my own writing - my "mark" on all my letters.

The grace of our Lord Jesus Christ be with you all.
By now Paul is back in Syrian Antioch preparing for his Third Missionary Journey:
---
continuing the Apostle's "Travels and Acts", on to Part 9, Acts 18-20 OR back to J B Phillips HomePage
J.B.Phillips, "The New Testament in Modern English", 1962 edition, published by HarperCollins, is presented here with the kind permission of Mrs Vera Phillips and the J.B.Phillips estate
Maps by Gordon Smith can be used without further permission. Please quote http://www.ccel.org/bible/phillips/JBPhillips.htm