Early Church Fathers
Highlights
NRSV and KJV Bibles
Complete 37-volume Early Church Fathers series
Fast Searching
Parallel Browser for side-by-side study (see below)
Note: The Early Church Fathers DVD include the original page scans for the Early Church Fathers volumes, while the Early Church Fathers Download does not.
Full Description
The Early Church Fathers series is comprised of thirty-seven volumes of the most important writings of the first 500 years of the church, as well as a copy of the New Revised Standard Version (NRSV) of the Bible. To this is added the Apostolic Fathers in Greek, the Summa Theologica and other works of St. Thomas Aquinas, Deane's Pseudepigrapha, and other works by Athanasius, Augustine, Boethius, Irenaeus, Origen, and Salvian, in one convenient download. The powerful software in this download also makes it possible to search the entire library for words, phrases, and scripture references and to install additional books from the CCEL via the Internet.
How to Use This Software
After installing this program and starting the CCEL Desktop, a Web browser window opens and gives you access to the library. To study a Bible passage, click the Bible tab.

There you can enter a Bible passage and view the passage on one side and the available Bible commentaries on the other.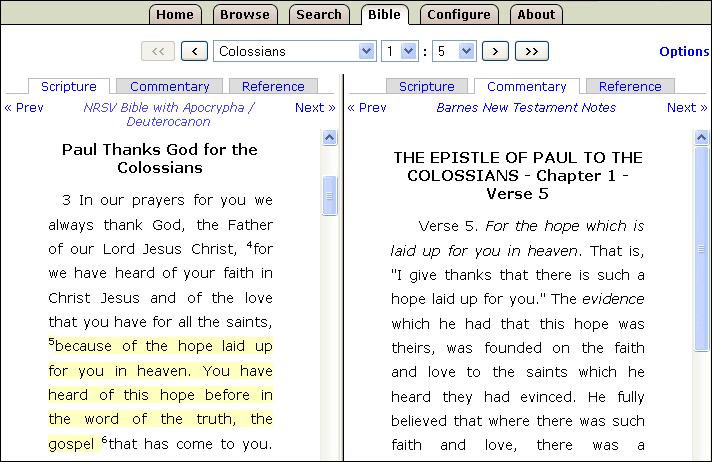 You can also see where the Bible passage is mentioned in other books in your library by clicking the "Reference" tab.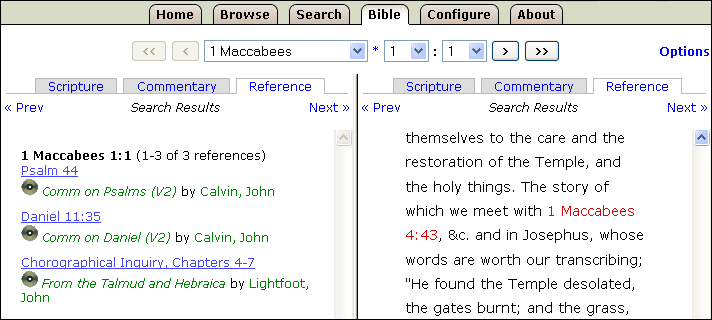 You can browse available books and read them in your Web browser, and you can convert them to a format that Microsoft Word can read. A PDF form of each book is also included. These work well for printing a section of a book.
You can use the included powerful search engine to perform tasks such as searching for a word or phrase in any installed book, finding a book by author or title, or searching for references to a Bible passage in any installed book. Want to search for references to Matthew 5:8 in any of Calvin's works? It's easy. Just click the "advanced search" link, enter Calvin as the author, and enter Matthew 5:8 in the Scripture Reference box. Then click "search."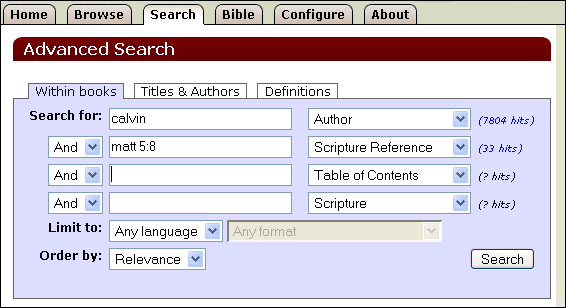 The software also allows you to install additional books from the CCEL Web site with a single click if you have a www.ccel.org login. At this time there is no charge for installing additional books from the Web site, though there is a request for a donation.
---
Compatibility: This software works with Windows XP or later and Mac OS 10.4 or later. It also runs on most Linux systems. Hard disk space needed is up to 900MB, depending on which books are installed. Viewing PDF files requires a separate viewer (i.e. Adobe Reader). This software does NOT work with some versions of AOL browser.
Copyright: The scripture contained herein is from the New Revised Standard Version of the Bible. Copyright © 1989 National Council of the Churches of Christ in the United States of America. Used by permission. All rights reserved.
NRSV: Licensed through Harper Collins Publisher
Download
(
More information
)
Price: $59.00
Text CD/DVD
(
More information
)
Price: $35.00
CCEL Store Details
For questions or additional product information, please contact us.
Don't want to purchase through PayPal?
Would you prefer to order by mail? Use the CCEL Products order form.