CCEL Commentaries CD (with searchable NRSV)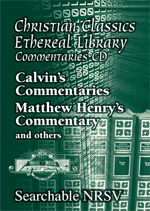 Text CD/DVD
SKU: ccel-commentaries
Product Formats
Highlights
NRSV and KJV Bibles
John Calvin, Matthew Henry, plus 12 other authors
Fast Searching
Parallel Browser for side-by-side study (see below)
Full Description
This CD contains the complete set of Calvin's Commentaries and Matthew Henry's Commentaries on the Whole Bible, unabridged. In addition, it contains Barnes' Notes on the New Testament and several other one-volume commentaries on New Testament books. A complete list of contents is available. This CD is the perfect tool for in-depth study of a Bible passage with these commentaries. Not only will it save you hundreds of dollars over the purchase of the included books, it will also save you time and several feet of shelf space!
John Calvin's commentaries essentially taught protestant Christians how to read the Bible. They were written in the midst of great need; Protestant Christians were being harshly persecuted and needed more than ever to understand the truths on which they stood. See below for some excerpts from the General Introduction to the commentaries.
We concur in the judgment of many before us that Calvin was, for various reasons, a unique and extremely illuminating commentator. His education as a humanist, his extensive knowledge of the work of other interpreters of the Bible, his classical and patristic erudition, his insights as a Reformer and churchman, and his exegetical competence and grasp of the Biblical mind — all these make him an endlessly fresh and eye-opening interpreter.

It is important to remember that these lectures were delivered at the Academy, which provided education to the children of Geneva, and attracted students of theology by the hundreds from France, England, Scotland, Holland, and elsewhere. Some of the greatest Protestant theologians of the day were trained in this Academy. But the majority of those who attended his lectures went to their several countries to work, and often to suffer, for the establishment and the progress of the Reformed faith. What these men needed was clear, sure, and strong grasp of Scripture doctrine, available for the new churches or gatherings of Protestants in their own lands, surrounded by hostile forces and in constant peril. Calvin commented for the upbuilding of these people and the churches they came from and went to.

He began his lectures always with the prayer, "May the Lord grant that we study the heavenly mysteries of his wisdom, making true progress in religion to his glory and our upbuilding." The closing prayer was longer, and in it Calvin laid before the Lord the special needs of the faithful as the Scripture just studied had revealed them.
Matthew Henry's Commentaries on the Whole Bible are among the most beloved of Bible commentaries because of their warmth and application. More than just an exposition of the words, this set helps us to think through the implications the scripture has for our lives. Henry states his purpose clearly in the preface to his first volume:
That which I aim at in the exposition is to give what I thought the genuine sense, and to make it as plain as I could to ordinary capacities, not troubling my readers with the different sentiments of expositors [...]. As to the practical observations, I have not obliged myself to raise doctrines out of every verse or paragraph, but only have endeavoured to mix with the exposition such hints or remarks as I thought profitable for doctrine, for reproof, for correction, for instruction in righteousness, aiming in all to promote practical godliness, and carefully avoiding matters of doubtful disputation and strifes of words. It is only the prevalency of the power of religion in the hearts and lives of Christians that will redress our grievances, and turn our wilderness into a fruitful field.
---
How to Use This CD
After installing this CD and starting the CCEL Desktop, a Web browser window opens and gives you access to the library. To study a Bible passage, click the Bible tab.

There you can enter a Bible passage and view the passage on one side and the available Bible commentaries on the other.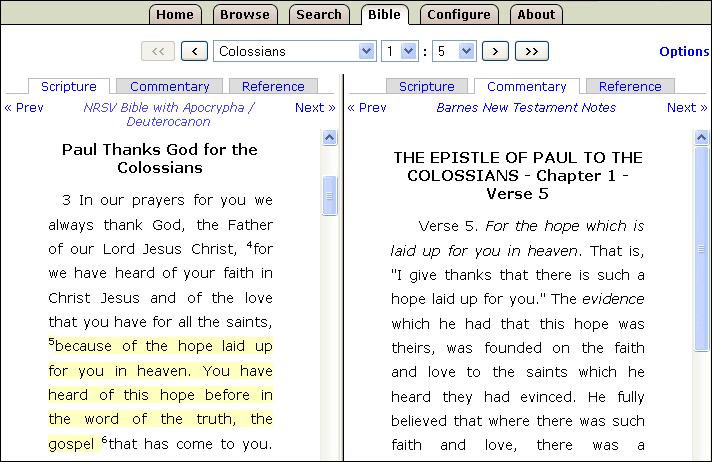 You can also see where the Bible passage is mentioned in other books in your library by clicking the "Reference" tab.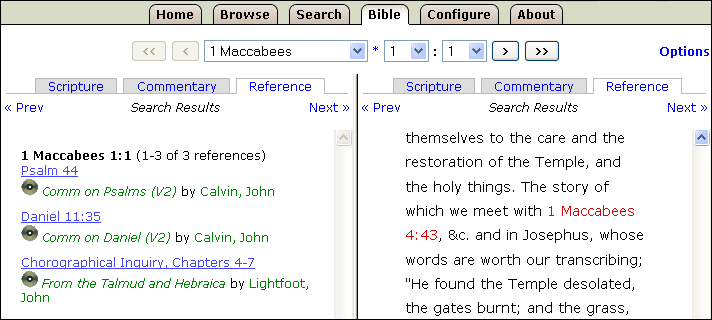 You can browse available books and read them in your Web browser, and you can convert them to a format that Microsoft Word can read. A PDF form of each commentary is also included. These work well for printing a section of a book.
You can use the included powerful search engine to perform tasks such as searching for a word or phrase in any installed book, finding a book by author or title, or searching for references to a Bible passage in any installed book. Want to search for references to Matthew 5:8 in any of Calvin's works? It's easy. Just click the "advanced search" link, enter Calvin as the author, and enter Matthew 5:8 in the Scripture Reference box. Then click "search."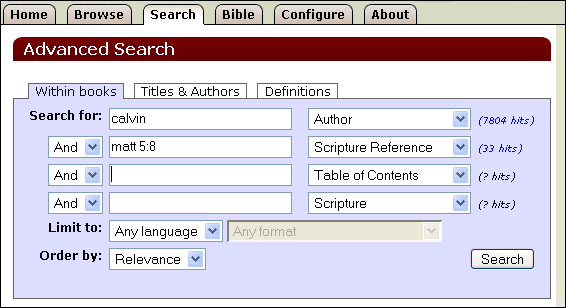 The CD-ROM also allows you to install additional books from the CCEL Web site with a single click if you have a www.ccel.org login. At this time there is no charge for installing additional books from the Web site, though there is a request for a donation.
---
Books Contained on This CD
Bible translations: NRSV, KJV
Barnes, Albert
Notes on the New Testament (unabridged, 11 vols.)
Berkhof, Louis
Introduction to the New Testament
Bullinger, E.W.
Commentary on Revelation
Calvin, John
Commentaries (unabridged, 45 vols.)
Chadwick, G.A.
Gospel of St. Mark
Henry, Matthew
Commentary on the Whole Bible (unabridged, 6 vols.)
Johnson, B.W.
The New Testament Commentary Vol. III: John
The People's New Testament
Leupold, H.C.
Exposition of Genesis
Lightfoot, John
From the Talmud and Hebraica
McGarvey, J.W.
The Four-Fold Gospel
A Commentary on Acts of Apostles
Moffat, James
The General Epistles: James, Peter, and Judas
Nave, Orville J.
Nave's Topical Bible
Newell, William R.
Romans Verse-by-Verse
Ramsay, W.M.
The Letters to the Seven Churches of Asia
Compatibility:This CD works with Windows XP or later and Mac OS 10.4 or later. It also runs on most Linux systems. Hard disk space needed is between 20 and 800 MB, depending on which books are installed. Viewing PDF files requires Adobe Reader. This CD does NOT work with some versions of AOL browser.
Copyright: The scripture contained herein is from the New Revised Standard Version of the Bible. Copyright © 1989 National Council of the Churches of Christ in the United States of America. Used by permission. All rights reserved.
NRSV: Licensed through Harper Collins Publisher
CCEL Store Details
For questions or additional product information, please contact us.
Don't want to purchase through PayPal?
Would you prefer to order by mail? Use the CCEL Products order form.