The CCEL Times 2.1 (January 2, 2007)
To view this newsletter as a web page, go to
www.ccel.org/newsletter/2/1

In This Issue:
From the Director
Greetings from the CCEL! Last month's inaugural issue of the CCEL Times invited readers to suggest a motto to go with the newsletter title. Thanks for your responses--all 113 of them! I appreciate your interest and suggestions. Some of the most popular suggestions were Golden Oldies and Oldies but Goodies. Here are some others that I liked:
Variations on the old/new theme:
Ancient landmarks worth remembering
Timeless Treasures for Today
Keeping Current with the Classics
Bringing Classics to Life
Thoughts that have stood the test of time
In Case You Missed It The First Time
Other suggestions:
Recorded yesterday. Relevant today. Right for tomorrow.
Those who study His story get to repeat it
If you like these, check out the all-time best seller
Some are clever and fun to read but not necessarily good newsletter mottoes. "Timeless Treasures for Today" hits the classics for today theme with some nice alliteration and a play on the 'Times' title. However, I think my favorite is "Bringing Classics to Life," which captures the twofold mission of the CCEL--availability and promotion of the classics--with a nice pun on two meanings of "to Life." Kudos to Lawrence Huber for submitting it.
Harry Plantinga
Director of the CCEL
New CD
The CCEL Classics CD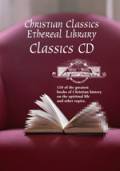 We released a new CD on December 15 after three years' development. In fact, some of the software we developed for the CD is being used on ccel.org as the search engine. This CD has most of the CCEL's spiritual classics--the greatest books of Christian history for devotional reading. There are also a couple of one-volume Bible commentaries and Bible dictionaries for research and study. Later this year, we hope to release two more CDs. One will be on the Early Church Fathers, including the Schaff series and other works. The other will be a CD of commentaries, including the complete, unabridged sets of Calvin and Matthew Henry.
Table of Contents for this CD
Order this CD
New Employee
Nyna Sykes has joined us as our new business manager. She comes with a strong background in management of large complex projects. Nyna started her career at IBM, leaving there to take a position with Northern Telecom as Vice-President of their Data Communications Division. Many years later, she left to become a general manager of the PC Card Division of AMP Incorporated. Nyna is responsible for all the business aspects of the CCEL including building and maintaining relationships with CCEL partners and advertisers, directing the CCEL's communications, selling our products and managing our budget. She is also responsible for site advertisement, the CCEL CD program, and customer relations. We warmly welcome Nyna aboard. You can contact her via e-mail.
Usage Hints
Forums
The CCEL offers discussion forums on CCEL-related topics. There have been some lively discussions lately, and it's a good place to post questions or see how people from other branches of Christianity think. We also have closed-membership forums, and we're experimenting with them for online book discussion groups. If you want to see when new forum comments are added or when people you know are online, log in to the CCEL and click "My Account." Then make sure that "New Forum Topics," "Who's Online," and "Recent Comments" are all checked and click submit. If you aren't interested in the forums, uncheck those options.
Featured Classic
John Calvin's Institutes of the Christian Religion
John Calvin was trained as a lawyer and a humanist and provided some of the most mature theological statements of the Reformation period. Calvin's Institutes of the Christian Religion is arguably one of the top five theology books ever written. This masterful work is filled with commanding knowledge of the Bible and of church history, but Calvin also writes with a lot of pastoral concern for real worshipers, and writes with a lot of enthusiasm for faith. And so the work can nourish not only scholars in their studies, but all worshipers in their daily prayer and reflections.
-John D. Witvliet,
Director of the Calvin Institute of Christian Worship
Read this classic at the CCEL
---
Your Subscription
You are receiving this monthly newsletter because you elected to subscribe to it as part of your CCEL user account. To
unsubscribe
, click the link below or log in to
www.ccel.org
, click "my account," and click "my newsletters" under "Manage subscriptions." De-select "CCEL Newsletter" and click "Submit."
Share With a Friend
Do you know someone who would benefit from receiving this newsletter? Please forward it to them, and encourage them to create a CCEL user account and subscribe to this newsletter. Thanks for your help!
Christian Classics Ethereal Library
3201 Burton St SE
Grand Rapids, MI 49546
About Us - Contact Us