John Woolman
Quaker preacher and campaigner against slavery
Page loading...
Summary
Biography
Works by
Works about
Influence
Summary
John Woolman (October 19, 1720 – October 7, 1772) was an American itinerant Quaker preacher who traveled throughout the American colonies and in England, advocating against cruelty to animals, economic injustices and oppression, conscription, military taxation, and particularly slavery and the slave trade.

Born
Died
Related topics
Importance
October 19, 1720
October 7, 1772
York, England
Biography, Controversial literature, Poor, Quakers, Slavery
2
Importance is calculated using the length of this author's Wikipedia entry, as well as the number of works by and about this author.
Top
Biography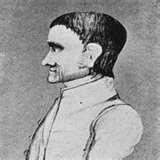 Source: www.religionfacts.com
Born in Northampton, New Jersey, Woolman was raised on the family farm. His grandfather had been among the first settlers in Quaker West Jersey, just across the Delaware from the land destined to become the center for Quaker settlement in America-Pennsylvania. As a young man, Woolman moved to Mount Holly where he worked as a tailor. This trade would support him at times throughout his life. He owned his own tailor shop for a time, but his desire for a deeper spiritual life led him to simplify his life.
Deeply pious, he became a recorded minister of the Society of Friends (1743) and for thirty-seven years served as chairman for the quarterly business meeting in Burlington County. He began to travel extensively, thirty-nine trips in twenty-five years, ministering to Quaker communities throughout the Thirteen Colonies. Woolman died of smallpox on a visit to Friends in England, and was buried at York.
His Journal reveals a man who desired to follow the "pure leading" of God, undistorted by natural human self-interest. He was conspicuous, even among Quakers, for his intense mystical piety. Woolman's America was a world of economic growth and agricultural expansion. The need for labor brought slaves from Africa. The need for land resulted in war with the Indians. In this world of slavery, Indian abuse, and war, Woolman desired to bring reform. He was concerned that Friends not take part in the injustices that seemed to pervade colonial America. He believed that most, if not all, of society's problems could be traced to the pervasive principle of selfish pragmatism. In remedy, he called his fellow Quakers to live according to the principle of selfless love.
Woolman preached and wrote against slavery during a time when the practice was little questioned and his testimony caused Quakers of the Philadelphia yearly meeting (1776) to denounce the practice. As a result of his efforts, many Friends, even some in the southern colonies, chose to free their slaves. Woolman also preached and wrote against the abuse of Indians, the ill-treatment of the poor, and conscription and taxation to support the war effort. He was a prophetic voice to Colonial America, but his influence was only significantly felt among the small population of Friends. Yet a century after his death, his writings (Some Considerations on the Keeping of Negroes and his Journal) made a significant impact upon the abolitionist movement in the nineteenth century. Woolman's call to the deeper spiritual life, the defense of the helpless, and the denunciation of selfishness is for Christians of all centuries.
Top
Works by John Woolman
Filter:
Only CCEL
CCEL + External
Top
Popularity: %
Popularity is calculated by comparing this book's number of views to our most commonly read book.
Popularity is calculated by comparing this book's number of editions to the book with the largest number of editions.
Works about John Woolman
Wikipedia Article
External
Top
Influence of John Woolman
Works published by John Woolman
Works published about John Woolman
Top
There is no information for this graph.