Rowland Williams
English divine and scholar
Page loading...
Summary
Biography
Works by
Influence
Summary
Rowland Williams (1817–1870) was vice-principal and Professor of Hebrew at St David's College, Lampeter from 1849 to 1862 and was one of the most influential theologians of the nineteenth century. He supported biblical criticism and pioneered comparative Religious Studies in Britain. He was also a priest in the Church of England, vicar of Broad Chalke and is buried there. Williams is also credited with introducing Rugby to Wales – Lampeter's team was the first to be established in the nation.

1817
1870
Church of England, Theology, Trials (litigation)
Top
Biography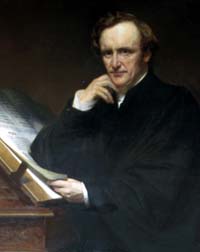 Source: Wikipedia
Williams was born at Halkyn, Flint, the son of Rowland Williams (d. 1854), canon of St Asaph, and educated at Eton and Cambridge. He was elected fellow of King's College, Cambridge, in 1839, and took orders in 1842. During the next few years he actively opposed the amalgamation of the sees of St Asaph and Bangor.
In 1850 he became vice-principal and Hebrew lecturer at St. David's College where he introduced educational and financial reforms. Later, he was appointed select preacher of Cambridge University in 1854, and preached a sermon on inspiration -- later published in his Rational Godliness after the Mind of Christ and the Written Voices of the Church (London, 1855). He was charged with heterodoxy and was required to resign his chaplaincy, but he remained at the college in spite of these difficulties. His views were further defined in Christianity and Hinduism (Cambridge, 1856), an expansion of the Muir prize essay which he had won in 1848.
He became vicar in 1858 of Broadchalke with Bowerchalke and Alvedistone, Wiltshire. His favorable review of unsen's "Biblical Researches," which was published in Essays and Reviews (1860), resulted in his being prosecuted for heterodoxy." An unfavorable judgment was given by the Canterbury Court of Arches in 1862, but reversed by the Privy Council in 1864.
Williams died on the 18th of January, 1870.
Top
Works by Rowland Williams
Filter:
Only CCEL
CCEL + External
Top
Popularity: %
Popularity is calculated by comparing this book's number of views to our most commonly read book.
Popularity is calculated by comparing this book's number of editions to the book with the largest number of editions.
Influence of Rowland Williams
Works published by Rowland Williams
Works published about Rowland Williams
Top
There is no information for this graph.