R. A. Torrey
American Congregationalist evangelist
Page loading...
Summary
Biography
Works by
Works about
Summary
3
Importance is calculated using the length of this author's Wikipedia entry, as well as the number of works by and about this author.
Top
Biography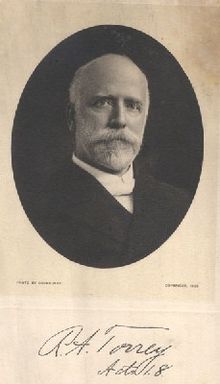 Source: Wikipedia
Reuben Archer Torrey (1856-1928), American evangelist, pastor, educator, and writer.
Torrey was born in Hoboken, New Jersey on January 28, 1856. He graduated from Yale University in 1875 and Yale divinity School in 1878. Following graduation, Torrey became a Congregational minister in Garrettsville, Ohio in 1878, marrying Clara Smith there in October, 1879. From 1881 to 1893, the Torreys had five children.
After further studies of theology at Leipzig University and Erlangen University in 1882-1883, Torrey joined Dwight L. Moody in his evangelistic work in Chicago in 1889, and became superintendent of the Bible Institute of the Chicago Evangelization Society (now Moody Bible Institute). Five years later, he became pastor of the Chicago Avenue Church (now The Moody Church) in 1894.
In 1898, Torrey served as a chaplain with the YMCA at Camp Chicamauga during the Spanish-American War. Later, during World War II, he performed similar service at Camp Bowie (a POW camp in Texas) and Camp Kearny.
In 1902–1903, he preached in nearly every part of the English-speaking world, and with song leader Charles McCallon Alexander, conducted revival services in Great Britain in 1903–1905. During this period, he also visited China, Japan, Australia, and India. Torrey conducted a similar campaign in American and Canadian cities in 1906–1907. Throughout these campaigns, Torrey utilized a meeting style that he borrowed from Moody's campaigns of the 1870s.
In 1912, he served as Dean of Bible Institute of Los Angeles (now Biola University) and in 1915, pastor of the Church of the Open Door, Los Angeles.
His last evangelistic meeting was in Florida in 1927. Future planned meetings were canceled due to his failing health. He died at home in Asheville, North Carolina on October 26, 1928, having preached the world over and having left a legacy of over forty books.
Top
Works by R. A. Torrey
Filter:
Only CCEL
CCEL + External
Written a little over a century ago, How to Pray is a wonderful treatise on prayer. The author, Reuben Torrey, effortlessly guides even the most seasoned person of prayer into deeper, more significant prayer. Torrey explains what prayer is, what it can do, and when one should pray. He also describes the hindrances that keep believers from praying effectively, and how with the power of God believers can overcome those hindrances. Filled with a spirit of graciousness, this classic work on prayer has helped generations and can also further one's own spiritual maturation in the "essential activity" of prayer.
No description available.
R.A. Torrey is one of the greatest American evangelists. Often mentioned in concert with Dwight L. Moody (of the Moody Bible Institute), Torrey spent his life (1856-1928) traveling the world (Great Britain, China, Japan, Australia, India) and spreading the gospel of Christ. Revival Addresses is a compilation of 40 sermons he preached at rallies around the world. If one is daunted by the sheer volume of the messages, "The Greatest Sentence Ever Written" is a good place to start. It focuses on 1 John 4:8, "God is love." This simple sentence inspires some of Torrey's most powerful messages of hope and love for the unsaved. Primarily a collection of sermons designed to bring unbelievers to salvation, Revival Addresses is a masterful resource for pastors, but also for unbelievers or Christians looking for motivation for evangelism.
Torrey's topical concordance happened to be published during the same year (1897) as Orvile Nave's Topical Bible. Although Nave's Topical Bible has remained more popular, many still prefer Torrey's concordance, particularly those within the Reformed and Baptist traditions. This topical concordance contains 628 entries and over 20,000 scripture references. The entries are arranged alphabetically by topic title.
Show all 4 works
Top
Popularity: %
Popularity is calculated by comparing this book's number of views to our most commonly read book.
Popularity is calculated by comparing this book's number of editions to the book with the largest number of editions.
Works about R. A. Torrey
Top