Menno Simons
Dutch anabaptist
Page loading...
Summary
Biography
Influence
Summary
Menno Simons (1496 – 31 January 1561) was an Anabaptist religious leader from the Friesland region of the Low Countries. Simons was a contemporary of the Protestant Reformers and his followers became known as Mennonites. "Menno Simons" is a dutchification; his actual, Frisian name was Minne Simens .

Born
Died
Related topics
Importance
1496
Witmarsum, Friesland
January 31, 1561
Holstein
Anabaptists, Early works, Fiction, History, Mennonites
INF
Importance is calculated using the length of this author's Wikipedia entry, as well as the number of works by and about this author.
Top
Biography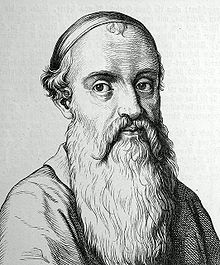 No biography available
Top
Influence of Menno Simons
Works published by Menno Simons
Works published about Menno Simons
Top
There is no information for this graph.