Dorothy Leigh Sayers
British author and Christian humanist
Page loading...
Summary
Biography
Works by
Works about
Summary
2
Importance is calculated using the length of this author's Wikipedia entry, as well as the number of works by and about this author.
Top
Biography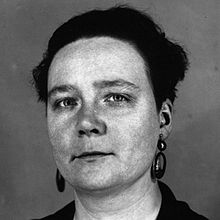 Source: Wikipedia
Born in Oxford, Sayers graduated at the university there, specializing in medieval literature. Although she became highly successful as a writer of detective stories, she decided to relinquish that career and turn to weightier topics. While hiding in an air-raid shelter during World War II, she read Dante's Divine Comedy and, stunned with its greatness, promptly began to learn Italian to savor it in the original. Later, she translated this monumental work into English. She had not totally completed the translation at the time of her death, so her friend Barbara Reynolds completed the task.
People who love her detective works and her translation of Dante do not always know that Dorothy L. Sayers was also a Christian writer. Her best-known Christian work is The Man Born to be King (1941), twelve dramatic episodes in the life of Christ. Though it ran into strong objections at first, the main one being the use of Christ actually speaking, the drama became so popular that it was broadcast over the BBC, Christmas after Christmas. Her long play The Emperor Constantine (1951) is an effort to show this Roman emperor's complicated relationships with Christianity and especially his involvements with the Council of Nicea. Other Christian dramas she wrote are The Zeal of Thy House (1937) and Four Sacred Plays.
She also produced many profitable Christian essays, including "The Other Six Deadly Sins", "What Do We Believe", "Strong Meat", and "The Greatest Drama Ever Staged". She was concerned about the relationship of Christianity and the arts and wrote "Towards a Christian Aesthetic", "Creative Mind", and "The Image of God". Undoubtedly one of her finest works is The Mind of the Maker (1941), based on the proposition that ". . . every work of creation is threefold, an earthly trinity to match the heavenly" ; the creative idea being the Father, the creative energy being the Word, and the creative power the indwelling Spirit.
Top
Works by Dorothy Leigh Sayers
Filter:
Only CCEL
CCEL + External
When Dorothy Sayers was in her mid-twenties, she wrote this short collection of poetry that stems from her brilliant craftsmanship and her Christian beliefs. Sayers is best known for her works of detective fiction, but her religious beliefs led her to write a great deal in response to schisms, fads, and heresies within the church. Her strong adherence to doctrine is reflected in her poetry, which is at times quaint and whimsical, at other times scholarly and intellectually rigorous, and still at other times beautiful and comforting. Give yourself the time to read, and re-read, these great poems, and to soak in the richness of Sayer's verses.
Top
Popularity: %
Popularity is calculated by comparing this book's number of views to our most commonly read book.
Popularity is calculated by comparing this book's number of editions to the book with the largest number of editions.
Works about Dorothy Leigh Sayers
Wikipedia Article
External
Top