Richard Rolle of Hampole
English hermit and mystic
Page loading...
Summary
Biography
Works by
Works about
Summary
3
Importance is calculated using the length of this author's Wikipedia entry, as well as the number of works by and about this author.
Top
Biography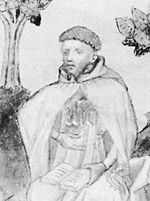 Source: Wikipedia
Born at Thornton, Yorkshire, England, circa 1290, he was educated at Oxford and in Paris from 1320-1326, before entering into the life of a hermit on the estate of a friend, John Dalton of Pickering in 1326. After several years of intense contemplation, he took to wandering across England, finally settling down at Hampole where he assisted the spiritual development of the nuns in a nearby Cistercian community. He died there on September 29. Rolle was very well known and his writings widely read during the fourteenth and fifteenth centuries. He was one of the first religious writers to use the vernacular. A cult developed to promote his cause after miracles were reported at his tomb, although the cause was never officially pursued.
His works include letters, scriptural commentaries, and treatises on spiritual perfection. Perhaps his best known writing was De Incendio Amoris . He also wrote a poem, Pricke of Conscience. In one of his best-known works, The Fire of Love, Rolle provides an account of his mystical experiences, which he describes as being of three kinds: a physical warmth in his body, a sense of wonderful sweetness, and a heavenly music that accompanied him as he chanted the Psalms.
Top
Works by Richard Rolle of Hampole
Filter:
Only CCEL
CCEL + External
Heralded as one of the great English mystics of the Middle Ages, Richard Rolle's religious adventures have been venerated since the 14th century. In the Fire of Love, Rolle describes his divine encounters by dividing the nature of the experience into three unique stages. Rolle describes the first stage as the sensation of spiritual fire, a glowing presence accompanied by a feeling of physical warmth in his chest. Rolle says that the second stage is marked by an overwhelming sense of peace and joy, a taste of sweetness in his soul. Finally, Rolle explains how in the third stage the glorious song of angels resounds, signifying his union with God's divine love. Rolle's artistic re-telling of his encounters enlightens us to the powerful religious experiences of Christian mystics during the medieval period.
No description available.
Top
Popularity: %
Popularity is calculated by comparing this book's number of views to our most commonly read book.
Popularity is calculated by comparing this book's number of editions to the book with the largest number of editions.
Works about Richard Rolle of Hampole
Wikipedia Article
External
Top