E. de Pressensé
French Protestant leader
Page loading...
Biography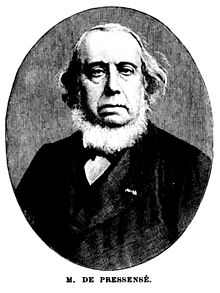 Source: Wikipedia
He was born at Paris, and studied at Lausanne under Alexandre Vinet. He went on to the University of Halle and Humboldt University, Berlin under Friedrich August Tholuck and August Neander, and in 1847 became a pastor in the Evangelical Church at the chapel of Taitbout in Paris.
He was a powerful preacher and political orator; from 1871 he was a member of the National Assembly, and from 1883 a life senator. In 1891 he was elected a member of the Académie des sciences morales et politiques. Pressensé laboured for the revival of biblical studies. He contended that the Evangelical Church ought to be independent of the power of the state.
In 1854 he founded the Revue chrétienne, and in 1866 the Bulletin idéologique. His works include: Histoire des trois premiers siècles de l'Église chrétienne (6 vols. 1856-1877; new ed. 1887-1889), L'Église et la Révolution française (1864), Jésus-Christ, son temps, sa vie, son œuvre (against Ernest Renan, 1866), Les Origines, le problème de la connaissance; le problème cosmologique (1883).
Top
Works by E. de Pressensé
Filter:
Only CCEL
CCEL + External
While the German movement towards higher criticism of the Bible brought modern scholarship to the field of scriptural interpretation, it also led many theologians to reject some of orthodox Christianity's foundational beliefs. It became quite fashionable for scholars to reject the existence of miracles or the divinity of Jesus, for example. De Pressensé considered such views an affront to Christianity. Along with books and essays directly rebutting various liberal theologians, de Pressensé published The Early Years of Christianity—a history of Christianity that did not immediately discard orthodox teachings. Through providing this alternative, de Pressensé sought to revive a less skeptical strain of biblical scholarship and interpretation.
Top
Popularity: %
Popularity is calculated by comparing this book's number of views to our most commonly read book.
Popularity is calculated by comparing this book's number of editions to the book with the largest number of editions.