William R. Newell
American Bible teacher and pastor
Page loading...
Biography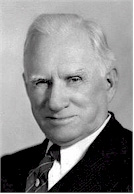 Source: withchrist.org/newell.htm
William Reed Newell was born May 22, 1868 and attended Wooster (Ohio) College, graduating in 1891. After studies at Princeton and Oberlin Seminaries, he pastored the Bethesda Congregational Church in Chicago until 1895, when Moody invited him to become the assistant superintendent of Moody Bible Institute under R.A. Torrey. In this position Newell demonstrated his extraordinary gift of Bible exposition. Great audiences in Chicago, St. Louis and Toronto flocked to hear his city-wide Bible classes, leading to the publication of his widely-known commentaries, especially Romans Verse-by-Verse, Hebrews Verse-by-Verse, and The Book of Revelation.
During this period, Newell wrote the beloved Gospel hymn At Calvary. He was called into the presence of the One he gladly owned as his King on April 1, 1956. Few men have had a clearer grasp of the magnitude of God's grace in Christ or have been able to convey it with such lasting results.
Top
Works by William R. Newell
Filter:
Only CCEL
CCEL + External
In his book Romans Verse-by-Verse, William Newell explores the truths of Christ's salvation exactly as they are found in the rich text of Romans. Written by the Apostle Paul, Romans is often considered one of the most important books in the Bible. Newell's Verse-by-Verse is a perfect combination of analytic exegesis and devotional interpretation. Newell highlights Paul's central claims in each verse and explain their significance in astounding detail. Because of Newell's deep understanding of both Greek and English biblical translations, he is able to point out subtle yet essential features of the text that often go unnoticed by many readers. Throughout his commentary, Newell consistently defines difficult terminology and provides many additional footnotes for further technical clarification. This rewarding commentary makes the challenging book of Romans easy to comprehend and appreciate.
Top
Popularity: %
Popularity is calculated by comparing this book's number of views to our most commonly read book.
Popularity is calculated by comparing this book's number of editions to the book with the largest number of editions.