Charles Hodge
American theologian
Page loading...
Summary
Biography
Works by
Works about
Influence
Summary
Charles Hodge (December 27, 1797, Philadelphia, Pennsylvania – June 19, 1878, Princeton, New Jersey) was the principal of Princeton Theological Seminary between 1851 and 1878. A Presbyterian theologian, he was a leading exponent of historical Calvinism in America during the 19th century. He was deeply rooted in the Scottish philosophy of Common Sense Realism. He argued strongly that the authority of the Bible as the Word of God had to be understood literally.

Born
Died
Related topics
Importance
December 27, 1797
June 19, 1878
Commentaries, Criticism (interpretation), History, Presbyterian Church in the USA, Theology (Doctrinal)
4
Importance is calculated using the length of this author's Wikipedia entry, as well as the number of works by and about this author.
Top
Biography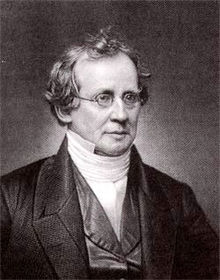 Source: Wikipedia
Hodge was born in Philadelphia, Pennsylvania on the 28th of December 1797. He graduated at the College of New Jersey (now Princeton) in 1815, and in 1819 at the Princeton Theological seminary, where he became an instructor in 1820, and the first professor of Oriental and Biblical literature in 1822. Meanwhile, in 1821, he had been ordained as a Presbyterian minister. From 1826 to 1828 he studied under de Sacy in Paris, under Gesenius and Tholuck in Halle, and under Hengstenberg, Neander and Humboldt in Berlin. In 1840 he was transferred to the chair of exegetical and didactic theology, to which subjects that of polemic theology was added in 1854, and this office he held until his death.
In 1825 he established the quarterly Biblical Repertory, the title of which became the Princeton Review in 1877. He secured for it the position of theological organ of the Old School division of the Presbyterian Church, and continued its principal editor and contributor until 1868, when the Rev. Lyman H. Atwater became his colleague.
His more important essays were republished under the titles Essays and Reviews (1857), Princeton Theological Essays, and Discussions in Church Polity (1878). He was moderator of the General Assembly (O.S.) in 1846, a member of the committee to revise the Book of Discipline of the Presbyterian church in 1858, and president of the Presbyterian Board of Foreign Missions in 1868-1870. The 24th of April 1872, the fiftieth anniversary of his election to his professorship, was observed in Princeton as his jubilee by between 400 and 500 representatives of his 2700 pupils, and $50,000 was raised for the endowment of his chair. He died at Princeton on the 19th of June 1878.
Top
Works by Charles Hodge
Filter:
Only CCEL
CCEL + External
Show all 6 works
Top
Popularity: %
Popularity is calculated by comparing this book's number of views to our most commonly read book.
Popularity is calculated by comparing this book's number of editions to the book with the largest number of editions.
Works about Charles Hodge
Wikipedia Article
External
Top
Influence of Charles Hodge
Works published by Charles Hodge
Works published about Charles Hodge
Top
There is no information for this graph.