Matthew Henry
Calvinist biblical exegete
Page loading...
Summary
Biography
Works by
Works about
Influence
Summary
Matthew Henry (18 October 1662 – 22 June 1714) was an English commentator on the Bible and Presbyterian minister.

Born
Died
Related topics
Importance
October 18, 1662
June 22, 1714
Bible, Commentaries, Early works, Lords Supper, Prayer books
5
Importance is calculated using the length of this author's Wikipedia entry, as well as the number of works by and about this author.
Top
Biography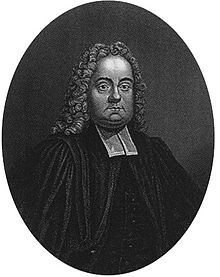 Source: Wikipedia
Matthew Henry was born near Wales on October 18, 1662 and was primarily home-educated by his father, Rev. Philip Henry, and also at the Thomas Doolittle academy from 1680-1682. Henry first started studying law in 1686, but instead of pursuing a career in law he began to preach in his neighborhood.
After the declaration of liberty of conscience by James II in 1687, he was privately ordained in London, and on June 2, 1687, he began his regular ministry as non-conformist pastor of a Presbyterian congregation at Chester. He remained in this position for 25 years. After declining several times offers from London congregations, he finally accepted a call to Hackney, London, and began his ministry there May 18, 1712, shortly before his death.
Henry's reputation rests upon his renowned commentary, An Exposition of the Old and New Testaments (1708-10, known also as Matthew Henry's Commentary on the Whole Bible). He lived to complete it only as far as to the end of the Acts, but after his death other like-minded authors prepared the remainder from Henry's manuscripts. This work was long celebrated as the best English commentary for devotional purposes and the expanded edition was initially published in 1896. Instead of critical exposition, Henry focuses on practical suggestion, and his commentaries contains rich stores of truths. There is also a smaller devotional commentary on the Bible from Henry known as Matthew Henry's Concise Commentary.
Top
Works by Matthew Henry
Filter:
Only CCEL
CCEL + External
Show all 8 works
Top
Popularity: %
Popularity is calculated by comparing this book's number of views to our most commonly read book.
Popularity is calculated by comparing this book's number of editions to the book with the largest number of editions.
Works about Matthew Henry
Wikipedia Article
External
Top
Influence of Matthew Henry
Works published by Matthew Henry
Works published about Matthew Henry
Top
There is no information for this graph.