Gregory of Nyssa
Fourth century Bishop and Saint
Page loading...
Summary
Biography
Works about
Influence
Summary
Gregory of Nyssa (c. 335 – c. 395) (also known as Gregory Nyssen) was bishop of Nyssa from 372 to 376, and from 378 until his death. He is venerated as a saint in Roman Catholicism, Eastern Orthodoxy, Oriental Orthodoxy, Lutheranism and Anglicanism.

Born
Died
Related topics
Importance
Christian saints, Conference proceedings, Criticism (interpretation), Early works, History
1
Importance is calculated using the length of this author's Wikipedia entry, as well as the number of works by and about this author.
Top
Biography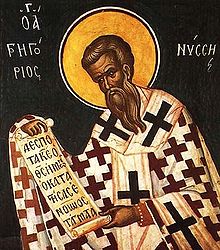 Source: Wikipedia
Gregory of Nyssa was a fourth century Bishop and Saint. He was the younger brother of St. Basil the Great, and good friend with Gregory of Nazianzus. Together, the three were known as the "Cappadocian Fathers." Through their work, they demonstrated the superiority of Christian thought to Greek philosophy.
Top
Works about Gregory of Nyssa
Wikipedia Article
External
Top
Influence of Gregory of Nyssa
Works published by Gregory of Nyssa
Works published about Gregory of Nyssa
Top
There is no information for this graph.