John Gerson
French Churchman and spiritual writer, "doctor christianissimus"
Page loading...
Summary
Biography
Works by
Influence
Summary
1363
1429
Catholic Church, Criticism (interpretation), Early works, France, History
Top
Biography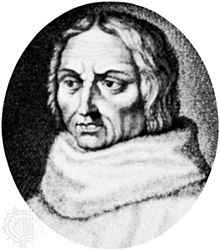 Source: Wikipedia
Jean Charlier de Gerson (December 13, 1363 – July 12, 1429), French scholar, educator, reformer, and poet, Chancellor of the University of Paris, a guiding light of the conciliar movement and one of the most prominent theologians at the Council of Constance, was born at the village of Gerson, in the bishopric of Reims in Champagne.
His parents, Arnulphe Charlier and Élisabeth de la Chardenière, "a second Monica," were pious peasants, and seven of their twelve children, four daughters and three sons, devoted themselves to a religious life. Young Gerson was sent to Paris to the famous college of Navarre when fourteen years of age. After a five years' course he obtained the degree of licentiate of arts, and then began his theological studies under two very celebrated teachers, Gilles Deschamps(Aegidius Campensis) and Pierre d'Ailly (Petrus de Alliaco), rector of the college of Navarre, chancellor of the university, and afterwards bishop of Puy, archbishop of Cambrai and cardinal. Pierre d'Ailly remained his life-long friend, and in later life the pupil seems to have become the teacher (see preface to Liber de vita Spir. Animae).
Gerson very soon attracted the notice of the university. He was elected procurator for the French 'nation' (the French-born Francophone students at the University) in 1383, and again in 1384, in which year he graduated bachelor of theology. Three years later a still higher honour was bestowed upon him; he was sent along with the chancellor and others to represent the university in a case of appeal taken to the pope. John of Montson (Monzón, de Montesono), an Aragonese Dominican who had recently graduated as doctor of theology at Paris, had in 1387 been condemned by the faculty of theology because he had taught that the Virgin Mary, like other ordinary descendants of Adam, was born in original sin; and the Dominicans, who were fierce opponents of the doctrine of the immaculate conception, were expelled from the university.
Gerson wished to banish scholastic subtleties from the studies of the university, and at the same time to put some evangelical warmth into them, giving them a more spiritual and practical focus. He was called at this period of his life Doctor Christianissimus; later his devotional and pastoral writings brought him the title Doctor Consolatorius. His plan was to make theology plain and simple by founding it on the philosophical principles of nominalism. His method was a clear exposition of the principles of theology where clearness was possible, with a due recognition of the place of mystery in the Christian system of doctrine.
On returning to France he went to Lyon, where his brother was prior of the Celestine monastery. Although Gerson was retired from active university life, the decade at Lyon was a time of great literary productivity. He produced a harmony of the gospels (the Monotesseron), works on the poems of the bible climaxing in a massive collection of twelve treatises on the Magnificat (Lk. 1:46-55), a commentary on the Song of Songs, as well as an extensive literary correspondence with members of the Carthusian order and others on mysticism and other issues of spiritual life. Shortly before his death he produced a tract in support of Joan of Arc. It is said that he taught a school of boys and girls in Lyon, and his only fee was to make the children promise to repeat the prayer, "Lord, have mercy on thy poor servant Gerson" (though this story has been questioned by Gerson's most recent biographer). He died at Lyon on the 12 July 1429. Tradition declares that during his sojourn he translated or adapted from the Latin a work upon eternal consolation, which afterwards became very famous under the title of The Imitation of Christ, attributed to Thomas à Kempis. It has, however, been proven that this work really was written by Thomas, and not by John Gerson or the abbot Gerson.
-- Excerpts from
Wikipedia
Top
Works by John Gerson
Filter:
Only CCEL
CCEL + External
Top
Popularity: %
Popularity is calculated by comparing this book's number of views to our most commonly read book.
Popularity is calculated by comparing this book's number of editions to the book with the largest number of editions.
Influence of John Gerson
Works published by John Gerson
Works published about John Gerson
Top
There is no information for this graph.