St. Francis of Sales
Bishop of Geneva and a leader of the counter-reformation
Page loading...
Summary
Biography
Quotes
Works by
Works about
Summary
Francis de Sales, T.O.M. , A.O.F.M. Cap. , (French: François de Sales) (August 21, 1567 – December 28, 1622) was a Bishop of Geneva and is honored as a saint in the Roman Catholic Church. He became noted for his deep faith and his gentle approach to the religious divisions in his land resulting from the Protestant Reformation.

December 28, 1622
Lyon, France
5
Importance is calculated using the length of this author's Wikipedia entry, as well as the number of works by and about this author.
Top
Biography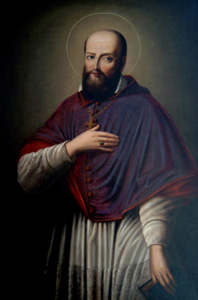 Source: Wikipedia
Francis de Sales was born in the Savoy district of France in 1567 and ordained a priest in 1593. At that time the religious and political struggles of the time had placed under the control of Roman Catholic rulers several regions in which the people were mostly Protestants. Francis was sent to preach in one such region near his birthplace, attempting to persuade his hearers to become Roman Catholics. Since he was seen to be persuasive, he was appointed in 1602 to be Roman Catholic bishop of Geneva, a Calvinist stronghold which had been captured by the Roman Catholic Duke of Savoy. Here again, he brought many to his way of thinking. His motto was, "He who preaches with love, preaches effectively." His numerous controversial tracts are unfailingly courteous to his opponents. Many Christians who are not at all convinced of the truth of the Romanist position by his arguments nevertheless read him with delight because of his obvious love for God and his neighbor.
By no means all of his writings were concerned with disputation. His best known and best loved treatises were concerned with the life of prayer, and were written to advise those who wish to become more aware of the presence of God in their lives. His Introduction to the Devout Life was highly praised by John Wesley. C.S. Lewis has referred to the "dewy freshness" that permeates the book. It is available in English, as is his The Love of God. Both have been used and found helpful by Christians of many different denominations.
Francis died at Lyons 29 December 1622.
Top
Quotes by St. Francis of Sales
Show all 15 quotes
Top
Works by St. Francis of Sales
Filter:
Only CCEL
CCEL + External
Do I need to go into full-time ministry to live a truly Christian life? Am I really a Christian if I'm not out preaching the gospel in dangerous places where people have never heard of Christ? Can secular work benefit the kingdom of God? All Christians struggle to discern God's call on their life, but God does call all to live a Christ-centered life. Introduction to the Devout Life by St. Francis of Sales attempts to help Christians discern what it means to be a child of God in a secular world. We can glorify God in a secular world, and be a testimony to the world of God's abounding grace and love.
Treatise on the Love of God is a manual intended to help believers strengthen their devotion to God. St. de Sales describes his project by saying, "it is truly my intention to represent simply and naively, without art, still more without false colours, the history of the birth, progress, decay, operations, properties, advantages and excellences of divine love." The Treatise is divided into twelve books. The first four books explain the nature of the human soul and provide the history of divine love. Book Five explores the two principle exercises of love, namely, sacred complacency and benevolence. Books Six and Seven discuss the importance of practicing love through prayer, while Books Eight and Nine express the importance of submitting to God's will. The final three books are devoted to exploring the practical importance of God's holy love in our lives. St. de Sales' Treatise is a captivating depiction of love.
Top
Popularity: %
Popularity is calculated by comparing this book's number of views to our most commonly read book.
Popularity is calculated by comparing this book's number of editions to the book with the largest number of editions.
Works about St. Francis of Sales
from Lives of the Saints with Reflections for Every Day of the Year
Internal (CCEL)
Wikipedia Article
External
Top