William Cowper
Poet and hymn-writer
Page loading...
Summary
Biography
Quotes
Works by
Works about
Influence
Summary
William Cowper was an English poet and hymnodist. One of the most popular poets of his time, Cowper changed the direction of 18th century nature poetry by writing of everyday life and scenes of the English countryside. In many ways, he was one of the forerunners of Romantic poetry. Samuel Taylor Coleridge called him "the best modern poet", whilst William Wordsworth particularly admired his poem Yardley-Oak. He was a nephew of the poet Judith Madan.

Born
Died
Related topics
Importance
November 26, 1731
Berkhamsted Castle
Bibliography, Biography, Criticism (interpretation), English poetry, History
3
Importance is calculated using the length of this author's Wikipedia entry, as well as the number of works by and about this author.
Top
Biography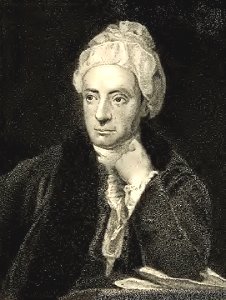 Sourse: hymntime.com/tch
The first child of Reverend John Cowper and Ann Donne Cowper, Willam Cowper was born on November 15, 1731, in Berkhampstead, Herefordshire, England. The poet's mother died when he was six and Cowper was sent to Dr. Pittman's boarding school, where he was routinely bullied. In 1748, he enrolled in the Middle Temple in order to pursue a law degree. Shortly thereafter, he fell in love with Theodora Cowper, a cousin. Her father did not approve, and their relationship ended in 1755. Cowper wrote a sequence of poems, Delia, chronicling this affair but the book was not published until 1825.
In 1763, through family connections, he accepted a clerkship of the journals in the House of Lords. A rival faction, however, challenged his appointment and the ordeal caused Cowper to enter Nathaniel Cotton's Collegium Insanorum at St. Albans. While there he converted to Evangelicalism. In 1765, he moved to Huntingdon and took a room with the Rev. Morley Unwin and his wife Mary. Unwin died of a riding accident in 1767 and Cowper and Mary Unwin moved together to the town of Olney in 1768. They were not separated until her death in 1796. While at Olney, Cowper became close friends with the Evangelical clergyman John Newton; together they co-authored the Olney Hymns, which was first published in 1779 and included Newton's famous hymn "Amazing Grace." Of the 68 hymns Cowper wrote, "Oh for a closer walk with God" and "God moves in a mysterious way" are the most well known. In 1773, Cowper became engaged to Mary Unwin, but he suffered another attack of madness. He had terrible nightmares, believing that God has rejected him. Cowper would never again enter a church or say a prayer. When he recovered his health, he kept busy by gardening, carpentry, and keeping animals. In spite of periods of acute depression, Cowper's twenty-six years in Olney and later at Weston Underwood were marked by great achievement as poet, hymn-writer, and letter-writer. His first volume of poetry, Poems by William Cowper, of the Inner Temple was published in 1782 to wide acclaim. His work was compared to late Neo-Classical writers like Samuel Johnson as well as to poets such as Thomas Gray.
His major work was undertaken when Lady Austen complained to Cowper that he lacked a subject. She encouraged him to write about the sofa in his parlor. The Task grew into an opus of six books and nearly five thousand lines. Although the poem begins as a mock-heroic account of a wooden stool developing into a sofa, in later sections of the poem Cowper meditates on the immediate world around him (his village, garden, animals, and parlor) as well as larger religious and humanitarian concerns. His work found a wide audience; Samuel Taylor Coleridge called him "the best modern poet." His attention to nature and common life along with the foregrounding of his personal life prefigured the concerns of Romantic poets such as Wordsworth. William Cowper died of dropsy on April 25, 1800. At the time of his death, his Poems had already reached their tenth printing.
Top
Quotes by William Cowper
Show all 39 quotes
Top
Works by William Cowper
Filter:
Only CCEL
CCEL + External
Top
Popularity: %
Popularity is calculated by comparing this book's number of views to our most commonly read book.
Popularity is calculated by comparing this book's number of editions to the book with the largest number of editions.
Works about William Cowper
Wikipedia Article
External
Top
Influence of William Cowper
Works published by William Cowper
Works published about William Cowper
Top
There is no information for this graph.