Richard Challoner
English Roman Catholic prelate
Page loading...
Summary
Biography
Works by
Works about
Influence
Summary
Richard Challoner (29 September 1691 – 12 January 1781) was an English Roman Catholic bishop, a leading figure of English Catholicism during the greater part of the 18th century. He is perhaps most famous for his revision of the Douay Rheims translation of the Bible.

Born
Died
Related topics
Importance
September 29, 1691
Suffolk
January 12, 1781
Gloucester Street, off Queen Square, London
Bible, Bible, Catholic Church, Controversial literature, Early works
2
Importance is calculated using the length of this author's Wikipedia entry, as well as the number of works by and about this author.
Top
Biography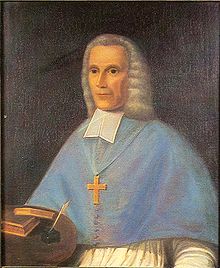 Source: Wikipedia
Brought up a Protestant, Challoner became a Roman Catholic in his teens and was ordained in 1716. In 1730 he returned from Douai to England, where he was widely known for the number of conversions he made. In 1738 he was forced to leave England because he published an open reply to an anti-Catholic pamphlet by an Anglican. In 1739, Challoner was appointed coadjutor of the vicar apostolic in London. He was consecrated titular bishop of Debra in 1741.
The rest of his life he spent working among his people (after 1758 as vicar apostolic) in the face of great difficulties. From 1765 to 1780 a series of efforts were instigated to molest English Catholics, and Bishop Challoner was involved; in the Gordon riots (1780) he had to flee London for his life.
Challoner was an indefatigable writer. He revised the Douay version of the Bible, his revision becoming the standard one chiefly used by English-speaking Catholics. His chief learned works are on English Catholicism since the Reformation; they did much to preserve the memory of English Catholics. He wrote a number of devotional works; The Garden of the Soul (1740) was especially popular. Bishop Challoner's translations of the Imitation of Christ were standard.
Top
Works by Richard Challoner
Filter:
Only CCEL
CCEL + External
Top
Popularity: %
Popularity is calculated by comparing this book's number of views to our most commonly read book.
Popularity is calculated by comparing this book's number of editions to the book with the largest number of editions.
Works about Richard Challoner
Top
Influence of Richard Challoner
Works published by Richard Challoner
Works published about Richard Challoner
Top
There is no information for this graph.