Lancelot Andrewes
Anglican Bishop of Winchester
Page loading...
Summary
Biography
Works by
Influence
Summary
Lancelot Andrewes (1555 – 25 September 1626) was an English bishop and scholar, who held high positions in the Church of England during the reigns of Queen Elizabeth I and King James I. During the latter's reign, Andrewes served successively as Bishop of Chichester, Ely and Winchester and oversaw the translation of the Authorized Version (or King James Version) of the Bible. In the Church of England he is commemorated on 25 September with a Lesser Festival.

1555
United Kingdom of Great Britain and Ireland
September 25, 1626
Southwark
Church of England, Devotional exercises, Early works, England, History
Top
Biography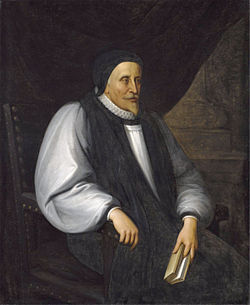 Source: Wikipedia
Lancelot Andrewes was born at Allhallows, Barking, in 1555. He was an excellent scholar at Merchant Tailor's School, and gained a fellowship at Pembroke College, Cambridge. When Jesus College, Oxford, was founded, young Andrewes was invited to be one of its foundation fellows, and in 1580 he took holy orders. He was a great favorite with Queen Elizabeth, who appointed him one of her chaplains and Dean of Westminster.
At the accession of James I, Andrewes rose higher still in Court favor, and was made Bishop of Chichester in 1605, and had promotions showered upon him. Andrewes became successively Bishop of Ely and of Winchester. He headed the list of authorised translators of the Bible in 1611. Fuller tells us that James I had so great an awe and veneration of Andrewes that, in the bishop's presence, he refrained from that uncouth and unsavoury jesting in which he was accustomed to indulge at other times.
This admirable prelate, "an infinite treasure, an amazing oracle," died at Winchester House, Southwark, on September 25, 1626. His English Sermons, at the particular desire of Charles I, were collected by Laud and Buckeridge, and ninety-six of them were published in 1628. In his lifetime there had only appeared a little volume of sermons on the Lord's Prayer, entitled Scala Cæli, in 1611.
Top
Works by Lancelot Andrewes
Filter:
Only CCEL
CCEL + External
Top
Popularity: %
Popularity is calculated by comparing this book's number of views to our most commonly read book.
Popularity is calculated by comparing this book's number of editions to the book with the largest number of editions.
Influence of Lancelot Andrewes
Works published by Lancelot Andrewes
Works published about Lancelot Andrewes
Top
There is no information for this graph.