T. M. Anderson
Evangelist and college professor
Page loading...
Biography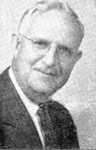 Source: asbury.seminary.edu
Tony Marshall Anderson was born in 1888. He was an evangelist and a college professor, and was associated with the Methodist Episcopal Church and the Church of the Nazarene. He was convinced that the people of God have not explored the boundless possibilities of prayer. He died in 1979.
Top
Works by T. M. Anderson
Filter:
Only CCEL
CCEL + External
Taking its title from James 5:16, Prayer Availeth Much is a challenge to Christians; it is a challenge to explore "the boundless possibility of prayer," as the forward puts it. T. M. Anderson hopes--and prays--that with this book, Christians will explore the possibilities of prayer, and once again see the true power and profundity of prayer. Basing each chapter on a verse, this intensive study of prayer connects prayer to other important elements of the Christian life, including the experience of joy, peace, doubt, and the glorification of God. Anderson does not simply relate prayer to other elements of the Christian life, but teaches the reader about the three essentials of prayer--"Ask, Seek, Knock"--and how each one of them plays an important role in the believer's daily life. Ideal for personal study or devotions, T. M. Anderson's book, Prayer Availeth Much, will encourage and challenge each person to more actively seek and worship God through prayer.
Top
Popularity: %
Popularity is calculated by comparing this book's number of views to our most commonly read book.
Popularity is calculated by comparing this book's number of editions to the book with the largest number of editions.