J. C. Aaberg
Minister in the Danish Evangelical Lutheran Church in America
Page loading...
Summary
Biography
Works by
Biography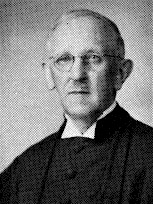 Source: hymntime.com/tch
Aaberg em­i­grat­ed to Amer­i­ca in 1901 and went to the small, close-knit Dan­ish-Amer­i­can com­mun­ity in Min­ne­a­po­lis, Min­ne­so­ta, to join his bro­ther, who was then stu­dy­ing for the min­is­try at Aug­sburg Coll­ege and Sem­in­a­ry. Af­ter at­tend­ing St. Ans­gar's Coll­ege, and Grand View Coll­ege and Sem­in­ary in Des Moines, Io­wa (1904-1908), he was or­dained in the Dan­ish Evan­gel­i­cal Lu­ther­an Church in Amer­i­ca. He pas­tored in Mar­in­ette, Wis­con­sin; St. Peter's Lu­ther­an Church, Dwight, Il­li­nois (1912-1926); and St. Pe­der's Lu­ther­an Church, Min­ne­a­po­lis. Un­til re­tir­ing in 1946, Aa­berg con­tin­ued to serve as pas­tor of St. Pe­der's. Over the years he held var­i­ous of­fic­es through­out the Dan­ish Evan­gel­ic­al Lu­ther­an Church in Amer­i­ca, and for years af­ter his re­tire­ment served a ser­ies of con­gre­ga­tions around the coun­try as an in­ter­im pas­tor. In 1947 he was hon­ored with the Knight Cross of Den­mark from King Fred­er­ick for ser­vice to Dan­ish-Amer­i­cans.
Aaberg trans­lat­ed some 80 hymns and songs from Dan­ish to Eng­lish, and served on com­mit­tees which com­piled sev­er­al Lu­ther­an hymn­als. He be­gan trans­lat­ing hymns in ear­nest af­ter an in­ci­dent that oc­curred while he was in Mar­in­ette. A Lu­ther­an bi­shop from Den­mark at­tend­ed church there one Sun­day on a trip to Amer­i­ca. In hon­or of his vi­sit, the Mar­in­ette con­gre­ga­tion held a spe­cial fes­tiv­al wor­ship ser­vice. Af­ter the ser­vice, Aa­berg asked the bi­shop what he thought of the ser­vice this lit­tle con­gre­ga­tion had just held. The bi­shop re­plied, "It was so won­der­ful. It re­mind­ed me of the way church ser­vices were in Den­mark 50 years ago." That com­ment, meant as a com­pliment, stirred Aa­berg. He con­clude­d that to be vi­tal and liv­ing Christ­ian con­gre­ga­tions, the Dan­ish-Amer­i­can Lu­ther­an Church must be­gin to use the lan­guage of Amer­i­ca, Eng­lish. Stay­ing strict­ly with Dan­ish, he be­lieved, the church would be­come an ev­er more iso­lat­ed back­wa­ter of nos­tal­gia for the past. He began the work of cre­at­ing and pub­lish­ing trans­la­tions. A hymn trans­la­tion com­mit­tee was formed, con­sis­ting of Aa­berg and three other like-mind­ed pas­tors. They met some op­po­si­tion and un­hap­pi­ness to­ward their trans­lat­ing work. Some with­in the church felt that by trans­lat­ing these hymns to Eng­lish, the trans­lat­ors were has­ten­ing the day when the Dan­ish Lu­ther­an tra­di­tions would be lost. But the work went for­ward, through the years be­tween the World Wars, un­til most of the trea­sured hymns had been trans­lat­ed to Eng­lish.
-- hymntime.com/tch
Top
Works by J. C. Aaberg
Filter:
Only CCEL
CCEL + External
At the turn of the 20th century, many Danes, Swedes, and Norwegians immigrated to America's Midwest, founding Scandinavian Lutheran churches in their communities. J.C. Aaberg emigrated from Denmark in 1901 to attend a seminary in Minneapolis along with his brother. After his ordination in the Danish Evangelical Lutheran Church, he spent decades serving Danish-Americans in Minnesota. Hymns and Hymnwriters of Denmark contains translations of over eighty Danish hymns into English. Additionally, Aaberg includes short histories of Denmark's greatest hymn writers such as Thomas Kingo, N.F.S. Grundvig, and H.A. Brorson.
Top
Popularity: %
Popularity is calculated by comparing this book's number of views to our most commonly read book.
Popularity is calculated by comparing this book's number of editions to the book with the largest number of editions.